What is Crypto On-ramp? | Transak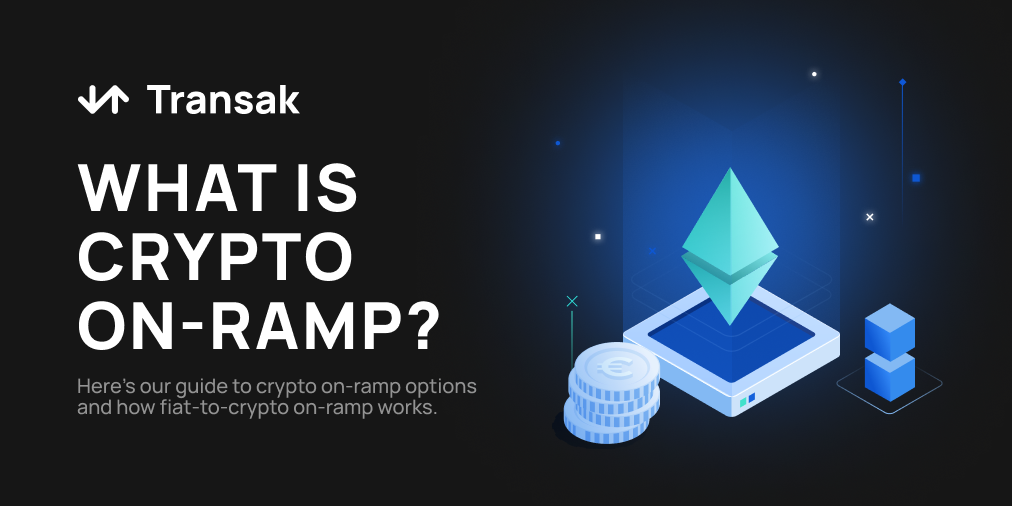 The world of cryptocurrency, blockchain, and non-fungible tokens (NFTs) is exciting and full of possibility — when you know how to buy crypto in the first place.
Crypto on-ramp — aka the process of moving your money from fiat (government) currency into cryptocurrency stored in a digital wallet — is simple in theory. However, due to the emerging nature of blockchain technology, the tools we have to buy crypto to use in decentralized applications (dApps) are still too slow and complex.
Transak's founder, Sami Start, saw this back in 2016. After speaking to a number of dApp users and developers on Reddit, Sami learned there were no easy on-ramp platforms to quickly transfer money from a bank account to crypto wallets. At least, not inside the dApps themselves.
Sure, there were centralized exchanges (CEXs), but buying crypto inside on an exchange is just the first step. Then, users have to transfer it to a digital wallet, and ultimately to its final destination, the dApp. If a person ever needs to "top off" their supply of crypto, it involves the same three- to four- step process, no matter how large or small their transaction.
Since Sami's ah-ha moment, a number of solutions have popped up across the crypto industry, each with their own set of pros and cons. If you're reading this, chances are you already have a MetaMask and a couple of cold wallets where you keep your backup stashes of BTC. Most crypto natives have gone through the learning curve of opening a DeFi wallet, purchasing crypto for the first time, and exchanging it through decentralized exchanges (DEXes), dApps, and metaverse games.
But your future community members, users, and customers probably won't understand fiat onramps as well as builders do, which is the number-one problem developers need to solve.
Let's take a look at what crypto on-ramp is, what options exist, and why finding the right fiat on-ramp integration is important for dApp developers.
What is crypto on-ramp?
Simply put, crypto on-ramp is the process of buying crypto using fiat (government) money. The simplest way to on-ramp to crypto is to buy coins on a centralized exchange, which frequently allow for crypto on-ramp options that mainstream consumers are used to (e.g. Apple Pay, and PayPal).
A number of decentralized crypto on-ramp options also exist. These options tend to be most used among anonymous DeFi traders, as they are unregulated and don't always require KYC (know your customer) protocols.
What options exist for crypto on-ramp?
Let's have a look at what's out there.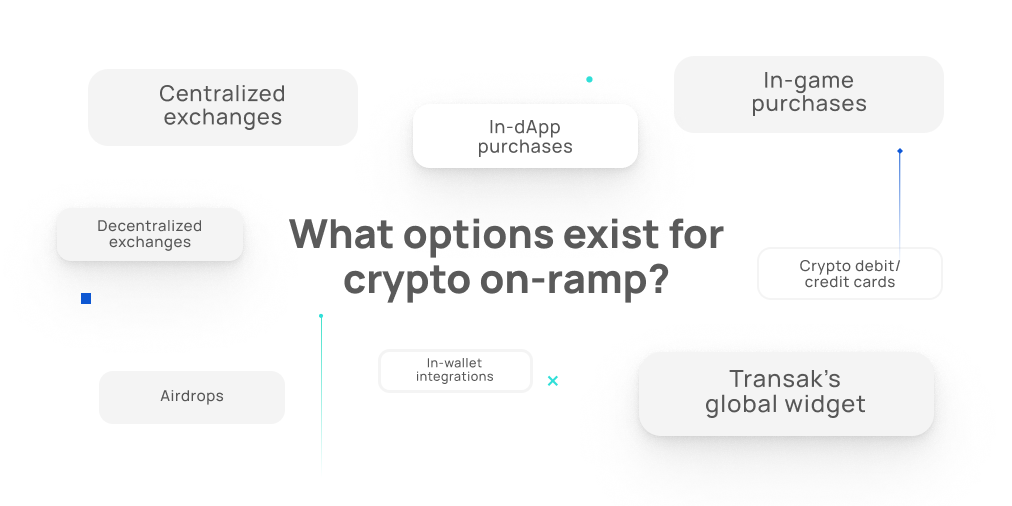 Centralized exchanges (CEXs)
Centralized exchanges have commonly been the most popular crypto on-ramp option and used in about 95% of exchange crypto trading, according to 2021 data from global accountancy network KPMG.
Centralized exchanges make on-ramping to crypto easy, as they often allow for familiar options like:
Debit card
Wire transfers
Bank account drafts
ACH
SEPA
PayPal
Google Pay
Apple Pay
Gift cards
Some popular CEXs include Coinbase, Kraken, FTX, and Binance (the largest CEX according to CoinGecko), among others.


Decentralized exchanges (DEXs)
Despite their popularity, you don't have to use a centralized method to on-ramp from fiat to crypto. In fact, a new report from Chainalysis shows that decentralized exchanges (DEXs) are becoming the more popular option for on-chain flows. Once the crypto is in an ecosystem, in other words, DEXs are the more popular choice for moving money around.
And — despite the fact that centralized exchanges tend to have a smooth user experience (UX) — critics worry that they operate similarly to banks and lack transparency compared to noncustodial exchanges.


According to CoinGecko, the top five DEXs include:
Uniswap (v3)
Pancake Swap
Curve Finance
Maiar
Uniswap (v2)
Each of these DEXs contains several hundred million in trading volume, most with stablecoins like DAI, USDC, BUSD, and USDT.
Yet, a common DEX-user complaint is that few reliable, totally decentralized DEX on-ramp methods exist. More often than not, users buy crypto through a CEX, then link the respective wallet to the decentralized platform they want to use.


In-dApp purchases
Transak lets dApp users buy crypto directly inside the application itself through a custom developer integration. White-label integration options will soon be available to create a seamless user experience. Learn about Transak's customization options.


In-wallet integrations
In some cases, you can buy crypto directly inside your crypto wallet, given it has a crypto on-ramp integration built in. Transak recently partnered with MetaMask, for instance, which has more than 10 million users.


In-game purchases
Millions of dollars in crypto gets exchanged on the blockchain through decentralized gaming. When making in-game purchases, gamers need a fast, secure method to top off their crypto wallets without interrupting the action. Read about Transak's partnership with Splinterland to learn about how a customized crypto on-ramp widget makes for a more favorable gaming experience.


Airdrops
Airdrops happen when you receive crypto after sharing your public wallet address with an online community. They are commonly used by DAOs, NFT communities, or other projects as a way to onboard users to crypto and gain a loyal following. They often require that community members join an allowlist of some kind and be an early adopter in a project. Receiving airdropped coins or tokens might also come with utility or governance rights of some kind, meaning you can unlock special privileges by being an owner of the airdropped crypto.


Crypto debit/credit cards
An often overlooked way to on-ramp to crypto from fiat currency is with credit cards or debit cards that rewards customers with crypto. This is an indirect way to accumulate crypto which can then be used however the customer wishes.


Transak's global widget
You can buy crypto directly on Transak's website at global.transak.com. There, you'll find a crypto on-ramp widget where you can choose to purchase one of Transak's available currencies.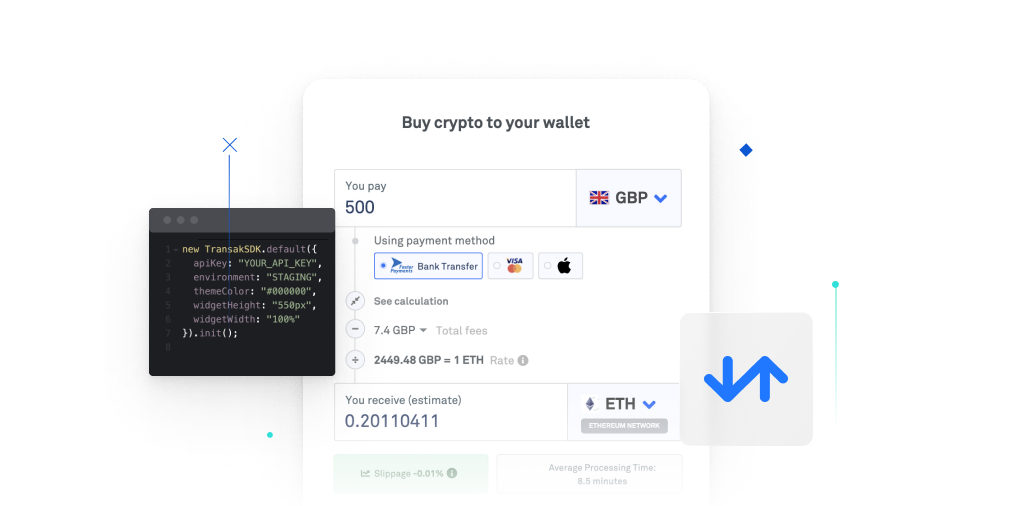 Building a Web3 App and Want to Accept Payments? Integrate Transak
Subscribe to our newsletter