PancakeSwap Integrates Transak to Ease Fiat-to-Crypto Onboarding in Multichain DeFi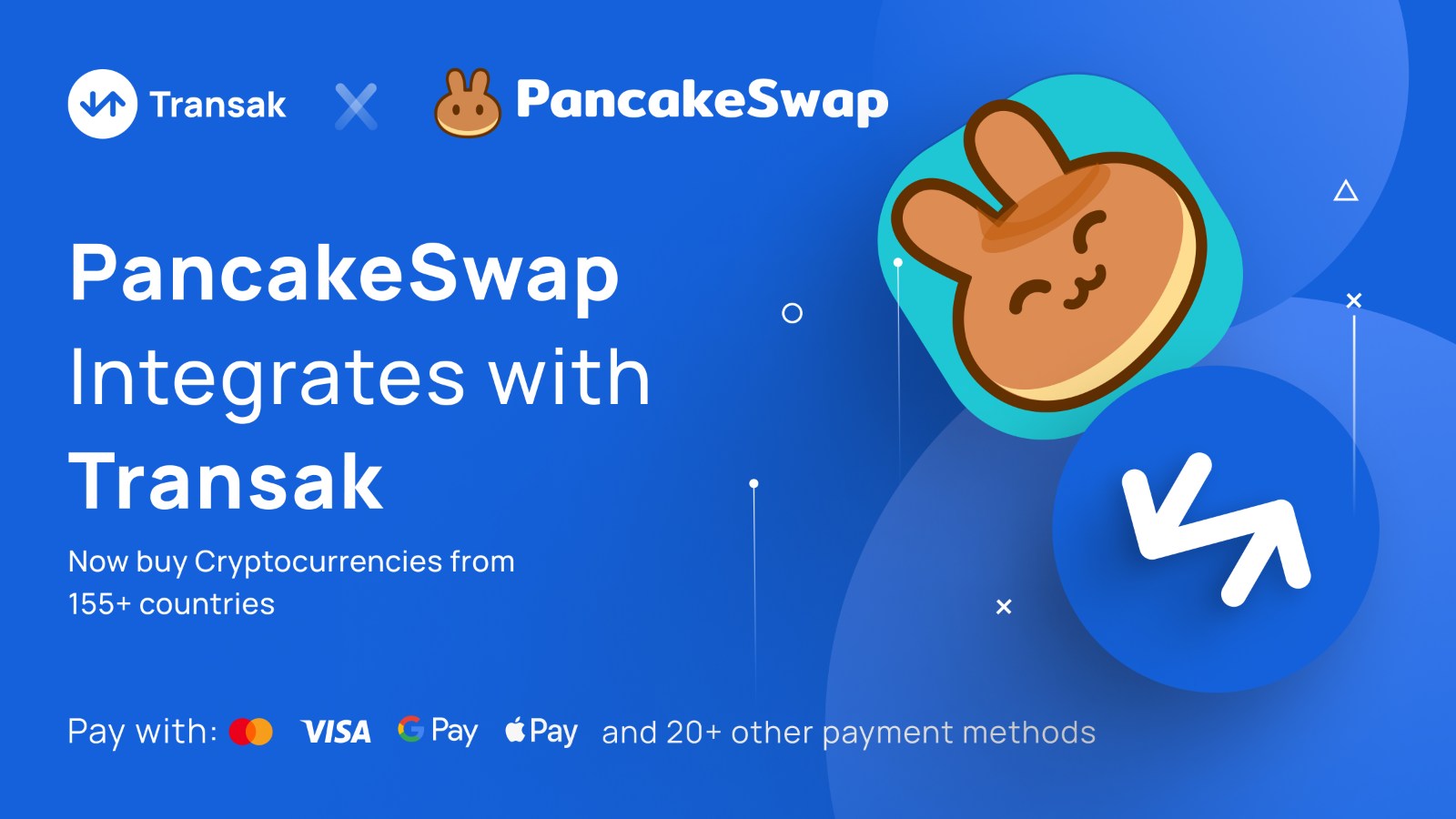 Miami, USA/Singapore, Singapore, September 21, 2023 - In an effort to bring cryptocurrency to more users by diversifying integrated on-ramps across DEXs, Transak announced its integration on PancakeSwap, one of the largest decentralized exchanges in the world, with over 2.8 million users.
The integration of Transak's on-ramp will fuel PancakeSwap's mission to expand to multiple chains, including Ethereum, Polygon zkEVM, zkSync Era, Linea, Base, BNB Chain, and Arbitrum.
By aligning with one of the top entities in the DeFi space, Transak's vision is to usher in a new era of accessibility and convenience for both seasoned traders and newcomers alike.
Users can now directly purchase multiple cryptocurrencies on PancakeSwap, thanks to Transak's seamless integration, all without needing to navigate away or juggle various platforms.
Transak will provide users of PancakeSwap with over 20 different payment options based on global needs, as identified by these leading companies in the crypto space. These options include debit/credit cards, bank transfers, Google Pay, or Apple Pay.
With support for 9 cryptocurrencies across 7 leading PancakeSwap-supported blockchains, the partnership ensures users are at the forefront of blockchain technology, and the segue from fiat to crypto is effortless.
"Collaborating with Transak exemplifies our commitment to user empowerment and innovation. As the crypto landscape broadens, it's imperative that entry points remain simple yet robust. Transak's expertise in fiat on-ramping, combined with PancakeSwap's platform capabilities, promises an era where diving into decentralized finance is intuitive and barrier-free for all." said Chef Mochi, Head Chef of PancakeSwap
"As we develop this partnership, we're not just celebrating a collaboration but championing a shared vision. A vision where cryptocurrency is not an outlier but an integral part of everyday finance. With PancakeSwap by our side, we're turning that vision into reality." said Yeshu Agarwal, co-founder and CTO of Transak.
In the media:
About PancakeSwap
PancakeSwap is a leading multichain decentralized exchange that operates on an automated market maker (AMM) model built on BNB Chain, Ethereum, Aptos, Polygon zkEVM, Linea, Base and Arbitrum One. Launched in 2020, Pancakeswap is one of the most popular DEXs in the cryptocurrency industry due to it's low transaction fees, high-speed trading and user-friendly platform. PancakeSwap has over $605 billion in total trading volume and over $1.3 billion in total liquidity locked, making it the leading multichain DEX in the industry.
For more information, visit https://pancakeswap.finance
About Transak
Transak is a global Web3 payment and onboarding infrastructure provider, facilitating seamless transitions between traditional finance and digital assets. Web3 platforms using Transak can enable users to buy, sell or mint digital assets across 75+ blockchains from 155+ countries, while Transak reduces the complexities of user KYC, risk monitoring, compliance, payment methods and customer support. Trusted by over 350 leading apps, including MetaMask, Coinbase, and backed by industry leaders like Animoca Brands, Consensys, UOB, KX and more, Transak is making Web3 applications more accessible.
For more information, visit transak.com or follow on twitter.com/transak.
About the Author: