How to Onboard directly to Polygon zkEVM with Fiat using easy card & bank transfers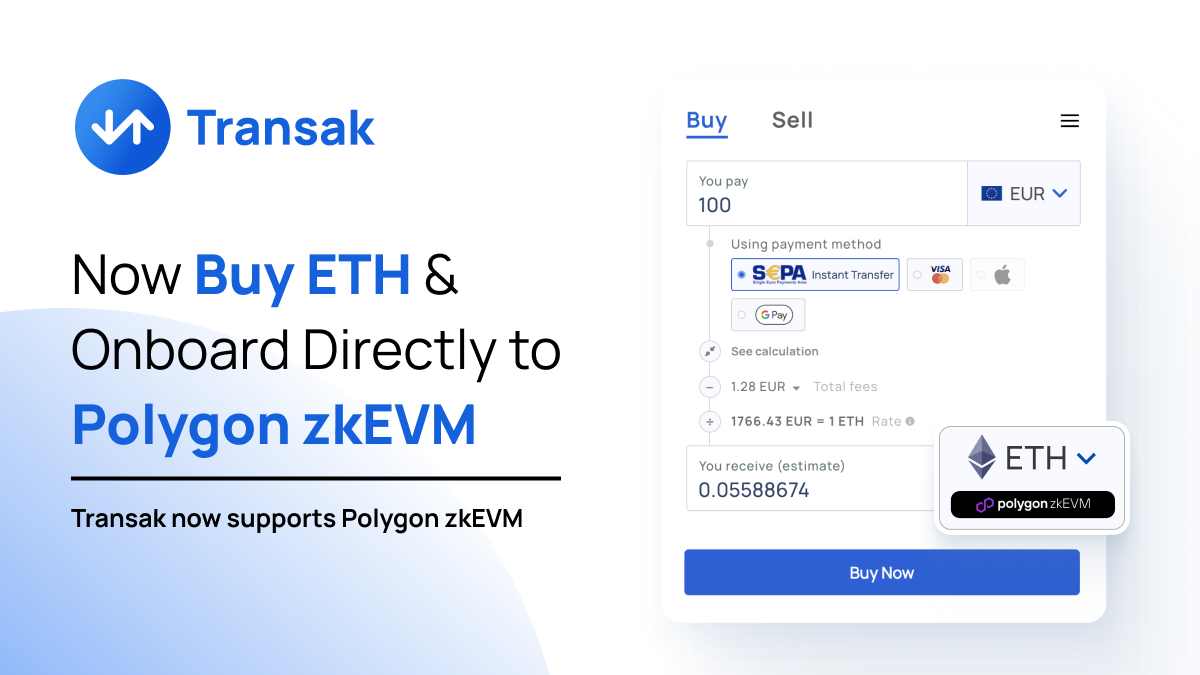 Following Transak's announcement to support Polygon zkEVM, today it has gone live with the support to easily let users buy ETH on Polygon zkEVM and start interacting with the chain. This will enable developers to onboard users directly to Polygon zkEVM with simple card or local payments from across 150+ countries.
Please note the following:
Purchases are available with immediate effect
Asset Name: $ETH
Ticker: $ETH
Network: Polygon zkEVM
Link to buy: https://global.transak.com/
What is Polygon zkEVM?
Polygon zkEVM is the leading ZK scaling solution that is equivalent to Ethereum Virtual Machine: The existing smart contracts, developer tools and wallets work seamlessly.
It harnesses the power of ZK proofs to reduce transaction cost and increase throughput, all while inheriting the security of Ethereum L1.
For Ethereum developers, Polygon zkEVM allows them to seamlessly deploy their Ethereum Smart Contracts while retaining the inherent security of Ethereum with fast finality and low costs.
As Polygon zkEVM launches on mainnet beta, a roadmap towards EVM equivalence type 2 category zkEVM rollup, TPS performance and cost reduction starts the next stage of optimizations.
Using Transak, you can buy crypto to any of your wallets directly, just start here.
Building on Polygon zkEVM and looking to onboard users? Integrate Transak
How to buy $ETH on Polygon zkEVM with fiat?

Step 1: Go to global.transak.com
This will direct you to Transak's On-Ramp widget
Step 2: Select your fiat currency and payment methods
Choose between Transak's available payment methods and currencies. Enter the total amount of fiat currency you want to spend on your crypto onramp.
Step 3: Select the network - Polygonzkevm (Polygon zkEVM)
From the network list, select Polygonzkevm (Polygon zkEVM). This will show you the list of tokens available to buy within the network
Step 4: Enter the amount you want to purchase
The minimum and maximum amounts of $ETH you can purchase may vary from country to country. It also depends on what fiat currency you are using to buy the crypto. Minimums and maximums will be noted at the time of your purchase.
Step 5: Notice the exchange rate and fees
Click "See calculation" and review all fees before moving ahead with your transaction.
Read more about Transak's fees.
Step 6: Click "Buy Now"
Note the processing time to get an expectation as to when you can receive your $ETH.
Step 7: Enter your supported network address
Here, you need to safely enter your correct supported network address
Step 8: Do KYC with Transak, if KYC is already done, proceed to Pay
Now we need to verify you with a simple KYC process. Please follow the step-by-step guide on the screen. Post approval, you can proceed to Pay. If your KYC is already approved, then you will be directed to pay
Step 9: Receive Crypto
Post payment, you will receive the crypto in your addressed wallet directly.
For any doubts with regards to your Transak experience, please raise a query at support.transak.com
Start Buying $ETH on Polygon zkEVM Today
Building on Polygon zkEVM and looking to onboard users? Integrate Transak
About the Author: