Transak will support user onboarding to Polygon zkEVM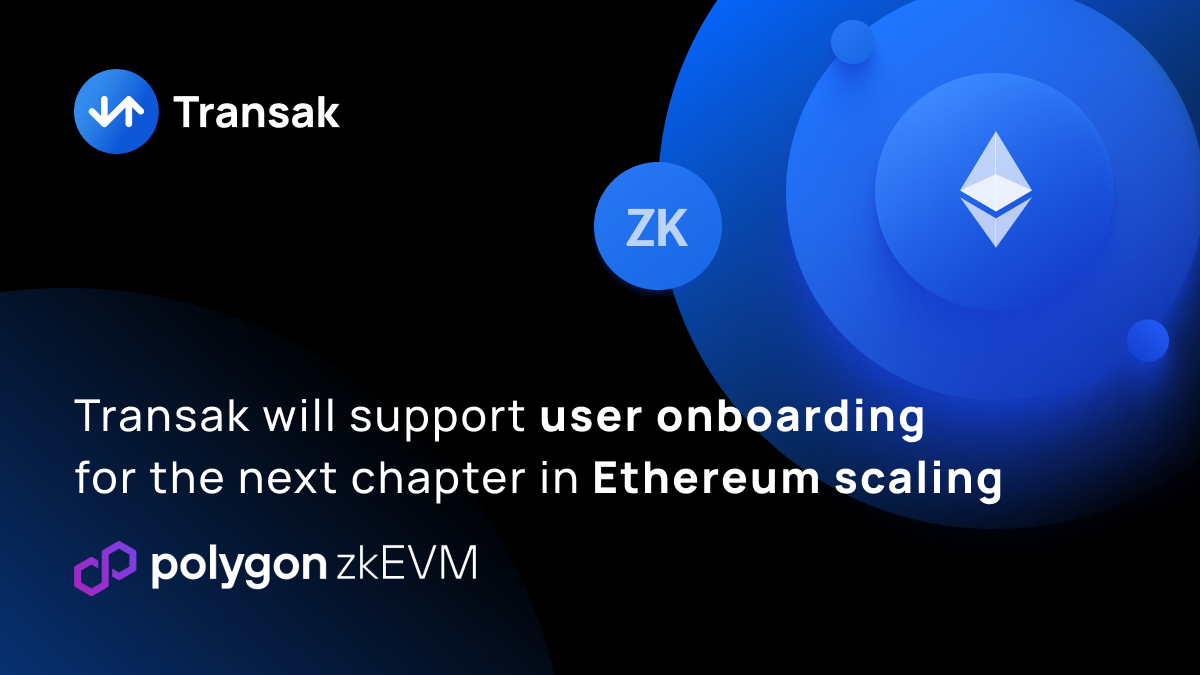 Transak announces its support for Polygon zkEVM, the next chapter in Ethereum scaling. As the onboarding partners for the chain, Transak will enable developers to onboard users directly to Polygon zkEVM with simple card or local payments from across 150+ countries.
"We are excited to support this next chapter in Ethereum scaling and evolve our support for Polygon." said Sami Start, CEO and founder of Transak. "The opportunities to develop real world use cases is tremendous with zero knowledge technology and Transak is proud to support developers across the world to easily onboard users to the same."
What is Polygon zkEVM?
Polygon zkEVM is the leading ZK scaling solution that is equivalent to Ethereum Virtual Machine: The existing smart contracts, developer tools and wallets work seamlessly.
It harnesses the power of ZK proofs to reduce transaction cost and increase throughput, all while inheriting the security of Ethereum L1.
For Ethereum developers, Polygon zkEVM allows them to seamlessly deploy their Ethereum Smart Contracts while retaining the inherent security of Ethereum with fast finality and low costs.
As Polygon zkEVM launches on mainnet beta, a roadmap towards EVM equivalence type 2 category zkEVM rollup, TPS performance and cost reduction starts the next stage of optimizations.
How is Transak enabling user onboarding to Polygon zkEVM?
Transak has always worked towards easing user onboarding to Web3 from across the globe by providing a single fiat-to-crypto payments stack for developers to onboard users. With that aim in mind, Transak will support direct fiat-to-crypto onboarding to Polygon zkEVM.
This would mean, Web3 apps already using Transak or those aiming to develop on Polygon zkEVM, can make use of Transak's on/off-ramp solutions to enable buy or sell of supported cryptocurrencies directly to and from Polygon zkEVM.
To commence onboarding, start here
About the Author: