Transak eases crypto purchases and onboarding for Philippines with Gcash and Maya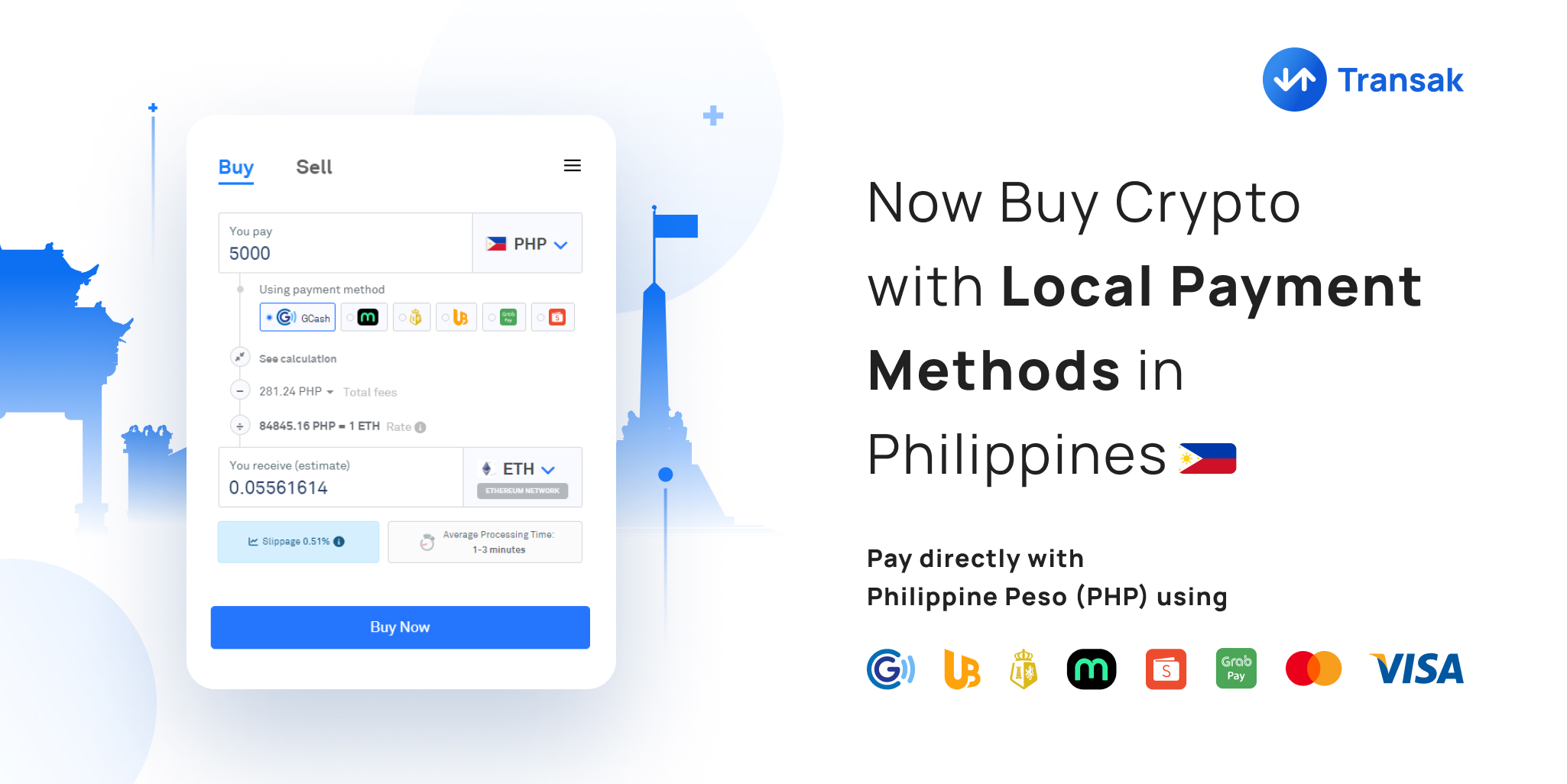 Miami, USA, 27 September 2022: Transak, a leading Web3 onboarding infrastructure provider, launches local payment methods in the Philippines. This solution is open equally to individual users and Web3 platforms interested in expanding to Southeast Asia. While users can buy crypto directly with PHP (Philippine Peso) and pay with GCash, Maya, GrabPay, BPI, Union Bank, ShopeePay, or debit/credit cards, Web3 platforms can integrate Transak's fiat on-ramp widget in their apps and expand to new regions.
According to an independent research done by 2C2P, GCash and Maya together comprised about 90% of the total digital payment method market in the Philippines. Ranking in top 10 for cryptocurrency adoption, Philippines reportedly have over 11 million residents owning crypto. Despite this staggering number, the experience of making onboarding and buying crypto in the Philippines is far from ideal.
Until now, most purchases in the region took place via the traditional P2P method. Such an approach resulted in longer processing times and weaker security for both parties. Transak decided to expand to the Philippines market, adding GCash and Maya payment methods to their infrastructure, to make crypto purchases easier and direct with fiat.
"There is no bigger problem in crypto than the complexity with onboarding. We are working everyday with our partners to make onboarding more easier and seamless for mainstream adoption." said Yeshu, Co-founder and CTO, Transak
He adds, "We see a great potential for adoption in the Philippines and the SEA region and with Transak enabling these new payment methods, we hope more and more users can benefit from."
Since their recent expansion to the Philippines, Transak has become the only fiat-on-ramp in the region with so many local payment methods and the fiat-on-ramp with the most payment methods in the world. The company's success in the Philippines is not the only one in the South East Asia (SEA) area. Back in July 2022, Transak enabled local payment methods in Thailand.
These important milestones come as a part of the provider's push to make Web3 more accessible across South East Asia, a market that is seeing an increasing crypto adoption and fast growth of Play to Earn (P2E) gaming. While many Web3 projects slowed down operations due to the crypto winter, the gaming industry continues to boom. Transak, also recently backed by Animoca Brands, is working with the gaming giant to support more P2E projects and ease end-user onboarding to Web3.
Transak is already integrated with Metamask, Ledger, Trust Wallet, BitYard, Decentraland, Zed. run, Splinterlands, and many more leading Web3 apps looking to expand to new regions. By partnering with the big players in the market, Transak helps Web3 platforms to expand into more regions, saving time and resources for development.
Nissa Li, Head of Growth at BitYard mentions how these local methods are helping them to onboard more users, "Local payment solutions are especially essential for the Philippines market. With Transak adding these new payment methods, the conversion rate of our Filipino users has increased significantly as we see an increased sense of investor confidence in comparison to the traditional P2P methods"

The Philippines is a key market for MetaMask. This partnership with Transak will bring our users in the country more alternative payment solutions like GCash and Maya, and is an important starting point for us to further optimise support product expansion across Asia. This will be a core building block towards our mission to onboard the next 100M users to Web3, said Taylor Monahan, Global Product Lead at MetaMask
Transak looks forward to tackling more onboarding issues in the space and bringing additional opportunities both for their users and partners.
About Transak
Transak is a leading Web3 onboarding infrastructure provider. Its API-driven solutions enable web3 platforms to onboard users to 130+ crypto assets from 125+ countries, abstracting away the complexity of user KYC, risk monitoring & compliance, payment methods and customer support. Transak's On-Ramp widget can be integrated into an app in just a few lines of code. Transak is backed by top VCs, including Consensys, Animoca Brands and graduated from the Tachyon accelerator program.
For further media queries, please contact:
Subscribe to our newsletter