Sushi integrates Transak to ease crypto purchases for users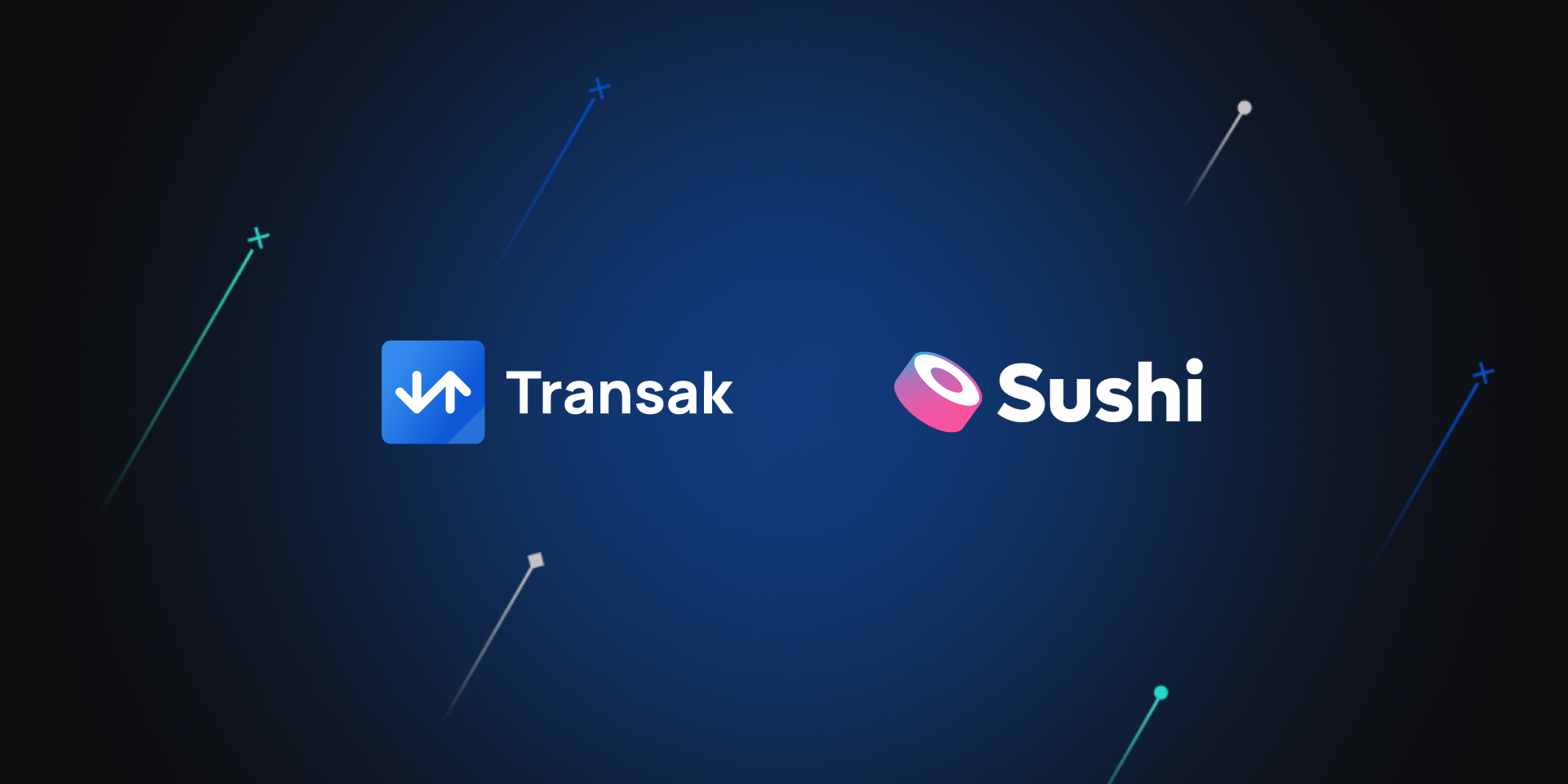 We are excited to announce Transak's integration on Sushi, a leading DeFi platform. With this integration, Sushi's users can now buy 130+ cryptocurrencies from 125+ countries and swap, earn, stack yields, lend, borrow & leverage.
About Sushi:
Sushi is a DEX and a Lending & Margin trading app. Sushi allows users to trade virtual currencies using a connected crypto wallet. Users can buy and sell across 11,700 cryptocurrency pairs and trade tokens across seven crypto networks via the newly launched cross-chain swap.
"Sushi is decentralization at its best! Users from all over the world are using it to swap, earn, stalk and do many other DeFi activities. We are excited to extend support to Sushi, in its aim to onboard more users directly by enabling crypto purchases from a global userbase." - said Sami Start, Co-founder, and CEO of Transak
How to buy crypto on Sushi using Transak:
Step 1: Access Sushi at https://www.sushi.com/swap
Step 2: Click on the top menu item "Buy Crypto"
Step 3: Enter the amount you want to purchase
The minimum and maximum amounts of crypto you can purchase may vary from country to country. It also depends on what fiat currency you are using to buy the crypto. Minimums and maximums will be noted at the time of your purchase.
Step 4: Choose the payment method you want to pay with
Choose between Transak's available payment methods and currencies. Enter the total amount of fiat currency you want to spend on your crypto onramp.
Step 5: Notice the exchange rate and fees
Click "See calculation" and review all fees before moving ahead with your transaction.
Step 6: Click "Buy Now"
Note the processing time to get an expectation as to when you can receive your crypto.
Step 7: Do KYC with Transak, if KYC is already done, proceed to Pay
Now we need to verify you with a simple KYC process. Please follow the step-by-step guide on the screen. Post approval, you can proceed to Pay. If your KYC is already approved, then you will be directed to pay
Step 8: Receive Crypto
Post payment, you will receive the crypto in your addressed wallet directly. In case of any unexpected delays or issues, please feel free to reach out to us at support.transak.com
For any doubts with regards to your Transak experience, please raise a query at support.transak.com
Using Transak, you can buy crypto to any of your wallets directly, just start here.
Building in Web3 and looking to onboard users? Integrate Transak
Subscribe to our newsletter