Optimizing Ad Tech Sales with Blockchain: Vanina Ivanova, Chief Marketing Officer at Ambire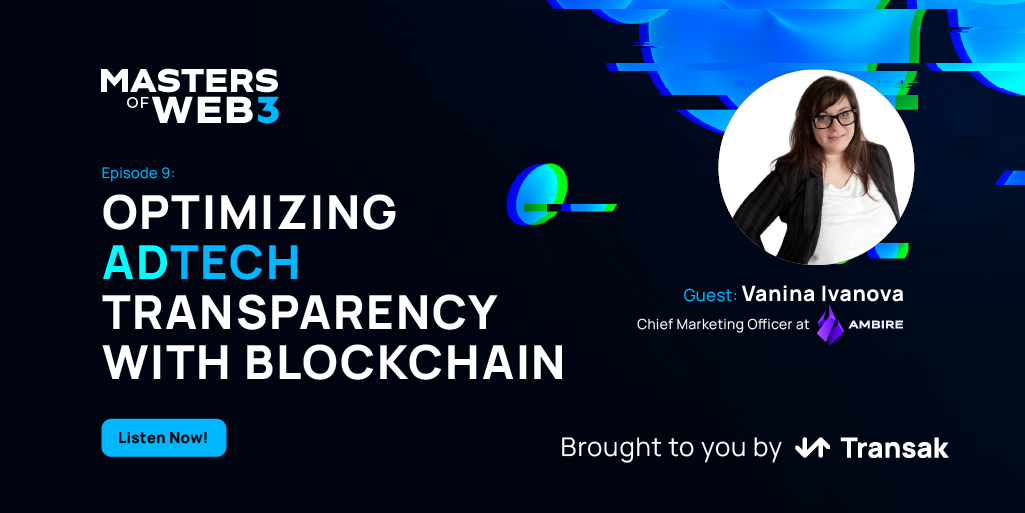 Like many platforms in the crypto space, Ambire AdEx (or AdEx Network back in the days) was created out of necessity. Fed up with the lack of transparency around consumer ad data, founders Ivo Georgiev and Dimo Stoyanov wanted a way to verify consumer information. Enter blockchain technology — an answer to what they were seeking.
But as the founders learned of their product's many use cases, they decided to rebrand to Ambire - a more universal web3 solution company. They launched a smart wallet which gives any user (not just advertisers) the ability to access their crypto with a smooth, secure interface.
Early on, after Ambire's first major crowdfunding campaign, the company was hacked by white glove hackers who drained all of their money. Thankfully, the hackers returned the funds and the Ambire team rebounded quickly.
Join Vanina Ivanova, Chief Marketing Officer of Ambire, in this week's episode, as she takes us back to the beginning and shares her key takeaways that today's crypto founder should definitely hear.
Join us as we discuss:
How decentralization offers solutions from a marketing and advertising perspective
How Ambire is supplementing for the current high gas fees
What type of companies or people are utilizing the wallets
How decentralization offers solutions from a marketing and advertising perspective
When it comes to the traditional advertisement network (ie: the ones we see while browsing the internet), there's a lot of missed opportunity from a marketing perspective.
There is almost no way to verify that the clicks and engagement that an ad is receiving are coming from a real person instead of a click firm or a bot. Some people are actually paid to click on ads all day mindlessly and because of this, it is nearly impossible to see who your real prospective clients are out of the number of clicks an ad is getting.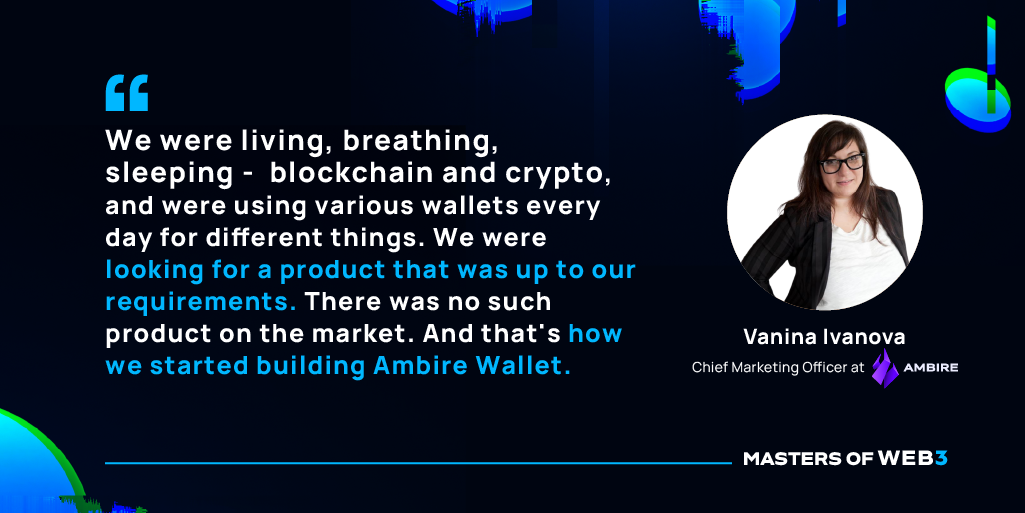 This limits a marketing team from knowing the true success of an ad they put out on a traditional network. However, Vanina says that Ambire AdEx using a blockchain network for advertising solves a lot of marketing issues that take place on a traditional network.
"We came up with a payment channel system that translates each and every impression on a decentralized network to a micropayment on Ethereum. Publishers can get paid per impression in real-time, and because every impression is a micropayment and it's logged on the blockchain, it could be verified at any given time," explains Vanina.
In addition to this, because Ambire AdEx is a layer 2 solution, it is scalable enough to process multiple ads per second making the advertisement process more efficient and the data that comes from the ads more reliable.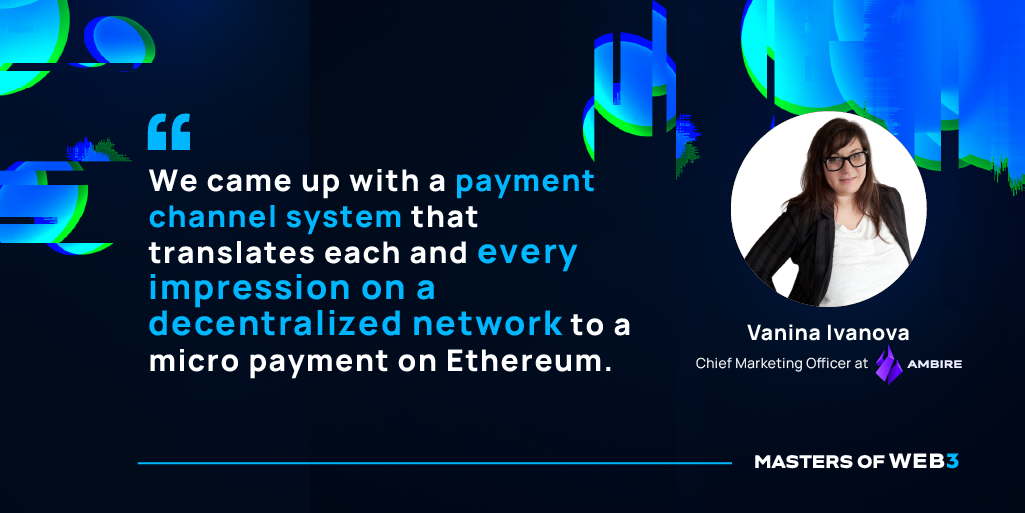 How white hat hackers aided the success of Ambire AdEx
Vanina started out as a copywriter at Ambire AdEx and after just a year with the company, she was promoted to marketing manager.
During one of her first major crowdfunding campaigns in her role as marketing manager, Vanina was able to successfully raise 40,000 ETH which at the time converted to about $12 million which was the largest amount of money Vanina had seen in her career so far.
However, just as Vanina and her team were able to start celebrating this success, their multi-sig wallet was hacked and drained of all its funds. All of the success of their hard work seemed to have vanished right before their eyes.
It wasn't until ten days later that they found out that there was a security vulnerability with the type of multi-sig wallet that they used on the campaign and a group of white hat hackers saw this, interfered and seized the funds from Ambire AdEx in an effort to protect their earnings.
So-called "white hat" hackers are people with the expertise to hack who use their skills for good. In this case, they saw that Ambire AdEx was at risk of losing their funds so they temporarily held onto the money until the security vulnerability was patched. After this, Vanina and her team got their funds back and their success was real once again.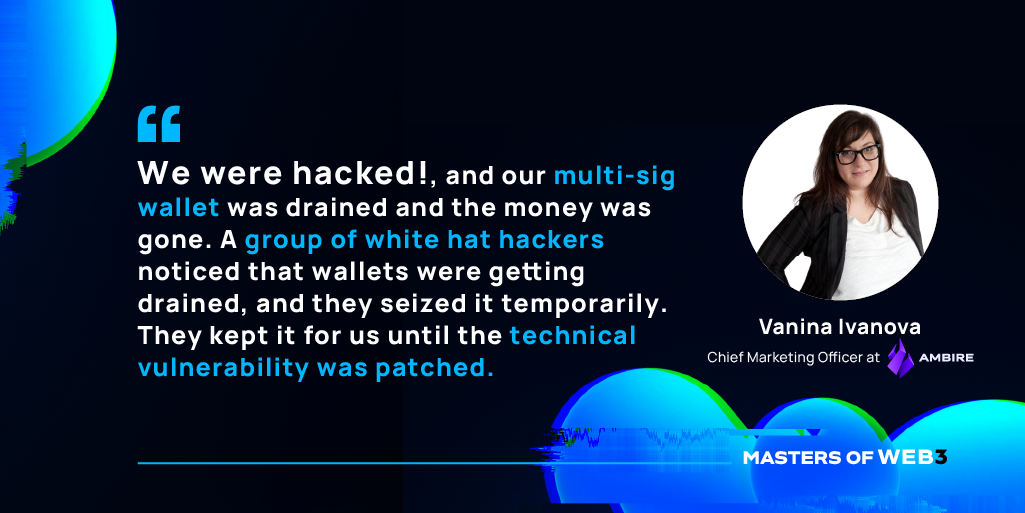 How Ambire is supplementing for the current high gas fees
Gas fees on Ethereum are notoriously high due to the massive increase in users from 2020 to 2021. Since Ambire AdEx runs its ad tech company on a blockchain network and has its payments connected to Ethereum, Vanina and her team needed to devise a way to avoid their ad tech sales becoming too costly.
By using gas optimization techniques, Ambire's main product, Ambire Wallet is able to avoid the fees from adding up. Daily swipes are done on publisher accounts to ensure that publishers don't pay unnecessary fees when withdrawing their earnings.
The wallet system on Ambire is also combating gas fees and a dApp plugin system is currently being created to bring those fees down even more.
"We're actually transitioning our wallet from a standalone platform into a dApp plugin. Once we do that, it is going to be available on various blockchains as well so advertisers and publishers will be able to select which layer 1 to choose for their settlement to optimize their fees and spending," says Vanina.
What type of companies or people are utilizing the wallets
A wallet on a decentralized advertising platform seems like quite the niche but as it turns out, it is very useful for many companies and users.
When it comes to the Ambire AdExapp itself, Vanina says that it is mostly a B2B ad tech sales network, serving media outlets, bloggers, website owners and essentially any person or team on the advertising side of a business.
The Ambire wallet, however, is a bit more universal in its use.
"It is very usable as a multi-sig for companies. It could be used as an enterprise solution but it is mostly a B2C product. So it's designed to be used by crypto people, by 'degens', by the web3 savvy crowd, but also by our mothers or perhaps a 10-year-old child," explains Vanina.
The blockchain network is one that is highly customizable to a user's needs and preferences and because of this, Ambire is expected to grow in ways that it perhaps wasn't even intended for. That's the beauty of web3.
Want to learn more about how Vanina and her team at Ambire are innovating the ad tech sales space on web3? Listen on Spotify, Apple Music, or wherever you find your podcasts.
Building in Web3 and looking to accept payments? Integrate Transak Today
Subscribe to our newsletter