MetaMask Enables ETH Sell Feature Using Transak's Off-Ramp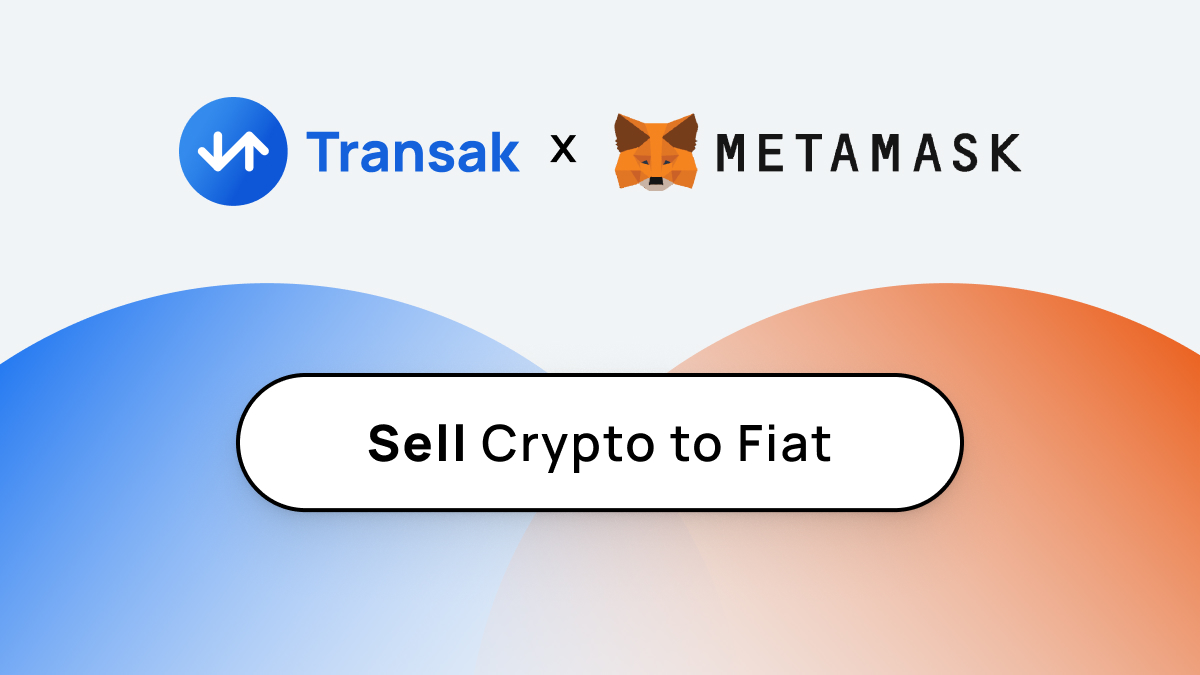 Transak, a leading web3 onboarding infrastructure provider, has taken another strategic step in its long standing partnership with Consensys's MetaMask, one of the foremost Ethereum wallets. This new collaboration is empowering ETH users in the UK and Europe to effortlessly sell their cryptocurrency and directly deposit the fiat into their bank accounts. Building upon its innovative trajectory, Transak was one of the first on-ramp solutions integrated by MetaMask back in 2021, offering users a seamless experience to buy cryptocurrencies through card or bank transfers.
This new functionality allows users to seamlessly transition between crypto and fiat within their self-custody wallet, ensuring complete control and freedom over their cryptocurrency journey.
Elaborating on this newly available feature in MetaMask's wallet ecosystem, Lorenzo Santo, the Product Manager at Consensys's MetaMask, says, "We're thrilled to announce our integration with Transak's off-ramp solution, reinforcing our commitment to providing our users with a seamless experience." He further adds, "By bridging the gap between crypto and fiat, we are furthering our mission to make the decentralized web accessible and practical for everyone. This partnership showcases the synergy of two platforms dedicated to creating a more inclusive financial future."

Off-Ramp is yet another solution in Transak's ever-growing suite of Web3 onboarding and payments solutions. With this integration by MetaMask, the new solution will empower Web3 users like never before, as stated by Sami Start, Co-founder and CEO of Transak, "Transak is dedicated to connecting the traditional financial world with the rapidly growing Web3 landscape, ensuring users experience smooth transitions and unlimited opportunities without the limitations of centralized systems. MetaMask's continued partnership with Transak represents a significant step in empowering users to access Web3 opportunities without limits."
Currently this feature is available only for Ethereum and users in the UK and Europe, but MetaMask and Transak have stated plans to roll out the feature for other leading cryptocurrencies and countries. MetaMask has also integrated other providers to enable users to seek the best price and also to extend the off-ramp capability to another key region: the USA.
In the media:
About Transak
Transak is a global web3 payment and onboarding infrastructure provider, facilitating seamless transitions between traditional finance and crypto assets. Web3 platforms using Transak can embed the best way to onboard users by enabling them to buy or sell crypto assets from 150+ countries, as Transak abstracts away the complexity of user KYC, risk monitoring, compliance, payment methods and customer support.
Transak's product suite includes robust fiat-to-crypto services (On/Off-Ramps), a fiat-to-smart-contract solution (Transak One), and a fiat-to-NFT checkout solution. As a regulated, non-custodial payments layer, Transak supports onboarding to 160+ crypto assets across 75+ blockchains. Trusted by over 350+ applications, including MetaMask and Coinbase Wallet, Transak is making web3 applications more accessible.
For more information, visit https://transak.com/ or follow us on https://twitter.com/Transak

About Consensys
Consensys is the leading blockchain and web3 software company. Since 2014, Consensys has been at the forefront of innovation, pioneering technological developments within the web3 ecosystem. Through our product suite, including the MetaMask platform, Infura, Linea, Diligence, and our NFT platform, we have become the trusted collaborator for users, creators, and developers on their path to build and belong in the world they want to see. Whether building a dapp, an NFT collection, a portfolio, or a better future, the instinct to build is universal. Consensys inspires and champions the builder instinct in everyone by making web3 universally easy to use and develop on.
To explore our products and solutions, visit https://consensys.io/.
For any doubts with regards to your Transak experience, please raise a query at support.transak.com
About the Author: