Inside Arbitrum: Harry Kalodner, Co-Founder & CTO of Offchain Labs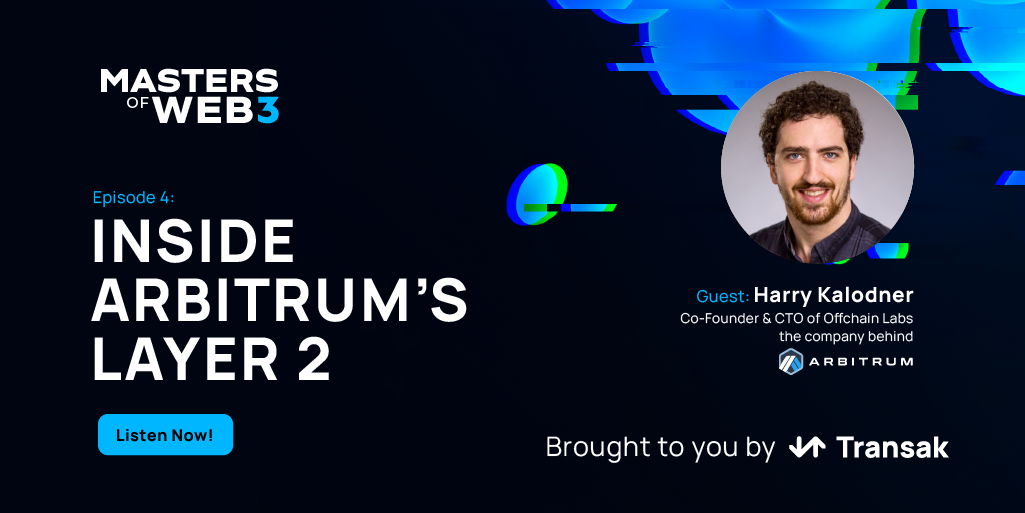 What started as a school project at Princeton University became Arbitrum, an Ethereum scaling solution platform allowing you to make low-cost but highly secure transactions.
Harry Kalodner is the Co-founder and Chief Technology Officer of Offchain Labs, leading the engineering team developing Arbitrum.
In this week's podcast episode, Harry gives us insight into how he and his team began to develop Arbitrum and turned a class assignment into a permanent mark on the crypto world.
Tune in to find out:
How Arbitrum other Layer 2 rollups work on the Ethereum network
How both Harry and Transak co-founder Sami Start learned to adjust when starting their companies
How to on-ramp to crypto using Arbitrum
Listening on a desktop & can't see the links? Click below to listen on your favorite podcast player:
Inside the tech: How Layer 2s like Arbitrum work
All Arbitrum transactions are posted on Ethereum, which acts as a checkpoint and source of security for transactions that are run through Arbitrum. So instead of having all information stored and computed through Ethereum, Arbitrum stores and executes all of its transactions within an environment that is cheaper and more efficient than Ethereum.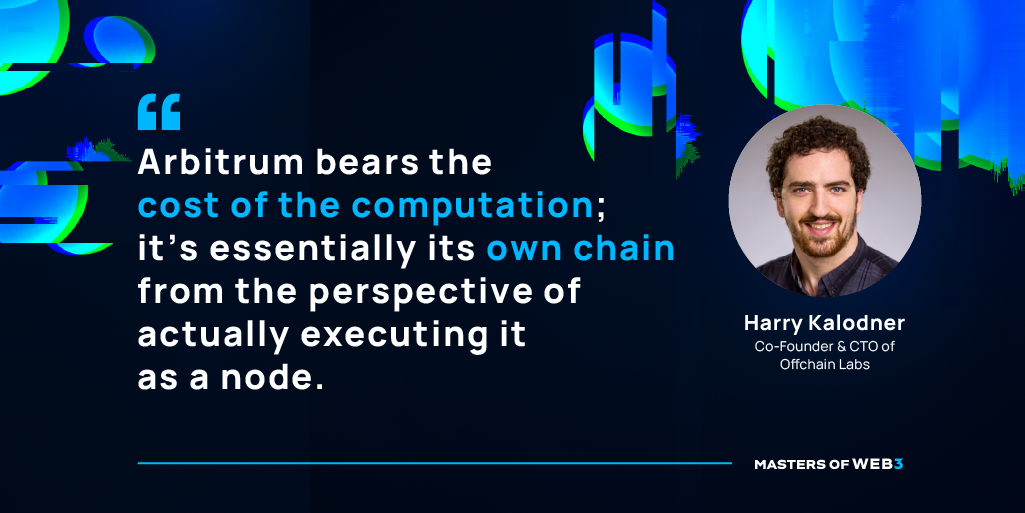 However, Ethereum still plays a major role. Every Arbitrum transaction is an Ethereum transaction in that once the transaction is executed through Arbitrum, it returns to Ethereum. So you could easily follow the state of a chain that is being run by Arbitrum by following it on Ethereum as it still exists on both technologies.
Adjusting to the role of co-founder
Harry and Steven Goldfeder were grad students at Princeton in 2014 when the idea behind Arbitrum was simply a project idea for their class. Today, they are its co-founders.
Transitioning into this role brought about a new reality for Harry, who says the ever-changing state of the company is what keeps him up at night — and keeps him going. Realizing the amount of responsibility that was beginning to pile on his shoulders, both financially and regarding the team behind him, gives Harry a drive to continue and ensure the success of Arbitrum.
Though the development of Arbitrum brought about many challenges for Harry and his co-founders, they were determined to bring this product to the market. This meant it was time for some compromise and trial and error — on all things besides security, that is.
Harry explains that ensuring top-notch security for Arbitrum's users was something that was never overlooked.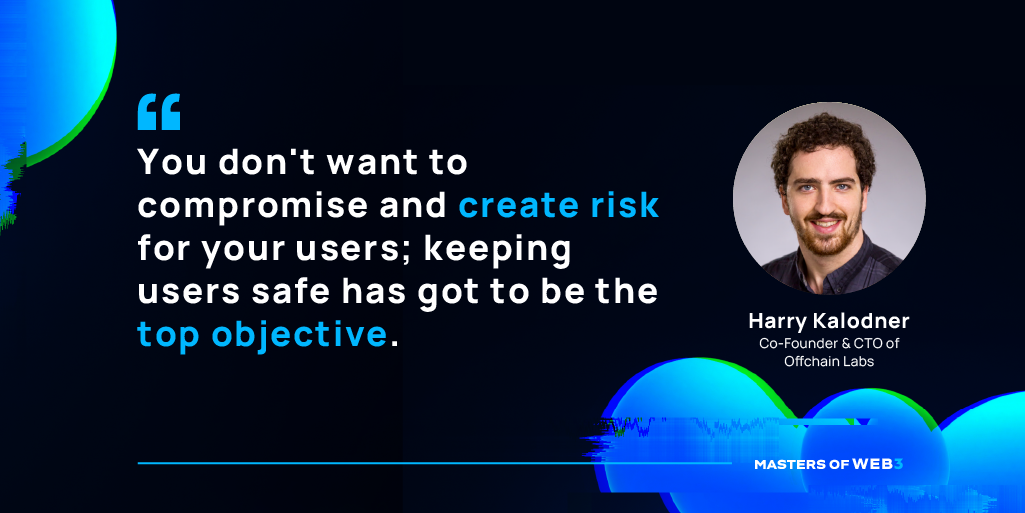 Ultimately, Harry and his team were able to introduce Arbitrum to the world with just a few kinks in the technology's ease of use that have since been kneaded out.
Similarly, Sami Start, co-founder of Transak, says that his journey to co-founder status was simply about enjoying the journey.
"I felt the same thing as Harry — every three months my job changes. We spent a lot of time with a very small amount of employees. In December 2020, we had one employee, basically. And then over the last year and a half, we've gone to 108 employees. So, during that time, my job description has changed drastically. It's been a big journey, but I have enjoyed solving new puzzles all the time," explains Sami.
On-ramping to crypto using Arbitrum's Layer 2 rollup
What Arbitrum is providing is the technology to on-ramp to crypto without the complex and pricey process you would experience if you were to go directly through Ethereum.
The technology is Layer 2, a blockchain built on top of an existing blockchain, and provides a roll-up space to run multiple transactions at once. This enhances transaction speed and efficiency by eliminating costs that you would run into by doing each transaction one by one on a more expensive platform such as Ethereum.
However, as previously mentioned, these roll-up transactions that are being executed by Arbitrum still exist within Ethereum and the networks work hand in hand to bring ease to the crypto transaction process.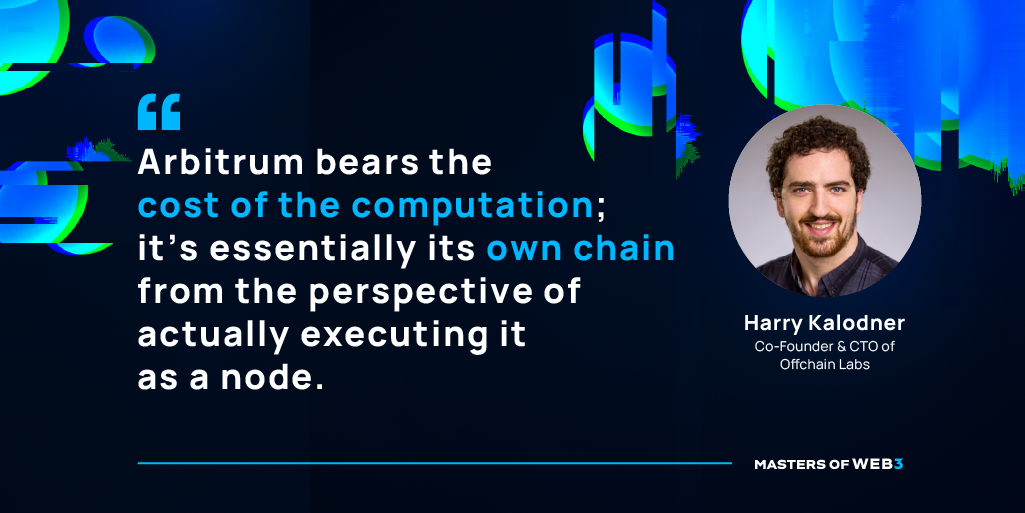 The beauty of Arbitrum is that no matter which corner of the cryptocurrency ecosystem you come from, you can find the apps you're familiar with (NFT's, GMX, DopeCoin, etc.) and use them directly on Arbitrum with the security of Ethereum still guaranteed.
In the words of Harry himself, "It's a no-brainer."

Building on Arbitrum and looking to accept payments? Integrate Transak Today
Listening on a desktop & can't see the links? Click below to listen on your favorite podcast player: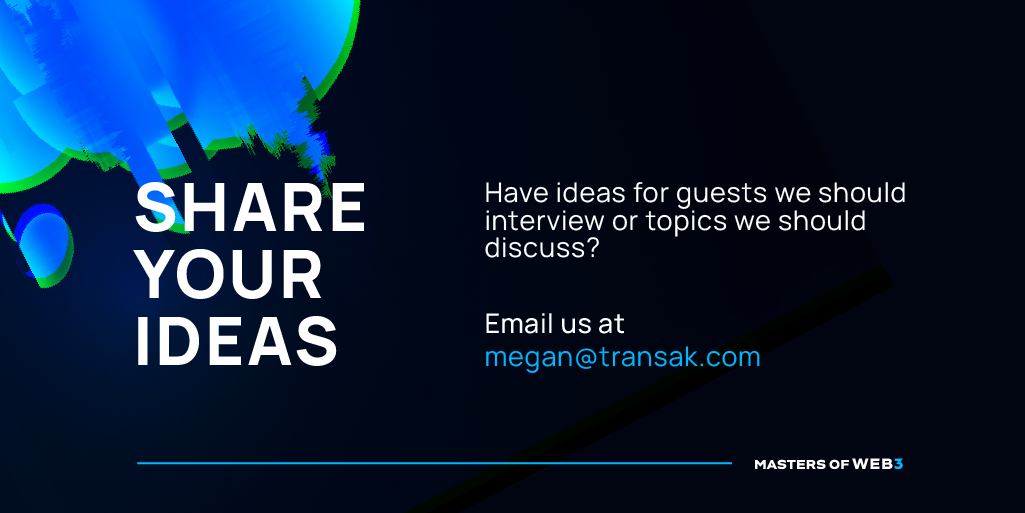 About the Author: