How to Invest in Cryptocurrencies in India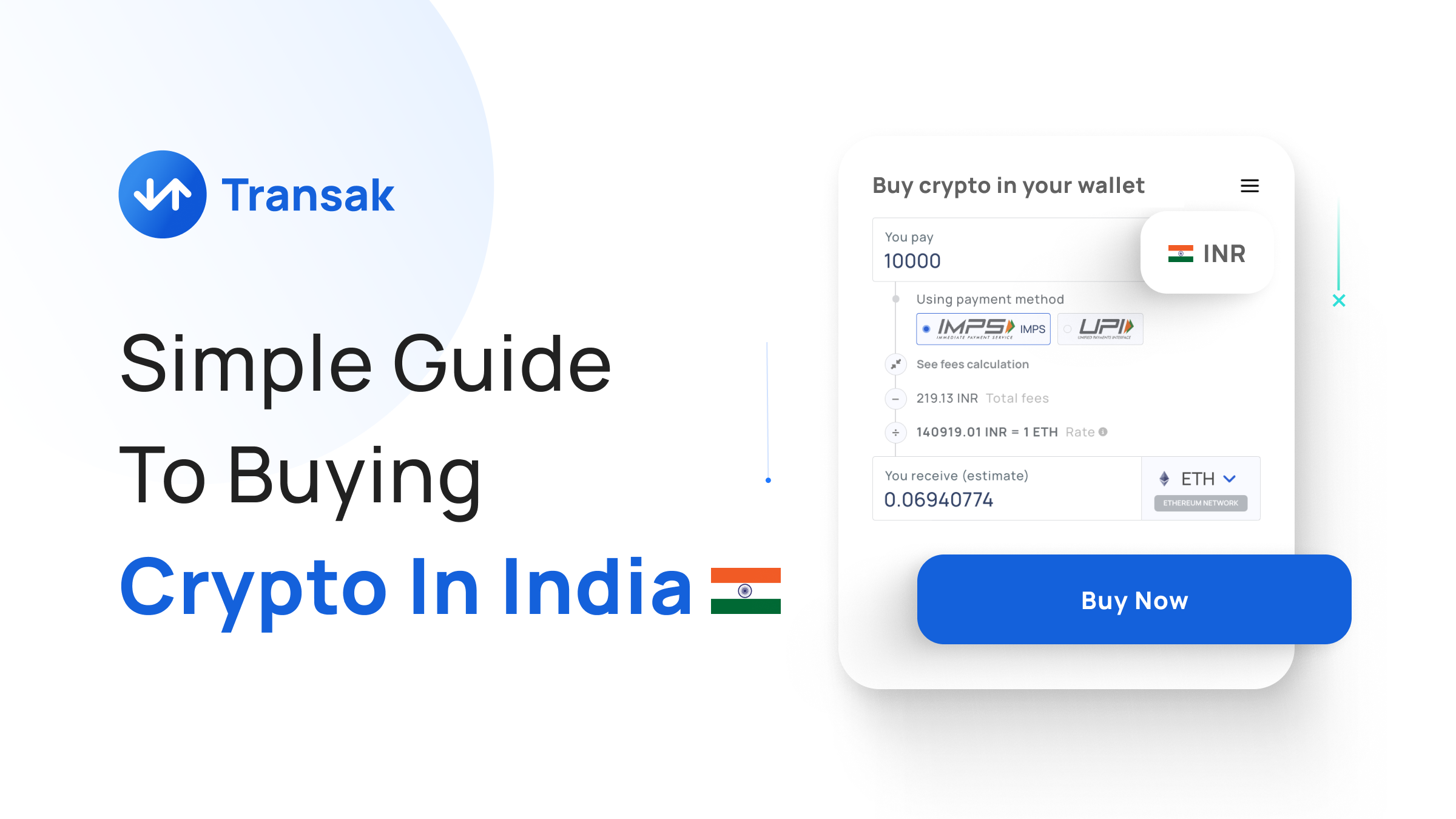 Investing in cryptocurrencies in India has garnered notable attention over recent years, riding the global wave of interest in digital assets. Over 12,000 people search for "how to invest in cryptocurrencies in India," and other similar phrases every month.
While the allure of lucrative returns drives many towards cryptocurrencies, the journey of how to buy cryptocurrency in India and other digital assets is enveloped in regulatory ambiguities and market volatility.
The steady decline in trading volumes across popular Indian exchanges clearly shows mass unawareness around blockchain-based digital assets. Data from CoinGecko shows a staggering 80% reduction in trade volume between October 2022 and October 2023.
The crypto landscape in India took a significant turn with the implementation of the cryptocurrency tax bill in April 2022, which brought about a new regulatory framework. This legal milestone, albeit with its share of criticisms, signaled a step towards defining the narrative of digital assets in the country.
As the crypto ecosystem in India matures, potential investors need a structured approach to navigate the myriad of options and risks in the crypto market.
As a leading fiat-to-crypto gateway, Transak emerges as a pivotal player in this domain, providing a seamless and compliant platform for individuals and businesses keen on navigating the cryptocurrency market in India.
This guide aims to provide a well-rounded outline to help individuals understand the legal framework, select reliable cryptocurrency exchanges, choose cryptocurrencies wisely, and implement sound investment strategies while being conscious of the associated risks.
How to Buy a Cryptocurrency in India

- Prerequisites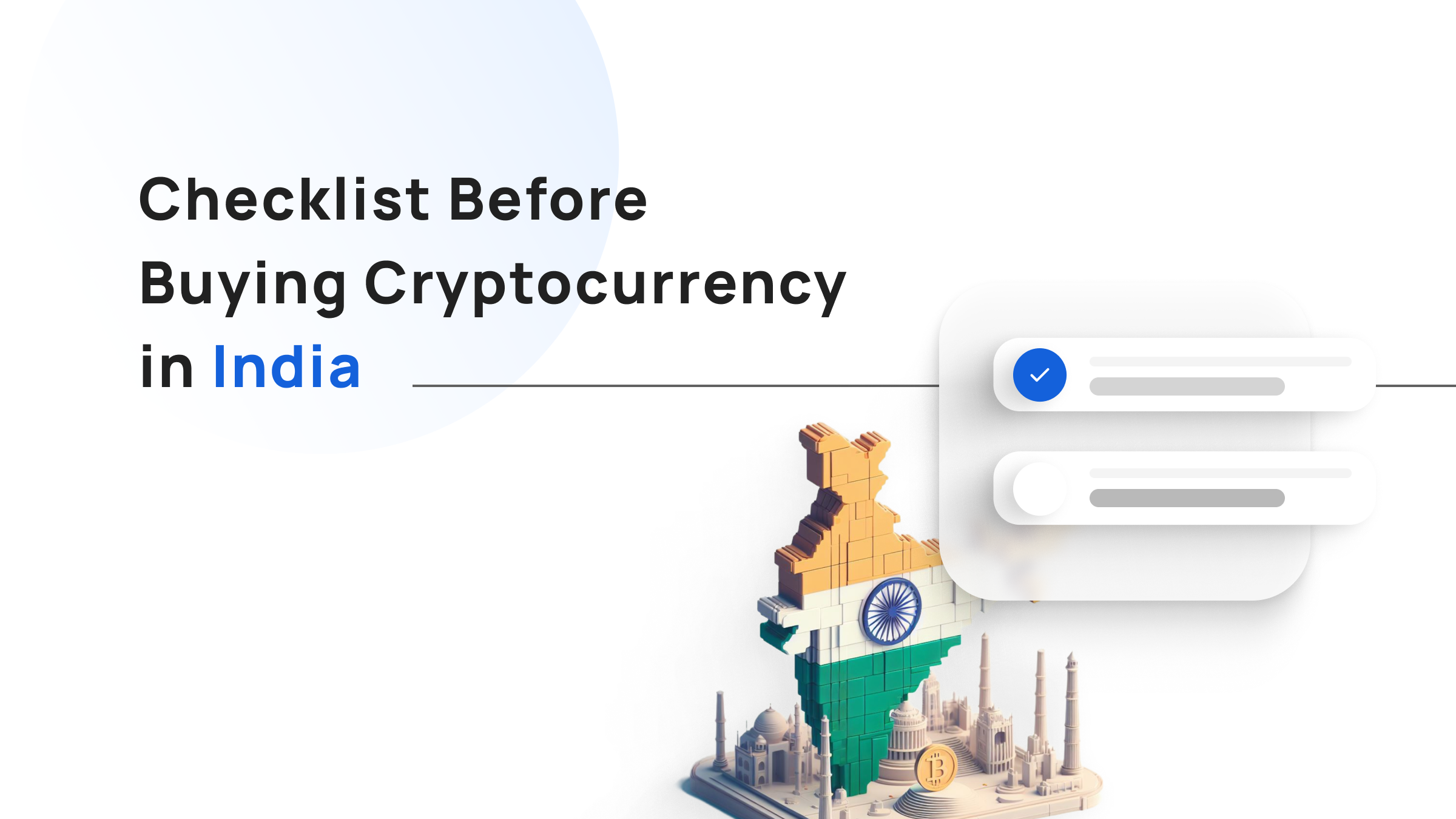 Before we dive into how to start investing in cryptocurrency in India, let's make sure you have all the tools required to make a crypto purchase.
Step 1: Get a Cryptocurrency Wallet
A cryptocurrency wallet is the fabric that connects you and your blockchain-based digital assets.
Crypto wallets come in two forms:
Hot wallets (apps and browser extensions)
Cold wallets (physical devices)
For beginners, hot wallets are a great place to start. Download and set up any of the popular hot wallets like Trust Wallet or MetaMask, and you will be good to go.
Step 2: Have a Bank Account
The best way to buy crypto in India is through a licensed and user-friendly platform that facilitates INR to cryptocurrency conversion. Transak is an example for how to invest in crypto in India.
Note that you must be at least 18 years old before you can open a bank account and buy crypto from Transak.
Step 3: Register and Verify on Transak
The next step in how to invest in cryptocurrency in India via Transak is to register and verify yourself.
Not just Transak, but any regulated cryptocurrency on-ramp or exchange operating in India requires its users to undergo a KYC process.
With Transak's multi-level KYC solution, users can buy cryptocurrencies with just basic details like name and billing address. The process can be completed in as little as 30 seconds.
For larger amounts, users can complete further levels of KYC. Completing the Standard KYC process allows you to purchase cryptocurrencies worth $20,000 and completing the Enhanced KYC process let's you buy crypto for sums like $100,000.
Step 4: Complete the Purchase and Get Crypto in Wallet
Once you have a crypto wallet set up, a bank account with sufficient funds and verified on Transak, you can go ahead and buy any of the 155+ cryptocurrencies through IMPS or UPI.
Enter the amount you want to purchase and follow the self-explanatory steps on the screen.
During the buying process, you will be prompted to enter the wallet address. Double check that you enter the right wallet address as this is where your cryptocurrency will be deposited.
That's how to buy crypto in India.
How to Invest in Cryptocurrency from India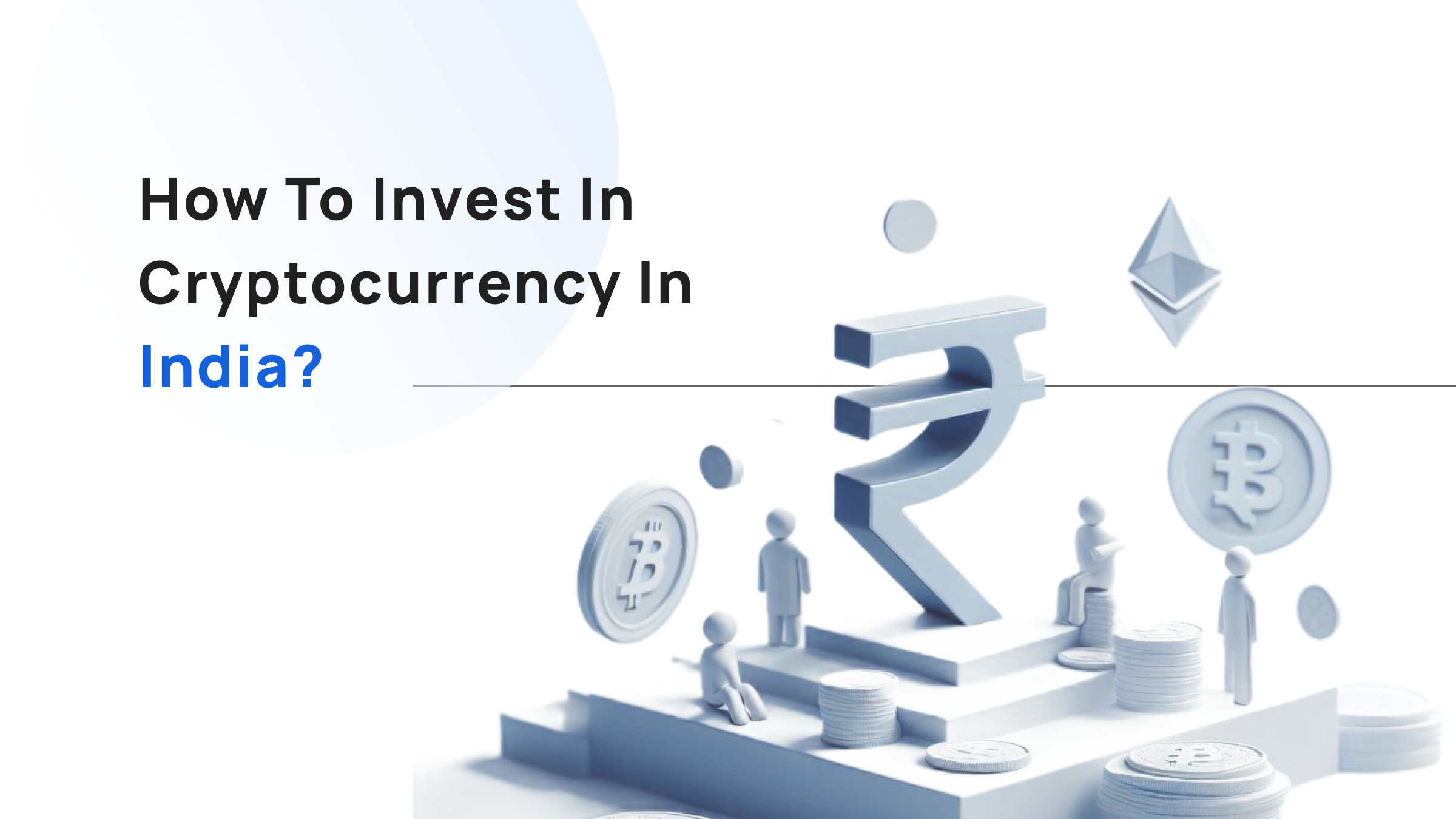 With the right guidance, learning how to invest in cryptocurrency from India is fairly straightforward. Just follow the steps outlined below:
Understand the legal framework surrounding cryptocurrency and exchanges
Choose a regulated platform to buy cryptocurrency
Understand how cryptocurrency buying and selling is taxed
Look for convenient payment methods
Research and select the right cryptocurrencies for yourself
Legal Framework
For a regular individual keen on investing in cryptocurrencies in India, being acquainted with the legal framework is crucial.
This knowledge ensures that all investments are compliant with local laws, thereby mitigating legal risks. Here's a simplified overview:
Regulatory Approvals: Ensure the platform you choose to invest through has requisite approvals from Indian authorities, making your investments legitimate.
Tax Compliance: Being aware of tax obligations on your crypto earnings is crucial to avoid any legal repercussions.
Anti-Money Laundering (AML) Measures: Platforms compliant with AML laws, like Transak, ensure the legitimacy of transactions, safeguarding you from potential fraud.
Thus, a grasp of the legal framework not only secures your investment but also educates you on your rights and obligations as a crypto investor in India.
Summary of Key Regulatory Frameworks
| | |
| --- | --- |
| Legislation/Regulation | Description |
| Cryptocurrency and Regulation of Official Digital Currency Bill, 2021 | Proposed framework for crypto exchanges' eligibility criteria including minimum net worth and governance guidelines. |
| Prevention of Money Laundering Act (PMLA) and Financial Intelligence Unit (FIU) Registration | Crypto businesses fall under money laundering rules, enhancing regulatory oversight. |
These frameworks form the backbone of cryptocurrency regulation in India, creating a structured environment for both crypto platforms and investors.
Choosing A Platform to Buy Cryptocurrencies
Selecting a credible cryptocurrency on-ramp or exchange is the most important step in the cryptocurrency investment journey in India.
Here's a more elaborate breakdown of the factors to consider, coupled with how Transak aligns with these considerations:
Security
A secure exchange provides institutional-grade custody and is overseen by regulatory bodies, ensuring the safety of customer funds from potential hacks or unauthorized access.
Transak underscores its commitment to security by adhering to regulatory standards in India, providing a secure platform for its users to transact with confidence.
Ease of Use
The crypto world can be daunting, especially for newcomers. An exchange with a user-friendly interface simplifies the process of buying, selling, and managing cryptocurrencies, making users' journeys less intimidating and more enjoyable.
Transak shines in this aspect with its seamless fiat-to-crypto gateway, facilitating easy transactions that cater to both beginners and seasoned investors.
Legal Compliance
Legal compliance is a cornerstone for a reliable crypto exchange. An exchange or on-ramp that complies with local laws and regulations provides a legal safeguard for users' investments.
Transak's adherence to the legal frameworks in India (FIU-registered and PMLA-compliant) demonstrates its legitimacy and reliability as a platform for cryptocurrency investments in the country.
Liquidity
Liquidity refers to the ease with which assets can be bought or sold in the market without affecting their price.
High liquidity in an exchange ensures users can easily enter or exit positions, providing a smoother trading experience.
Cost-effectiveness
The cost of trading is an essential factor that impacts overall returns. Platforms with competitive fees ensure users retain a larger portion of their earnings.
Transak does not charge any hidden fees from the user. The fee is instantly calculated when the users enter the amount to buy and displayed even before proceeding to the next step.
Educational Resources
Education empowers users to make informed decisions in the crypto space. Exchanges that offer educational resources provide a learning platform that can significantly benefit both novice and experienced investors.
Transak's blog section arms users with all the knowledge they need as a beginner to navigate the web3 space safely.
For specific queries, users can reach out to Transak Support.
Reputation
The reputation of an exchange within the crypto community often reflects the quality of service it provides. Engaging with reputable exchanges ensures a higher standard of service and trustworthiness.
Over the years, Transak has catered to millions of customers and has been a supportive pillar for some of the most popular DeFi platforms like MetaMask, Trust Wallet, and Okto by CoinDCX.
Payment Options
The flexibility of transactions is enhanced with diverse payment options. Transak's integration with UPI payment systems in India stands as a testament to its commitment to providing flexible transaction options, effectively bridging traditional finance with the crypto world.
Diverse Cryptocurrency Offerings
A diverse range of cryptocurrencies provides a broad spectrum of investment opportunities. Transak, with its wide array of supported cryptocurrencies (more than 155), caters to a variety of investment preferences, allowing you to explore different crypto assets under a secure and compliant platform.
Taxation
Understanding taxation is crucial for any investor to ensure compliance and optimize returns.
In India, the taxation landscape around cryptocurrencies has evolved to provide clearer guidelines for investors.
Here's a deeper dive into the taxation framework surrounding cryptocurrencies in India:
Taxation on Profits
The Indian tax authorities have categorized income from cryptocurrencies under the head of income from other sources.
Profits from selling, swapping, or spending Virtual Digital Assets (VDAs) including cryptocurrencies are subject to a flat tax rate of 30%, regardless of whether the gains are short-term or long-term.
This flat tax rate is a significant aspect to consider as it impacts the net returns from your crypto investments.
Tax Deducted at Source (TDS)
An additional tax provision has been introduced where a 1% TDS (Tax Deducted at Source) is applicable on the transfer of crypto assets if the transaction amount exceeds INR 50,000 in a financial year, or INR 10,000 in some cases.
This TDS is an upfront tax deduction that needs to be considered while calculating the net return from your crypto transactions.
Tax Compliance
Ensuring tax compliance helps avoid legal repercussions. Accurate record-keeping of all your transactions, including the date of transactions, the amount, and the parties involved, is crucial for correct tax reporting.
Employing tax software or consulting with a tax advisor specialized in cryptocurrencies can be immensely beneficial to ensure accurate tax compliance.
Some Important Points
When diving into the world of cryptocurrency investment in India, there are certain critical points that individuals often overlook, which can significantly impact their investment journey. Here are some of these points:
No Offsetting Losses: Unlike other forms of investments, the current tax framework in India does not allow offsetting losses incurred from cryptocurrency investments against gains from other heads of income. This is a crucial point to note as it can affect your overall financial planning.
Record-Keeping: Accurate and meticulous record-keeping of all cryptocurrency transactions is crucial for tax compliance. Each transaction, regardless of its size, should be documented with details including dates, amounts, and parties involved.
Tax Liability on Gifts and Inheritances: Individuals often miss the tax liability that arises from receiving cryptocurrencies as gifts or inheritances. Any received cryptocurrencies may be subject to taxation.
Payment Methods
In India, both Immediate Payment Service (IMPS) and Unified Payments Interface (UPI) are popular electronic funds transfer methods.
IMPS facilitates instant interbank electronic fund transfers, allowing users to access their bank accounts and transfer funds immediately and securely. On the other hand, UPI, a payment system launched by the National Payments Corporation of India (NPCI), facilitates instant transfers between any two parties' bank accounts, providing a seamless way to transact directly from a bank account.
The transaction volumes through these platforms have been significant. For September 2023, IMPS transactions were recorded at 473 million in volume, whereas UPI transactions in August 2023 reached the 10 billion mark for the first time.
The growth in UPI transactions has been notable, with a 56% rise in volume and a 41% increase in value compared to the previous year, as of September 2023. Moreover, UPI accounted for 52% of the total digital financial transactions in FY22, showcasing its growing preference among users.
Transak, as of October 2023, is one of the few platforms that enable UPI as a mode of payment for buying cryptocurrencies in India.
This is significant as UPI has become a convenient and preferred mode of payment among Indians due to its ease of use and instant transfers, aligning with the general trend of growing UPI transactions in the country. However, most of the crypto exchanges in India, including Transak, allow payments via IMPS, which is also an efficient and widely used payment method.
The choice between UPI and IMPS would generally depend on the individual's preference, with UPI being more convenient and user-friendly, especially with platforms like Transak enabling UPI for cryptocurrency purchases.
Selecting Cryptocurrencies for Investment
Once you've navigated the legal landscape, chosen a trustworthy platform, and understood the taxation and payment methods, the next step is selecting which cryptocurrencies to invest in.
Here's a guide on how to go about this:
Market Research
Conducting thorough market research is essential to understand the current trends, market capitalization, historical performance, and potential future growth of different cryptocurrencies.
Transak provides a variety of cryptocurrencies for investment, allowing you to diversify your portfolio based on your research.
Understanding the Technology
Understanding the underlying technology of cryptocurrencies can provide insights into their potential for long-term value.
Educational resources available on Transak can provide a solid understanding of blockchain technology and its applications.
Use Case and Adoption
Cryptocurrencies with a strong use case and growing adoption are more likely to sustain value over the long term.
Transak's wide array of supported cryptocurrencies enables access to coins and tokens with diverse use cases and levels of adoption.
Risks Assessment
Assessing the risks associated with each cryptocurrency is crucial. These can include market volatility, regulatory risks, and technological vulnerabilities.
Sometimes, you might find an investment opportunity with a low downside and a high upside. In such cases, Indians can immediately hop onto Transak and buy instantly with UPI or IMPS.
Community and Developer Support
A strong community and active developer support indicate a healthy ecosystem that can contribute to the cryptocurrency's growth and stability.
Regulatory Compliance
Ensure the cryptocurrencies you choose to invest in comply with Indian regulatory standards to avoid potential legal issues down the line.
Transak's compliant platform ensures that the cryptocurrencies available for investment adhere to the legal framework in India.
Conclusion
Investing in cryptocurrencies in India requires a well-structured approach given the evolving regulatory landscape and market volatility.
Understanding the legal framework and tax implications is crucial for compliance and financial planning.
Transak is a reliable platform, offering a compliant and user-friendly gateway for cryptocurrency investments. The integration of popular payment systems like UPI and IMPS, coupled with a robust KYC process, underscores Transak's commitment to providing a secure and convenient platform for investors.
We hope this article provides you with a clear roadmap on how to invest crypto in India.
Below are some frequently asked questions on how to invest in cryptocurrency India.
FAQ
How can I buy cryptocurrency in India?
You can buy cryptocurrency in India by following the steps below:
Choose a licensed INR to crypto exchanging platform
Register and complete KYC verification on the platform
Choose your cryptocurrency, make the payment and receive in your wallet
How to buy crypto in India without KYC?
It is not possible to buy crypto in India without KYC on regulated platforms. Cryptocurrency exchanges and on-ramps in India are now required to comply with the Prevention of Money Laundering Act, 2002 (PMLA) and register with the Financial Intelligence Unit (FIU). However, you can buy crypto in India without KYC in a peer-to-peer fashion.
How to buy or sell cryptocurrency in India?
Users can buy and sell cryptocurrency in India through centralized or decentralized exchanges. Make sure that you report all trades for appropriate tax filing.
For more information, visit transak.com or follow us on twitter.com/transak or you can also follow us on our new home for UK users, twitter.com/transakUK.

For any further questions or concerns, please send an email to [email protected].
About the Author: