How to Buy ZEN on Horizen | Transak
How to Buy $ZEN

If

you're curious about how to buy Horizen's native token with Transak, read on.
Privacy-minded crypto users have long felt puzzled about how to utilize blockchain technology without publicizing every facet of their financial lives.
Enter Horizen, a zero-knowledge-enabled blockchain network protected by multiple security layers. Privacy is baked right into Horizen's DNA, with some 40,000+ nodes and point-to-point encryption that allows for authenticated tracking while not giving away too much information.
We're pleased to announce that Horizen is now supported on Transak. The Horizen native token, $ZEN, is available on Transak for trades with EUR, GBP, and other fiat currencies.
Read on to learn how to buy ZEN using Transak's global crypto on-ramp widget.
What is Horizen?
Horizen is earning a name for itself as a secure blockchain network with a large, decentralized node infrastructure. Launched in 2017, Horizen utilizes a unique sidechain technology known as Zendoo which is focused on scalable data privacy.
According to the ZEN whitepaper, the company is working on a collection of products, services, and businesses built around zero-knowledge proofs (ZKP). ZKPs are a type of authentication for which passwords or personally identifying information (PII) are not needed. This technology can help support traditional know-your-customer (KYC) efforts and make users' blockchain transactions much more private and secure.
Future and current use cases of Horizen's technology could include data hosting, property titles, banking services, privacy-preserving p2p/b2b asset exchanges, mutual aid societies, insurance, and humanitarian aid.
History of Horizen
Horizen was launched in 2017 by co-founders Dr. Rob Viglione and Rolf Versluis with the goal of empowering consumers to maintain control of their privacy and digital footprints.
The company's whitepaper says that Zen's framework "can be utilized to serve disenfranchised populations currently excluded from vital services such as banking and healthcare due to lack of identification, capital, and secure channels."
The native token, $ZEN, is a mineable and stakable Proof-of-Work (PoW) coin. ZEN currently trades on major exchanges, but purchases might be limited depending on your locality.
How to buy $ZEN with Transak
Consumers can easily purchase ZEN through the Horizen faucet using the following steps:


Step one: Go to www.getzen.cash
This takes you to the Horizen faucet through ZENHUB.
ZENHUB is as a tool for growing the Horizen community. It was meant to provide an easy bridge between new users and the Horizen ecosystem. By on-ramping to crypto through the Horizen faucet, users can receive and send their first ZEN transactions while learning more about the blockchain network itself.




Step two: Click 'BUY ZEN' and select 'WITH FIAT'
You should see Transak's crypto on-ramp widget pop up in the box.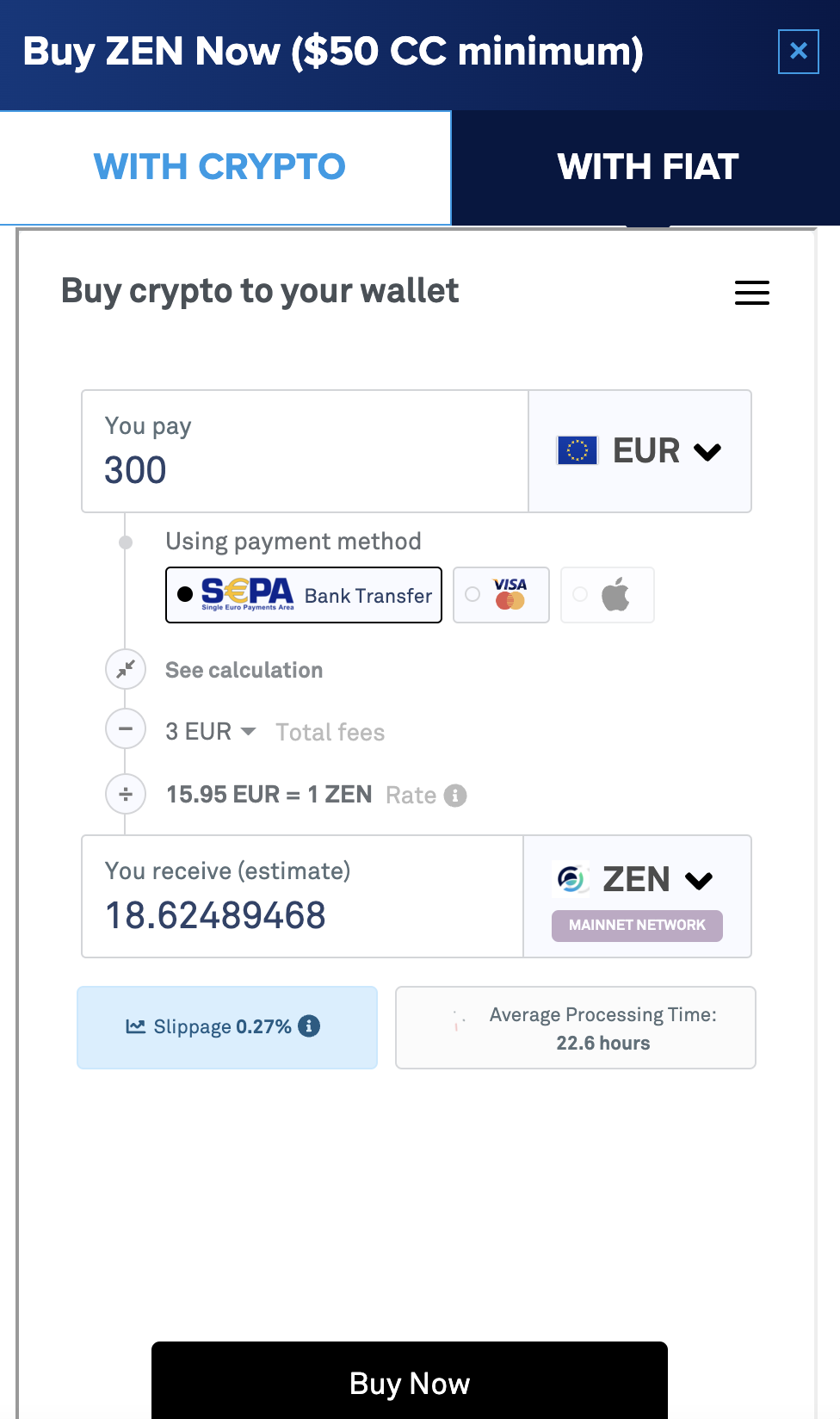 Step three: Select currency and amount
Choose between Transak's available payment methods and currencies. Enter the total amount of fiat currency you want to spend on your crypto onramp. The minimum and maximum amounts of ZEN you can purchase differs from country to country. It also depends on what fiat currency you are using to buy the crypto. Minimums will be noted at the time of your purchase.


Step four: Notice the exchange rate, fees, and slippage
Note the box that reads "You receive (estimate)" to see the relevant exchange rate. Review all fees before moving ahead with your transaction.
What is slippage? Slippage simply refers to the Transak ZEN price compared to the ZEN market rate. There will always be a slight discrepancy between what Transak estimates ZEN's price to be compared to other exchanges. Due to the volatile nature of crypto, token and coin values change within seconds. The slippage amount you see in the widget will vary depending on market conditions and will be subject to change until the moment you click "buy." The final slippage rate will depend on the exact time of your purchase. Our goal is to ensure that our crypto onramp process remains transparent. Whenever possible we aim to minimize slippage.
Step five: Click "Buy Now"
Congratulations! You've purchased your ZEN. Note the processing time to get an estimate as to when you will receive your ZEN.
Where is Transak available?
Transak is available in 125+ countries and for 100+ cryptocurrencies. As a company, Transak is a registered cryptoasset firm with the UK Financial Conduct Authority under the Money Laundering, Terrorist Financing and Transfer of Funds. That makes it easy for DeFi protocols and networks to trust Transak for the KYC process (aka "know your customer"). Transak also brings the efficiency of letting users pay by ApplePay, Debit/Credit cards, and Sepa/Bank transfers.
However, due to varying cryptocurrency regulations in different areas of the world, you may be limited to what cryptocurrencies you can buy. For instance, Transak is not yet available in New York due to the Bit License requirement. You may not be able to buy KDA with Transak in every single country or locality.



Buy $ZEN today on Horizen with FIAT: https://getzen.cash/

Read more about Transak's fees. For more information on Horizen, visit horizen.io.
Building in Web3 and looking to accept payments? Integrate Transak today.
About the Author: