$FJB now available for purchases via Transak; Buy now from 125+ countries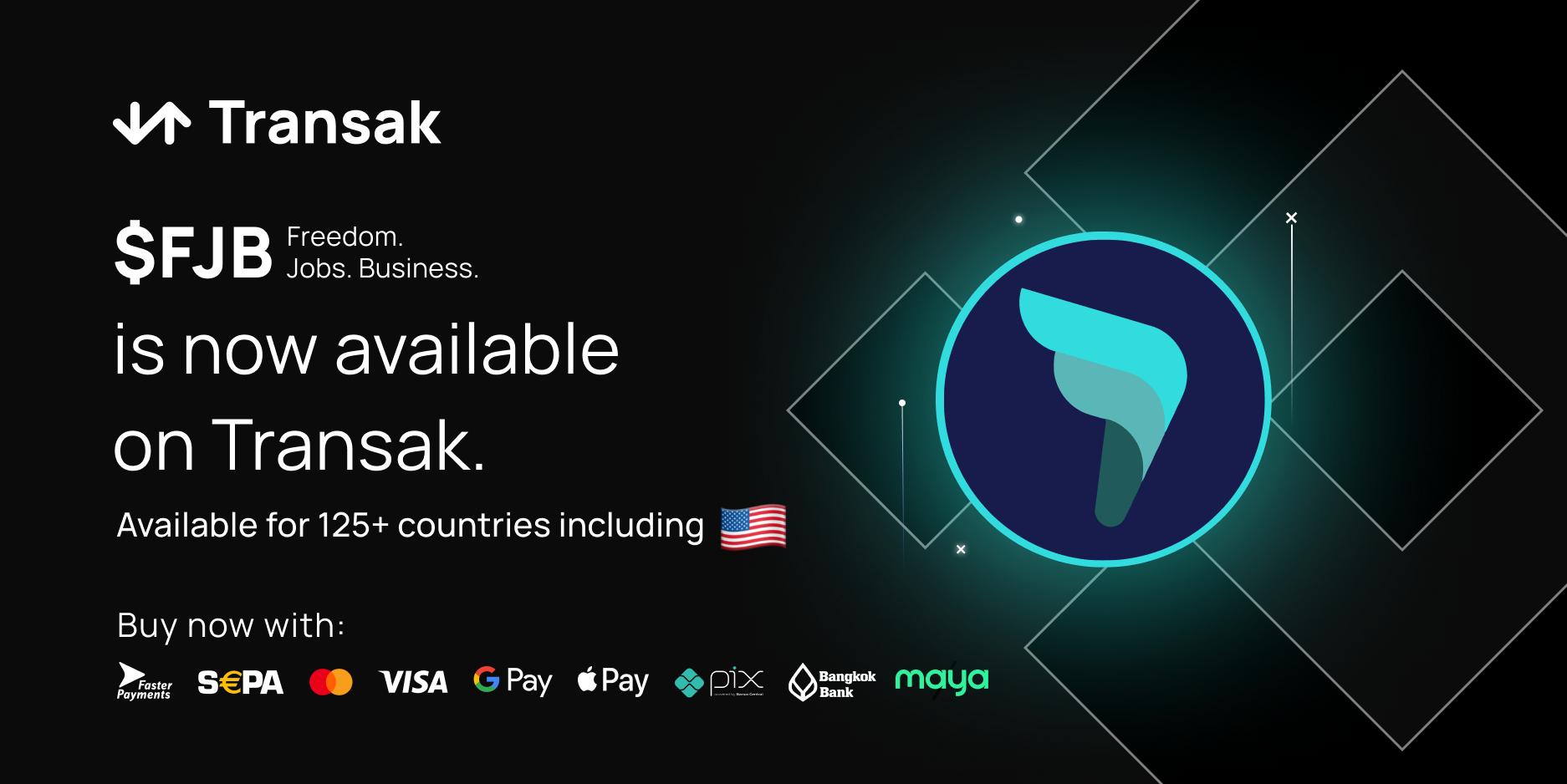 Transak, a single integration for applications to accept fiat-to-crypto deposits from a global user base, today announces listing of $FJB with immediate effect. Users can now purchase $FJB and deposit directly to their supported wallets.
Please note the following:
Purchases are available with immediate effect.
Asset Name: $FJB(Freedom. Jobs. Business.)
Ticker: $FJB
Network: BSC Network
Link to buy: https://global.transak.com/


About $FJB
Freedom: The FJB blockchain project provides security and ownership of data by administering the mechanisms of a trustless, transparent, and decentralized system for Patriots and people from a varied ideological spectrum across the world. We believe that the decentralization of our economic and legacy financial systems is critical to the future of our nation. The FJB blockchain project will provide a sovereign-grade, immutable ledger with open, non-discriminatory participation that is permissionless and censorship-resistant.
Jobs: One of the purposes of the FJB blockchain project is to support job creation and expansion within our community. We will do this by providing a network of P2P (peer-to-peer) & B2B (business-to-business) products and protocols built using blockchain technology. Users of FJB coin will be able to purchase goods and services within the network of businesses and establishments that choose to accept it. Our goal is to create a decentralized economy with stronger assurances and privacy that is open to everyone to use, creating growth within the parallel economy.
Business: Digitalizing real-world assets is the finance of the future. The FJB coin will be used for operational and transactional purposes. FJB is not associated with your bank account but acts like cash that transfers electronically and securely with our blockchain, with final settlement directly to your wallet. This means that it is more secure than cash and less prone to fraud. FJB knows no geographic boundaries so you can take this digital asset with you anywhere in the world.
Transak is a single integration for applications to enable fiat-to-crypto on-ramp from a global user base. It does so by providing API-driven fiat payment methods to on-ramp to 100+ crypto assets and abstracting away the complexity of user KYC, risk monitoring & compliance, payment methods and customer support. Transak's widget can be integrated into an app in just a few lines of code.
Transak currently supports 125+ countries, 100+ cryptocurrencies and 75+ blockchains. Transak is backed by top VCs, including Consensys and graduated from the Tachyon accelerator program. Connect with Transak on Twitter or LinkedIn, or visit https://transak.com/ for more information.


How to buy $FJB via Transak?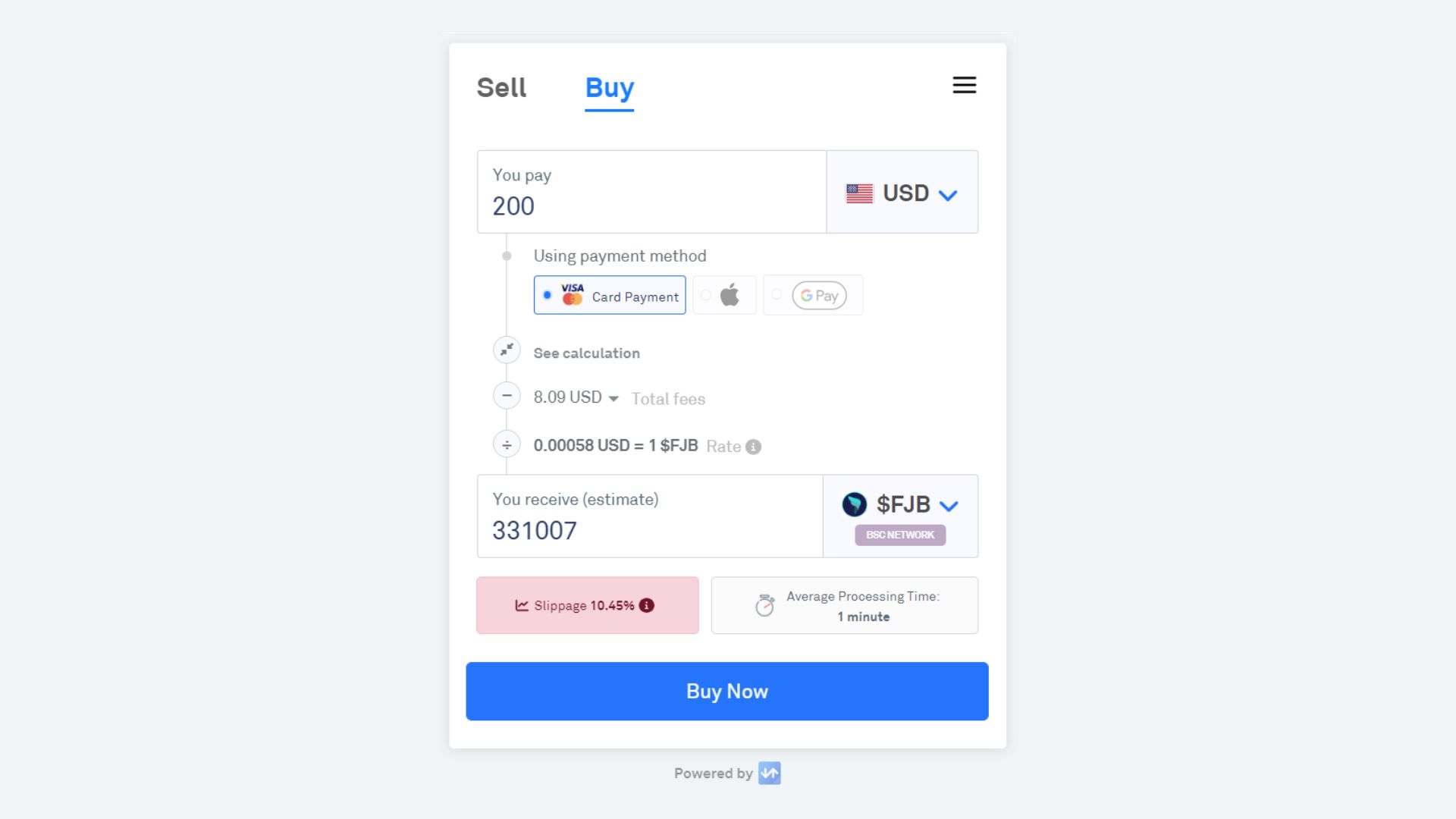 Step 1: Go to global.transak.com
There, you'll be met with our crypto onramp widget.
Step 2: Select your fiat currency and payment methods
Choose between Transak's available payment methods and currencies. Enter the total amount of fiat currency you want to spend on your crypto onramp.
Step 3: Select the crypto currency - $FJB
From the crypto currency list, select $FJB - Freedom. Jobs. Business.
Step 4: Enter the amount you want to purchase
The minimum and maximum amounts of $FJB you can purchase may vary from country to country. It also depends on what fiat currency you are using to buy the crypto. Minimums and maximums will be noted at the time of your purchase.
Step 5: Notice the exchange rate and fees
Click "See calculation" and review all fees before moving ahead with your transaction.
Read more about Transak's fees.
Step 6: Click "Buy Now"
Note the processing time to get an expectation as to when you can receive your $FJB.
Step 7: Enter your supported network address
Here, you need to safely enter your correct supported network address
Step 8: Do KYC with Transak, if KYC already done, proceed to Pay
Now we need to verify you with a simple KYC process. Please follow the step by step guide on the screen. Post approval, you can proceed to Pay. If your KYC is already approved, then you will be directly to pay

Step 9: Receive Crypto
Post payment, you will receive the crypto in your addressed wallet directly. Incase of any unexpected delays or issues, please feel free to reach out to us on support.transak.com
Start Buying $FJB on Transak Today
Building a Web3 App and Want to Accept Payments? Integrate Transak


About the Author: