Transak Extends Support to Aleph Zero: Direct AZERO Token Purchases Now Available with Fiat from 160+ Countries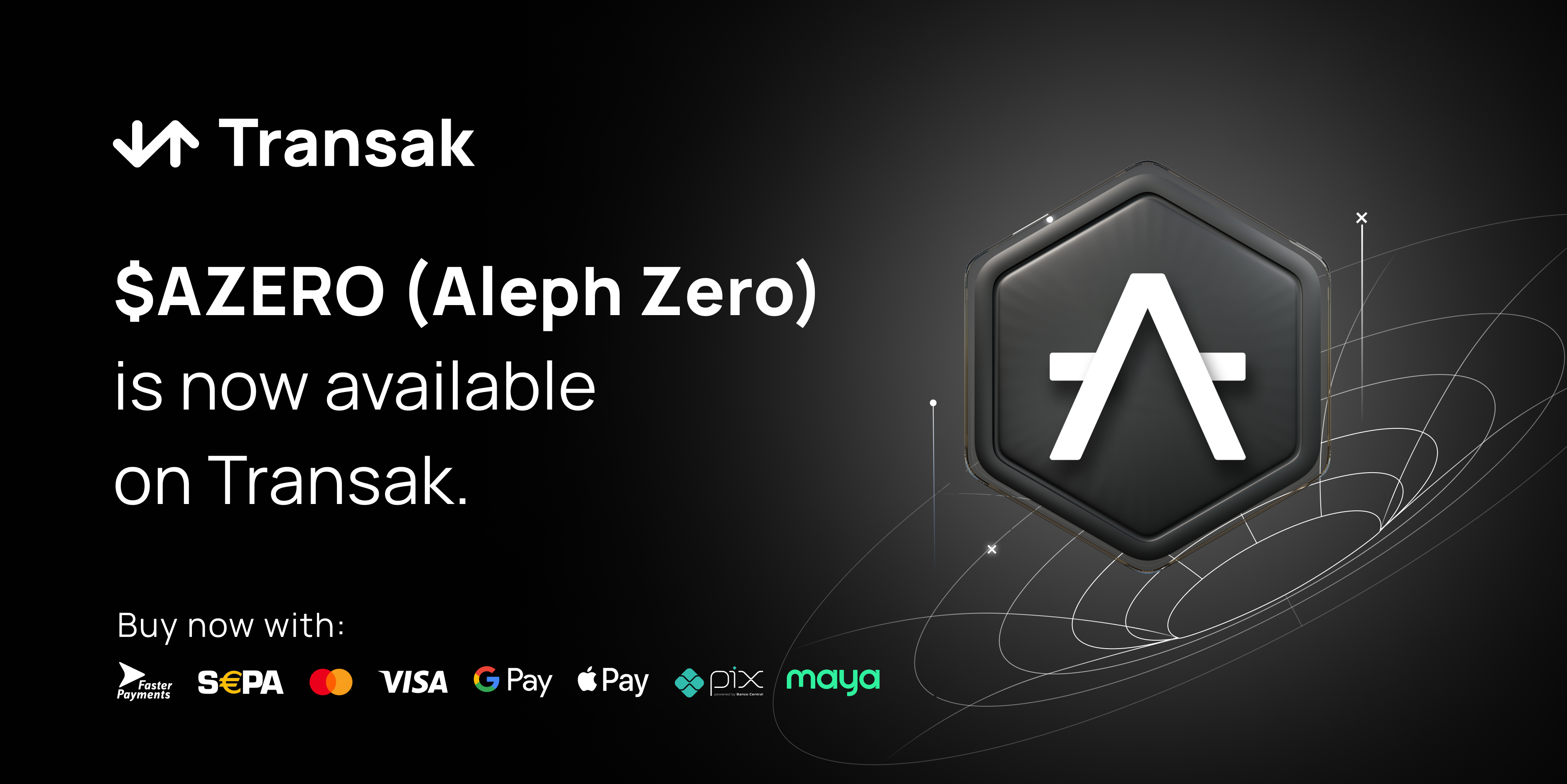 At Transak, we continually strive to bridge the world of fiat and crypto to make digital assets more accessible to all. In line with this vision, we are thrilled to extend our support to Aleph Zero by listing their native token, AZERO. This means users across 160+ countries can now conveniently purchase AZERO using their preferred fiat currencies.
About Aleph Zero
Aleph Zero is not your ordinary blockchain. Designed with the core principles of security, speed, and scalability, this platform ensures that transactions are finalized in under a second. Yes, you read that right! It operates at such an incredible speed that users might forget they are even using a blockchain.
While maintaining these principles, Aleph Zero also addresses one of the most pressing concerns in the blockchain world: the balance between transparency and privacy. While it operates as a public and transparent blockchain, its Liminal technology allows users the choice of what data they wish to share. This flexibility ensures that businesses can maintain competitive advantages while still benefiting from the transparency of a public blockchain.
How Transak Enhances the Aleph Zero Experience
Our partnership with Aleph Zero means more than just listing another token. We aim to make the onboarding experience as smooth as possible for users and developers alike.

Developers building on Aleph Zero can now integrate our solutions to provide seamless onboarding flows for users, even if they don't yet hold any AZERO. This strategic integration is expected to enhance the user experience and increase the adoption of Aleph Zero's innovative blockchain solutions.
Antoni Zolciak, Co-Founder of Aleph Zero, shared his thoughts about this collaboration:
"We are very happy to have Transak among the on- and off-ramps available for Aleph Zero users. This will ensure a seamless onboarding for those starting their journey within the ecosystem, removing much of the friction from users."
Embarking on a New Chapter
As we welcome Aleph Zero into our fold, our commitment remains to make the crypto world more user-friendly and comprehensive. This extension of support to Aleph Zero is not just about facilitating fiat-to-AZERO conversions, but about championing the innovations that Aleph Zero introduces to the broader blockchain community. Join us as we navigate this exciting phase, continuing our mission to make the decentralized world within everyone's reach.

Step by Step Guide to Buy AZERO: https://transak.com/buy/azero
For any doubts with regards to your Transak experience, please raise a query at support.transak.com
Building on Aleph Zero Network and looking to onboard users? Integrate Transak
About the Author: