Transak Partners With Splinterlands, The World's Most Popular P2E Blockchain Game | Transak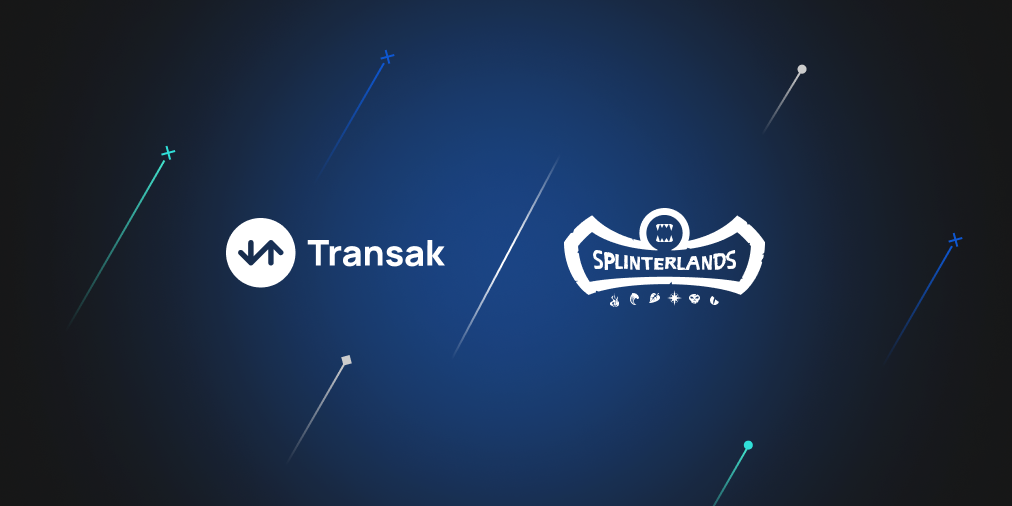 Some 450,000 users play Splinterlands daily. Here's how Transak helps them onboard to crypto with ease.
If you haven't heard of Splinterlands by now, stay on the lookout for news of this leading play-to-earn (P2E) collectible card game in headlines. In February Splinterlands announced a one-of-a-kind partnership with Warner Music Group, in which the two companies will collaborate to give select recording artists the ability to develop arcade-style games on blockchain. And this major brand partnership is just the start.
Founded in 2018, Splinterlands is reportedly the world's most-played decentralized application (dApp) video game. More than 1.8 million users play the fantasy-themed game worldwide, which breaks down to about 450,000 daily users according to a recent press release.
That's a lot of wallets, when you think about it. Some outlets report that Splinterlands drew more than 300,000 unique crypto wallets last year. "To get into these projects you need to set up your crypto wallet, buy cryptocurrency in it, and pay gas fees," Splinterlands founder Matthew Rosen told Transak in February.
But for the average gamer who knows nothing about MetaMask wallets, blockchain, or how to get started with crypto, Rosen and his business partners wanted to make crypto onramp easier — which is where Transak comes in.
Let's take a look at Transak's integration with Splinterlands and how the partnership supports a better P2E gaming experience.
Splinterlands overview
Splinterlands is a blockchain-based digital trading card game that takes place in a world of magic and mayhem. Available on both desktop and mobile devices, Splinterlands is one of the first strategy card games to give players full ownership over their collectibles by utilizing non-fungible-tokens (NFTs).
Gamers partake in rapid trading card battles, each taking just a few minutes. Transactions take place on a fork of the Steem blockchain known as Hive. That makes every transaction verifiable and fair, according to the company's press kit. Every card collected through Splinterlands battles is an NFT, a digital asset with real monetary value. Players can use their NFT collectibles to buy, sell, or trade for new assets, just like physical trading cards.
Why people love Splinterlands
The company prides itself on making crypto accessible not just for long-time crypto natives, but for the global gaming community alike. The cards in each users' collections are compatible with popular third party marketplace platforms like AtomicHub, PeakMonsters, Monster Market, and more. Splinterlands also has cross-compatibility with blockchains such as Ethereum, Tron, and WAX.
"I wanted to make something where really the whole game — like everything that happened — was on the blockchain," Rosen says. "Both my business partner and I really wanted to make this like as much for the non-crypto user as possible."
Transak + Splinterlands integration
Millions of dollars in crypto gets exchanged on the blockchain during Splinterlands battles. Gamers therefore need an easy and secure way to move their money from a bank to their digital wallets.
Transak worked with Splinterlands developers to create a proprietary solution compatible with Hive and the Splinterlands governance token, Splintershards (SPS).
"There's a lot of things in the game where you do require certain cryptocurrencies and specifically in-game cryptocurrencies," Rosen explains. "We're not on Ethereum; we're not on the major chains. There's a lot of ways to buy Ethereum, but there haven't been a lot of ways to buy the Hive cryptocurrency token, which is necessary then to get our SPS token, and our dark energy crystals token which is our in-game currency."
Secondly, Splinterlands is a gaming company — not a registered money exchange: "We can't legally sell cryptocurrencies," says Rosen. "We don't plan to register for all those licenses in the US."
The solution therefore had to create a clear paper trail verifiable with KYC, either through bank transfer or credit card purchases, and be automatic enough that users could instantaneously load up their wallets and make frictionless in-game purchases.
"Transak has been great," Rosen says. "Transak worked with us to support the Hive token and build a situation where players can just say they want to purchase Splintershards (SPS) behind the scenes, purchase Hive with their credit card or bank transfer, and then that can be automatically transferred."
The user just gets the Splintershards (SPS) tokens right in their wallet, making it a seamless process.
"Transak was the one to work with us to make that happen," says Rosen.
How many users will the Transak + Splinterlands integration support?
Remarkably, Splinterlands does more transactions per day than the entire Ethereum blockchain, according to Rosen. Etherscan records somewhere north of 1.1 million daily Ethereum transactions, but Rosen claims the Splinterlands is clocking in 3 to 4 million daily transactions on Hive.
"We hope to be able to grow that 10 times more, and we don't foresee that being a scalability issue," he says.
As far as the "gateway" currency, it comes down to the level of crypto literacy and familiarity, Rosen says.
"There's two separate groups: We have the crypto natives and we have the non-crypto people. I think for the non-crypto people they spend fiat currency to buy NFTs in the game. We kind of try to be their gateway into the world of crypto. That's part of our mission."
Longtime gamers and crypto users tend to use crypto itself to purchase their digital Splinterlands collectibles. "We try to support as many different cryptocurrencies as possible," Rosen explains. "I think there's probably like 15, maybe 20 different cryptocurrencies that we support for payments."
Transak is compatible with most of Splinterlands' top countries according to popularity (view our available currencies here). Gamers from countries like the U.S., Philippines, Germany, UK, Brazil and many more can use their local fiat currency to onboard from fiat to crypto.
"We have large contingents of players in places like the Philippines and Venezuela," Rosen says. "Play-to-earn games are really big there because you can earn a living in some cases playing these games. And then we have large populations in Europe and in Asia, like South Korea, China, and even Australia."
How Transak supports game developers
When developers make these tough decisions about what fiat currency to accept and how to onramp massive volumes of users to crypto, they must consider how to allow people to transfer money into and out of external DeFi wallets. They must consider factors such as user benefits, regulatory limitations and compliance, tech capabilities, and more.
"Generally as a game developer, overall, our goal is to build fun games," Rosen says. "So that's another way that Transak comes in. Even if we could sell cryptocurrency and handle payments and do all this stuff — we don't want to. That's stuff like we want to work with other companies that do this as their main business and they do it better than us."
But every developer knows that necessity is the mother of invention. Early on, the Splinterlands team had to take on some aspects of these logistical DeFi questions in order to onboard their gaming community to crypto.
"We launched in 2018. And there just really wasn't anything else available," Rosen recalls. Transak made it easy to integrate crypto onramps to the Splinterlands user interface via a simple widget.
"Basically users click the button that says they want to buy Splintershards and use a credit card, and then Transak's widget pops up, and the user takes it from there," says Rosen. "On the backend, we worked with them to make the process as seamless as possible."
About the Author: