Transak Ecosystem Spotlight: Polygon | Transak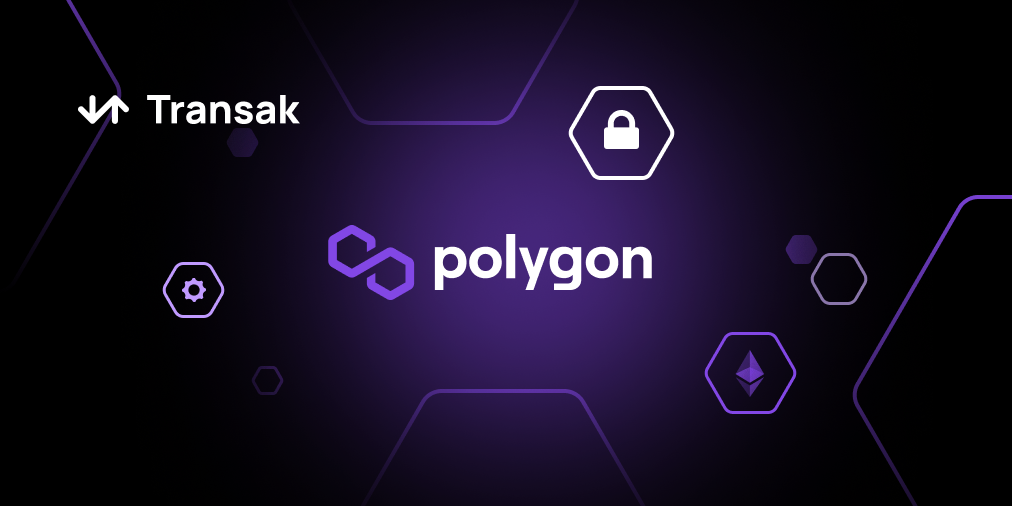 Polygon has experienced phenomenal adoption since its mainnet went live in 2017. Learn about Transak's partnership with one of the front-runners in the Layer 2 race.
Welcome to this month's Ecosystem Spotlight, where we highlight a notable ecosystem in which our dApp partners are building and launching exciting new projects. Today we'll be looking at Polygon, formerly known as the Matic Network.
There are many reasons to love Polygon, from both a user and developer point of view. Launched in 2017, Polygon was one of the first Layer 2 solutions built upon Ethereum for scaling and infrastructure.
Developers can use Polygon to deploy their own Ethereum-compatible blockchain applications and transfer tokens between decentralized projects.
Let's take a look at how Polygon is speeding up the rate of global crypto adoption.
Polygon overview
Polygon is based in Bengaluru, India and is the brainchild of Jaynti Kanani, a full-stack developer and blockchain engineer, and co-founders Sandeep Nailwal, Anurag Arjun, and Mihailo Bjelic.
Polygon hosts roughly five times the dApps of comparable ecosystems like Solana, according to Parth Sharad Birla, Polygon's VP of growth. In a February 2022 interview with Transak, Birla told us the company wants to invite even more developers to the platform through accessible onramp technology — which is where Transak comes in.
Polygon features
Fast scaling solution which process ~5 million transactions per day on average (as of February 2022)
Roughly $5.9 billion market cap (as of May 2022)
Global brand partnerships including D&G, Macy's, LOL Surprise!, DraftKings and others
How does Polygon work?
Polygon is a scaling solution built on top of the Ethereum blockchain. It was designed to support secured chains (such as L2) and as well as stand-alone chains (aka appchains or sovereign sidechains).
At a glance, Polygon works via three layers:
Ethereum Layer: Where communication happens between all of the participating Ethereum and Polygon chains (for transactions such as checkpointing, dispute resolution, and staking)
Polygon Network Layer: The digital "substrate" that ensures smooth functioning of all operational processes
Execution Layer: Where all the smart contracts and transactions are deployed
A look at Polygon's tech
Polygon is driven by three main technologies:
Polygon PoS
Optimistic Rollups
Zero-Knowledge (ZK) Rollups
Why Polygon is important for web3
As widespread crypto adoption becomes more mainstream, Polygon's technology provides a more efficient way to scale. Ethereum has become increasingly cost prohibitive and congested, which is where Layer 2 solutions like Polygon stand to shine.
"When we were in the market, Ethereum was definitely having scaling issues," Polygon co-founder Sandeep Nailwal told us in Episode 1 of our new podcast, Masters of Web3 (listen to the trailer if you haven't checked it out already).
"There was definitely a need for a platform to provide low gas fees and higher throughput, and things like that," Nailwal said. "But apart from that, developers also needed a production ready environment. Ethereum — even though it's costly — is a very stable environment, right?"
Polygon set out to become equally as stable as Ethereum, committing to production readiness in the company's tech products, Nailwal said. "I used to make sure that anybody, — even if a big company or a small startup or a hackathon project — if they are building on Polygon, they are getting as much support possible from us. And I think that that itself became kind of a positive flywheel eventually. Our team's culture grew in that regard. And then… the community started also building around those things.
The Polygon mainnet runs on Proof Of Stake (PoS), which uses less energy than Proof of Work (PoW) and is faster. Meanwhile, Optimistic Rollups (OR) create scalability thanks to their smart contract capabilities and fraud-proof nature. However, ORs can take up to a week to validate, which is where Zero-Knowledge (ZK) Rollups come in. ZK rollups use validity proofs and combine on-chain and off-chain processes. ZK rollups help ensure that gas fees stay low, while also speeding up processes. ZK-rollups utilize Merkle Tree architecture to enable selective data storage off chain and save a huge amount of energy.
Polygon's partners
Polygon has a strong and vibrant community of users, developers, creators, and traders. Polygon earned a coveted spot as OpenSea's Layer 2 — but the platform also hosts more than 19,000 decentralized applications (dApps), according to its website, which could have any use case including non-fungible tokens (NFTs), decentralized finance (DeFi), decentralized games, and more.
You might recognize some of these projects below, all built on Polygon (note: this isn't an exhaustive list):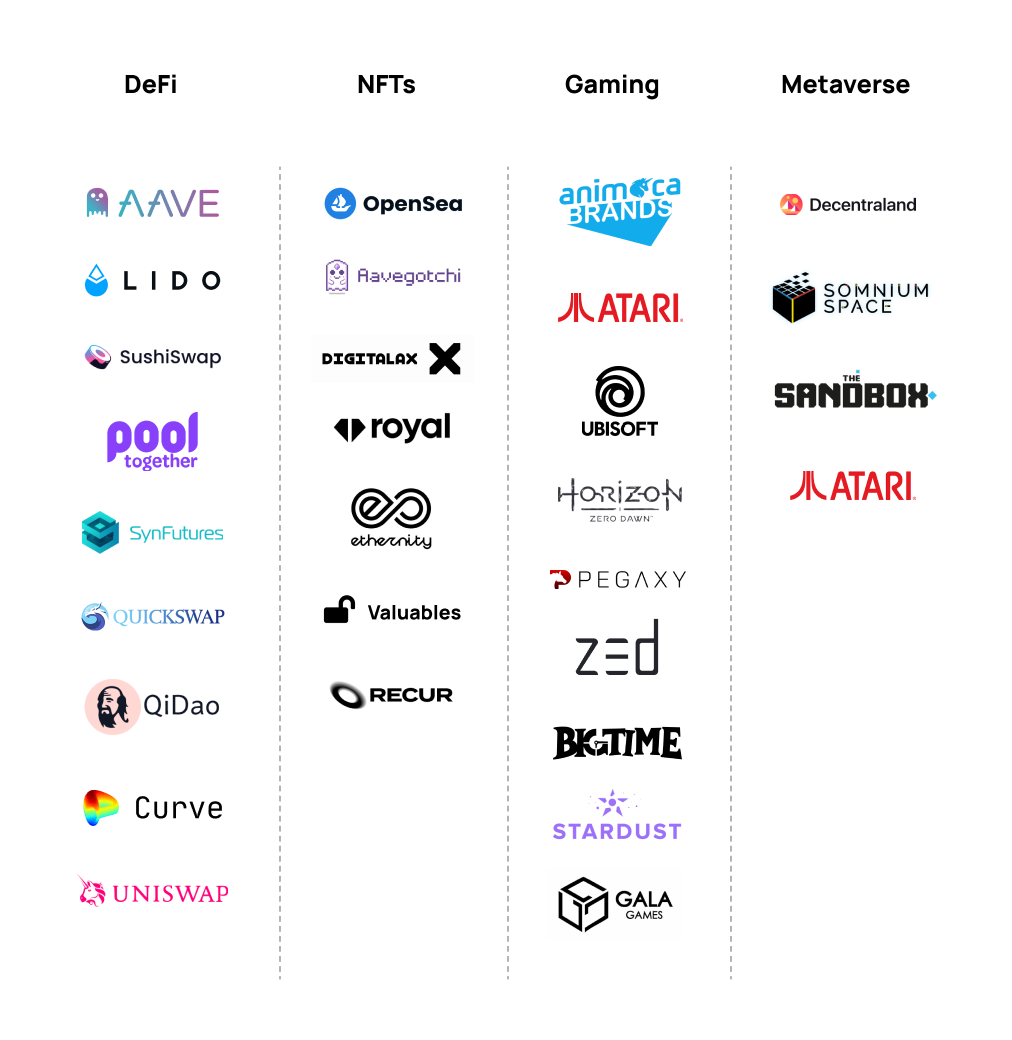 "If you do competitive research you will understand that our numbers are huge in terms of the dApp ecosystem," says Birla.
Transak + Polygon integration
Transak is one of Polygon's preferred onramp partners for developers building in the Polygon ecosystem. Developers looking to build Polygon-based dApps can integrate Transak directly into the UX, or users can use Transak's global onramp widget to purchase the appropriate cryptocurrency.
To see what currencies are available on Polygon, visit global.transak.com. Select one of the countries in which the Transak + Polygon integration is available, and view the list of currencies available on the Polygon network.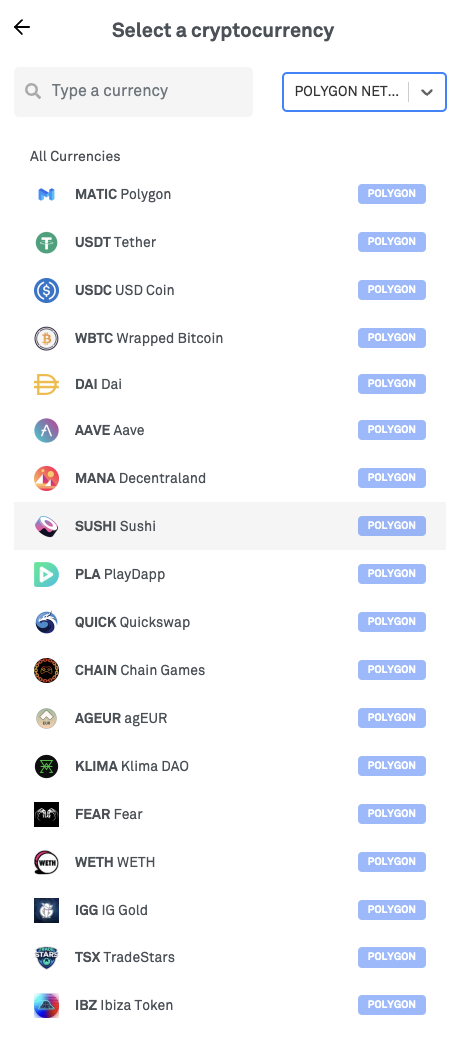 Where Polygon shines
The Polygon infrastructure as of February 2022 reportedly processed more than 23 million blocks, equating to 1.3B transactions through 136 million unique addresses. That's an incredible amount of data, currency, and information moving through the Polygon ecosystem. Cumulatively, DeFi dApps have roughly $5.5 billion in total value locked on Polygon, and more than $5 billion securing the Polygon network as per Proof of Stake (PoS) consensus.
What's the vision of both companies?
Both Transak and Polygon share a mission fostering the growth in Web3 through seamless, integrated infrastructure placed at consumers' fingers. Transak's partnership with Polygon opens up the doorway for the world's vendors, gamers, shoppers, businesses, traders, and collectors to exchange currency through crypto.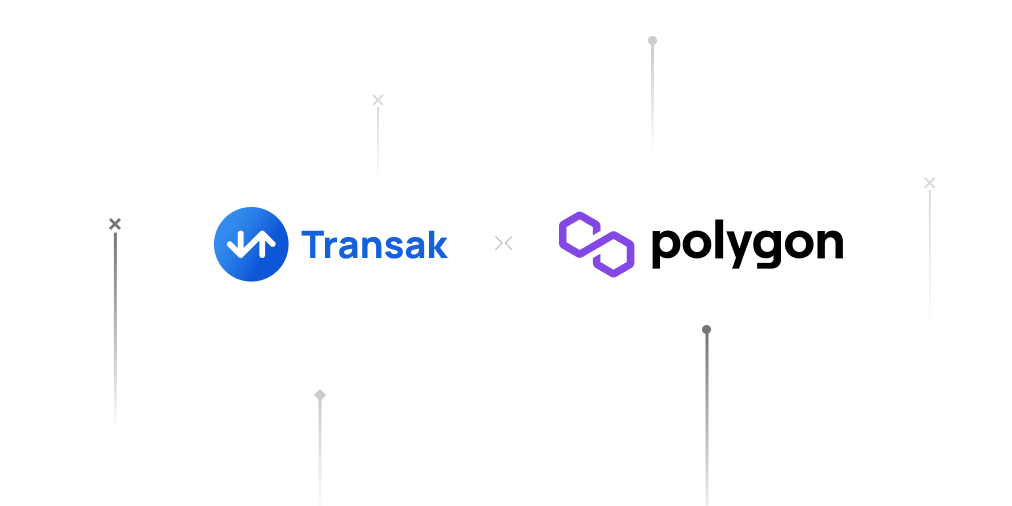 Learn how to integrate Transak now. Contact us to learn more.
Subscribe to our newsletter