Transak expands into TON ecosystem with its integration on Tonkeeper Wallet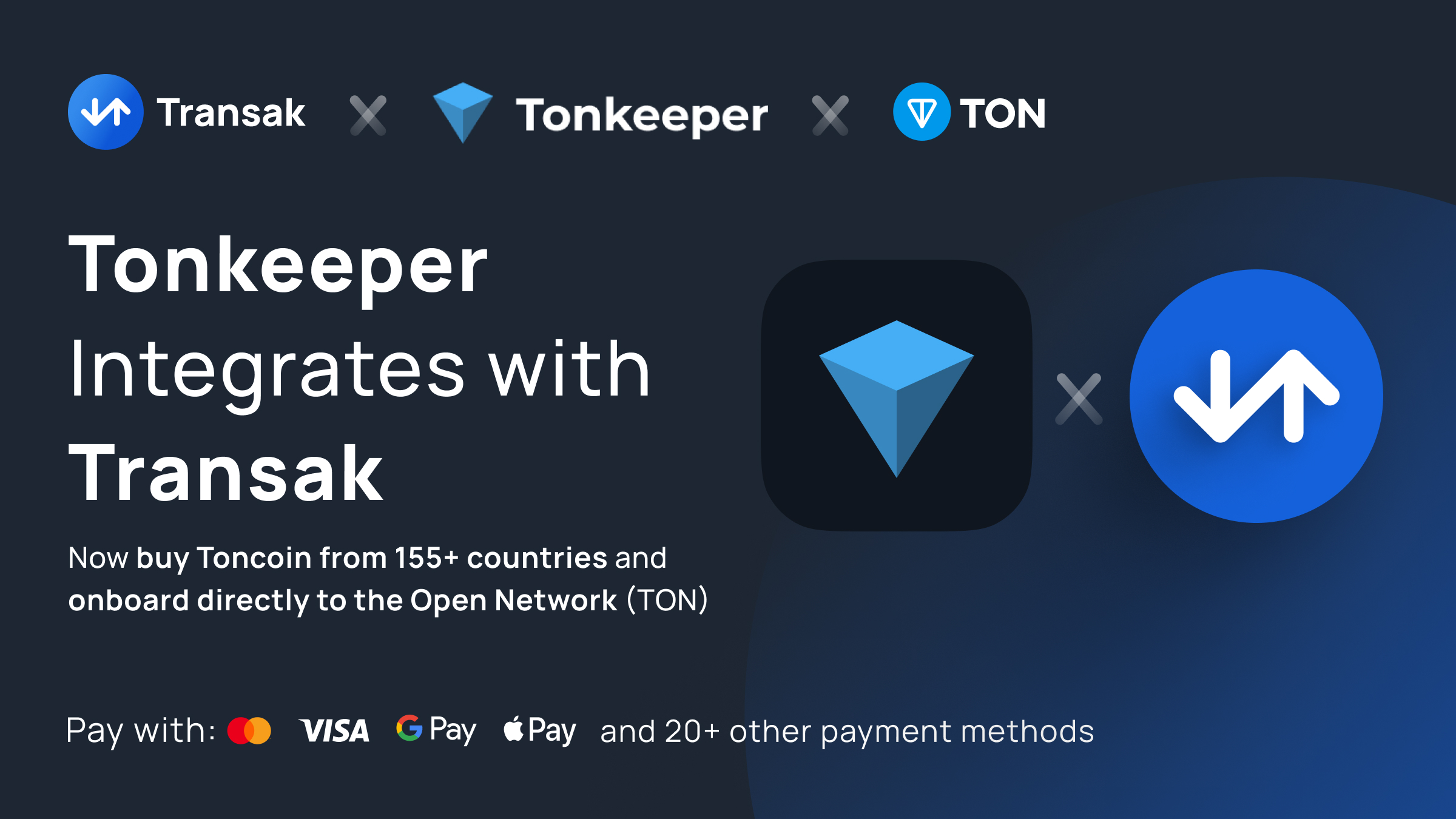 Transak, a leading Web3 onboarding solution, announces its integration on Tonkeeper. This also marks Transak's entry into the TON ecosystem which is a significant milestone in the company's commitment to making it easier for users to buy Toncoin (TON) directly with fiat from 155+ countries.
Tonkeeper is the leading non-custodial wallet of the TON ecosystem and provides users with the easiest way to store, send, and receive Toncoin on The Open Network (TON).
The Open Network (TON) is a revolutionary technology to unite all blockchains and Web2 internet into one open network. It was born to empower billions of Telegram users with genuine Web3. Originally introduced by the Telegram team inheriting its freedom and openness ethos, it has been run as an open-source community project since 2020. TON's layer-1 architecture is designed to scale up to 2 to the power of 32 workchains, each of which can be subdivided into up to 2 to the power of 60 shardchains. It can support millions of transactions per second near-instantly.
The TON blockchain features all-modern public blockchain capabilities including smart contract support, NFT integration, compatibility, messaging apps, among others.
The partnership between Transak and Tonkeeper enhances the user experience by offering over 20 payment options, such as bank transfers and card transactions, enabling direct Toncoin purchases and sales with fiat money. With Transak's comprehensive integration, individuals from 155+ countries, including the UK, Europe, Australia, India, and the Philippines, can easily acquire TON directly into their Tonkeeper wallet, promoting global reach and adoption for the eco-system.
Transak, being one of the leading on-ramps, already amasses a profound user base. Thus, millions of already verified Web3 users who have used Transak on other Web3 apps, can now also buy TON from Tonkeeper without going through lengthy verification processes all over again. This strategic alignment not only accelerates the adoption of TON's superior blockchain technology but also makes it more approachable and trusted by users worldwide.
Further, Transak's commitment to enabling every type of user to onboard, enables users to buy TON worth as low as €5 and as high as €23,000 depending on the level of verification.
"Collaborating with Tonkeeper is a milestone for Transak in fostering enhanced user experiences within the cryptocurrency domain. This integration is a beacon of our commitment to be early movers in emerging technologies and make crypto accessible to all." — Yeshu Agarwal | Co-founder and CTO, Transak
"By adding Transak to Tonkeeper, we are reinforcing our commitment to delivering superior and secure experiences for our users. Collaboration with Transak greatly expands onboarding options for our users, accelerating adoption of TON, the superior blockchain technology that is more approachable and trusted by users globally." — Oleg Andreev | CEO, Tonkeeper
About Tonkeeper
Tonkeeper is the easiest way to store, send, and receive Toncoin on the TON blockchain. It is a non-custodial wallet offering high speed and throughput, end-to-end security by storing cryptographic keys on-device, and a built-in exchange where you can directly swap Toncoin for other cryptocurrencies on the TON blockchain. Tonkeeper, the #1-rated wallet in TON app, is available on iOS, Android, Tonkeeper Web, Chrome, and Firefox.
About Transak
Transak is a global Web3 payment and onboarding infrastructure provider, facilitating seamless transitions between traditional finance and digital assets. Web3 platforms using Transak can enable users to buy, sell, or mint digital assets across 75+ blockchains from 155+ countries, while Transak reduces the complexities of user KYC, risk monitoring, compliance, payment methods, and customer support. Trusted by over 350 leading apps, including MetaMask, Coinbase, and backed by industry leaders like Animoca Brands, Consensys, UOB, KX, and more, Transak is making Web3 applications more accessible.
For more information, visit transak.com or follow on x.com/transak
How to buy TON on Tonkeeper using Transak
Step 1: Get the Tonkeeper wallet
Download the Tonkeeper wallet on your smartphone or install it as a browser extension.
Step 2: Create or import a wallet
You can import an existing 24-word seed phrase or create a new wallet to get a new set of randomly generated 24-word seed phrase.
Step 3: Go to 'Activity' and buy Toncoin
On the user interface, you will see a tab titled 'Activity'. Click on it and then click on 'Buy Toncoin'.
Here, you will see Transak as an option to choose from.
Step 4: Buy TON with Transak
Click 'Open Transak' and enter the amount of TON you want to buy or the amount of fiat currency you want to spend.
Proceed with completing the transaction with your preferred payment method.
Step 5: Receive TON in your wallet
After you have made the payment, TON will be in your wallet in a few moments.
For more information, visit transak.com or follow on twitter.com/transak.
About the Author: