Thoughts on the FTX situation and how it impacts Transak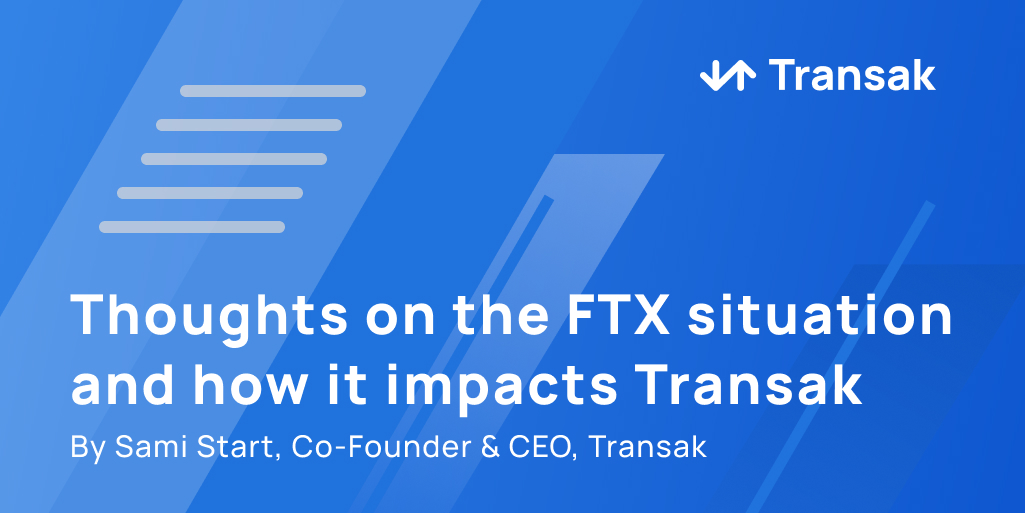 Over the many years in the industry, I have seen several cycles, various new projects becoming unicorns, and some of them blowing up in a dramatic fashion. But the past week has stood out as one of the biggest incidents. With this article, I want to summarize the set of events, their possible implications on the industry, and despite all, how Transak continues to onboard users, safely to web3.
Summary of Events
---
In the aftermath of the collapse of Terra/Luna and 3 Arrows Capital:
FTX is acquiring companies such as BlockFi which are themselves insolvent. Retrospectively it appears that FTX is using customer funds to make risky investments. A large number of its assets are in FTT token. The value of the FTT token is artificially high due to wash-trading from Alameda Research. Time will tell, but it appears the FTX has been secretly insolvent, or at least on the path to insolvency for months.
Events on 6th November 2022:
The reduced price of FTT token and other problems with their assets renders FTX insolvent. It is uncovered that FTX was using customer deposits to make risky investments.

FTX stops withdrawals of customer funds.

CZ announces that Binance would bail out (buy for a reduced price) FTX. (SBF tweet and CZ tweet)
Event on 9th November 2022:
Binance announces that after 1 day of due diligence that they would not go ahead with the deal (Binance tweet)
Events on 11th November 2022:
FTX files for Chapter 11 bankruptcy procedures and hires the ex-lawyer to the Enron bankruptcy as CEO (SBF tweet)
A hack of $600M of funds from FTX is alleged with suspicion of an inside job. FTX officials then move funds to cold storage. (NY Times Article)
Event on 14th November 2022:
Companies that FTX spent big on sponsoring, such as Mercedes F1 and Miami Heat, suspend the sponsorships in light of its Chapter 11 filings. (Bitcoin.com article)
Implications for the industry
---
This is not investment or legal advice. These are my personal thoughts on the near to long-term future of the industry and do not necessarily reflect the stance of Transak.
This will cause an immediate loss for the venture investors of FTX (source): Insight Partners, Lightspeed Venture Partners, Paradigm, Temasek Holdings, Blackstone Group, New Enterprise Associates, SoftBank Vision Fund, Tiger Global Management.
This may cause a loss for individuals and businesses who hold funds on FTX. This may cause other companies run out of cash and become insolvent.
Some businesses may have been built with large dependencies on FTX either for their operations or as a source for customers ('platform risk').
As with previous bankruptcies of crypto companies, it can take months to uncover liquidity issues and platform risk issues of other companies, so we can expect knock-on effects to keep coming from this for at least the next 3-6 months. The scale of this is much larger than that of Terra and 3AC, so the reaction can be even larger. There may be tertiary and secondary effects that we didn't expect from companies that we didn't expect.
Examples of ripples that are already spreading are:


It is likely to cause negative sentiment around centralized actors in the crypto space. This raises questions about the trustworthiness of all crypto custodians that do not have clearly auditable financials.
It also raises questions about companies who are issuing tokens, and indeed any tokens. The way that the price of FTT was manipulated so easily and to such a large market cap makes it clear that most investors did not conduct due diligence. The knock-on effects to soBTC and soETH shows that investors must do their own diligence before buying a token.
This has already caused crypto prices to go down. The medium-to-long-term effects of this still remain to be seen.
Impact on Transak
---
All Transak systems remain fully functional for both buying and selling crypto despite the issues at FTX.
Transak does not have custody of any user funds and so the liquidity issues associated with exchanges do not apply to us. Transak sends/receives cryptocurrency directly to/from a wallet that is provided by the user or by a wallet that is provided by an application that integrates Transak.

While the FTX bankruptcy is a setback for the industry overall, it actually validates the model of Transak, which allows users to buy a cryptocurrency and send the funds to a wallet of their choice.

Transak is a regulated firm, which is registered as a Virtual Asset Service Provider with the UK's FCA and Poland's Financial Supervision Authority and is registered as a Money Service Business in the USA. As well as licenses, Transak puts this into action with comprehensive diligence checks on every user and partner in our system. We put the safety of our users and partners first and allow peace of mind for those in our ecosystem.

At Transak we believe in providing free choice to the end user by enabling them to enter or exit web3 at any point using our on/off ramp services and we will continue to build tools to support that bridge. Our model does not involve a single centralized entity taking custody of the user's funds, which can help to avoid similar situations to FTX.
Using Transak, you can buy crypto to any of your wallets directly, just start here.
Building in Web3 and looking to onboard users? Integrate Transak
About the Author: