Bridging Digital Horizons: Transak and PlayZap Pave the Way for Crypto-Enabled Gaming Globally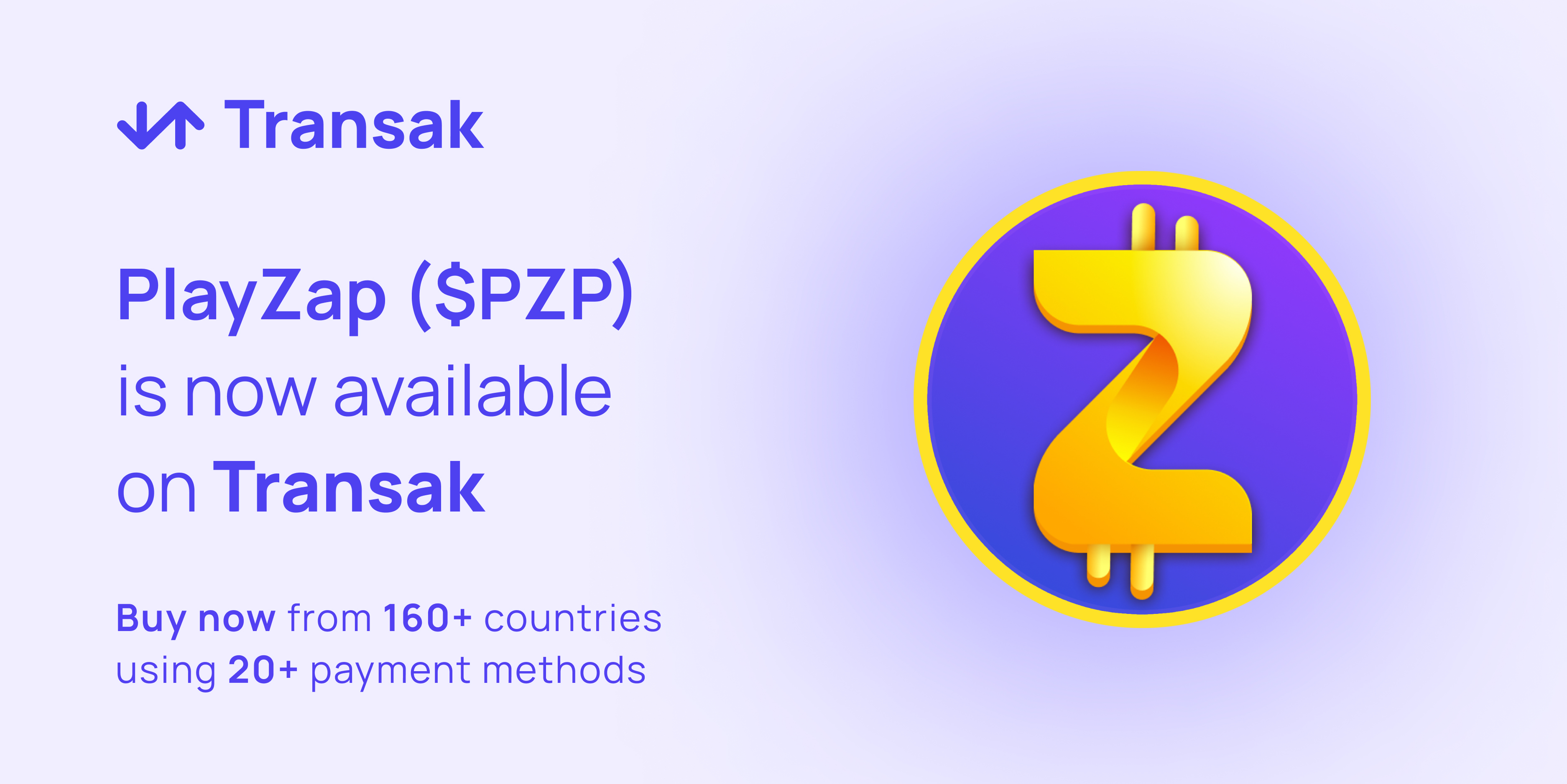 The confluence of gaming and blockchain is emerging as a groundbreaking frontier. PlayZap, a skill-based competitive gaming platform, has been pioneering this intersection, tailored for mainstream casual gamers.
PlayZap joined forces with Transak to enable users from over 160 countries to buy their native token PZP.
PlayZap leverages blockchain to ensure a secure, transparent gaming environment, while fostering a sustainable token economy.
The ethos of PlayZap, "Free to Play. Skill to Earn," reflects a model where players can engage in a diverse range of games without any upfront cost. Yet, their skill and performance in the games enable them to earn rewards and tokens.
This mechanism not only promotes skill-based gameplay but also provides a pathway for players to demonstrate their prowess, earn accolades, and climb the ranks within the PlayZap ecosystem.
As time passes, PlayZap aims to integrate digital collectibles to enrich the gaming experience. This would enable players to collect, trade, and own unique digital assets that hold intrinsic value both within the PlayZap platform and potentially beyond.
Globally, markets with high engagement in digital innovation present a dynamic landscape for platforms like PlayZap. Nations across Southeast Asia, Turkey, Brazil, and the US, each with a unique gaming culture and rapidly growing digital infrastructure, are ripe for the integration of PlayZap to enter.
These regions share a common thread—a young, tech-savvy population that's increasingly drawn to online gaming and digital asset ownership. This collective enthusiasm is fertile land for PlayZap and Transak to sow the seed of crypto and NFT adoption.
However, the journey towards seamlessly melding gaming with blockchain technology presents its set of challenges.
PlayZap seeks to address the prevailing issues associated with the free-to-play business model, such as poor user experience due to disruptive advertisements and a design trap focused on monetizing free players. The PlayZap model aims to transcend these challenges by ensuring transparency, ownership, rewarding true skill, and fostering a community-driven platform.
A pivotal facet of this endeavor is simplifying the crypto transaction experience, a challenge adeptly addressed through the partnership with Transak. This collaboration aims to facilitate a smooth pathway for players worldwide to purchase PlayZap's native token, $PZP, effortlessly.
Transak's integration is not merely a transactional doorway but expands PlayZap's universe to a global audience, catering especially to the flourishing digital gaming communities.
In the words of Yeshu Agarwal, CTO of Transak, "The alliance with PlayZap is a monumental step towards fostering a seamless and user-friendly ecosystem for crypto transactions in the gaming domain. Through this partnership, we are simplifying the process of acquiring $PZP tokens and contributing to the broader acceptance and understanding of blockchain technology in the mainstream gaming community."
Abhishek Buchvani, Co-Founder & CEO of PlayZap Games, expressed his excitement about this collaboration, "With Transak's seamless integration, we've empowered players worldwide to effortlessly access and acquire $PZP, making our gaming universe truly global. Their secure payment gateway is a game-changer, enhancing the PlayZap experience for every player." This statement resonates with the broader vision of making blockchain-enabled gaming accessible and rewarding for players, regardless of geographical and technological barriers.
Transak's role in facilitating the acquisition of $PZP tokens is not just about enhancing user experience. But also to bridge the gap between blockchain-based gaming and mainstream gamers across the globe.
This alliance stands as a testament to PlayZap's commitment to creating a rewarding gaming ecosystem and Transak's dedication to simplifying crypto transactions. Together, they are setting a new precedent in how blockchain technology and gaming can amalgamate.
As PlayZap continues to expand, the integration with Transak is a significant stride towards fostering a gaming ecosystem where the rewards extend beyond the digital realm, providing tangible value to players.
This partnership signifies a robust step towards crafting a new era of gaming across continents, where the player is at the core, opportunities are boundless, and the rewards are real.
The echoes of this collaboration resonate beyond the PlayZap ecosystem, promising a ripple effect in the broader crypto community.
About Transak
Transak is a global Web3 payment and onboarding infrastructure provider, facilitating seamless transitions between traditional finance and digital assets. Web3 platforms using Transak can enable users to buy, sell or mint digital assets across 75+ blockchains from 160+ countries, while Transak reduces the complexities of user KYC, risk monitoring, compliance, payment methods and customer support. Trusted by over 350 leading apps, including MetaMask, Coinbase, and backed by industry leaders like Animoca Brands, Consensys, UOB, KX and more, Transak is making Web3 applications more accessible.
For more information, visit transak.com or follow on x.com/transak
About PlayZap
PlayZap Game is a skill-based competitive gaming platform focused on mainstream casual gamers, built on blockchain technology with a sustainable token economy and powered by NFTs. Built on the core principle of ´Free to Play. Skill to Earn´

PlayZap offers a unified (One app, many games) gaming platform that offers a seamless experience for our players to play high-quality casual games like solitaire, 21 cards, 8 ball pool, match master, and many more to compete with other players in competitive formats such as Daily league, Group or PvP competition. PlayZap app is available on Google PlayStore & AppStore for free to download.
For more updates and announcements: Website, Whitepaper, Twitter, Telegram Announcement, Telegram Group, Discord, Linkedin
How to Buy PZP with Transak
All Transak users can now buy PlayZap token, PZP, using fiat on Binance Smart Chain. Follow the steps below to buy PZP from Transak.
Step 1: Go to Vault.Playzap.Games/Buy
Visit the Playzap website and navigate to the vault section: https://vault.playzap.games/buy
Step 2: Register and Verify with Transak
If you are using Transak for the first time, you will need to register and complete KYC on Transak.
Step 3: Enter Amount and Select PZP
Enter the amount you want to spend.
The amount of PZP you will receive is calculated instantly.
Step 4: Enter Wallet Address
Finally, enter your PZP supported wallet address and proceed to checkout.
Step 5: Make the Payment
PZP will be deposited in your wallet shortly after payment confirmation.
About the Author: