Transak and ParaSwap: Partnering for a Frictionless DeFi Onboarding Experience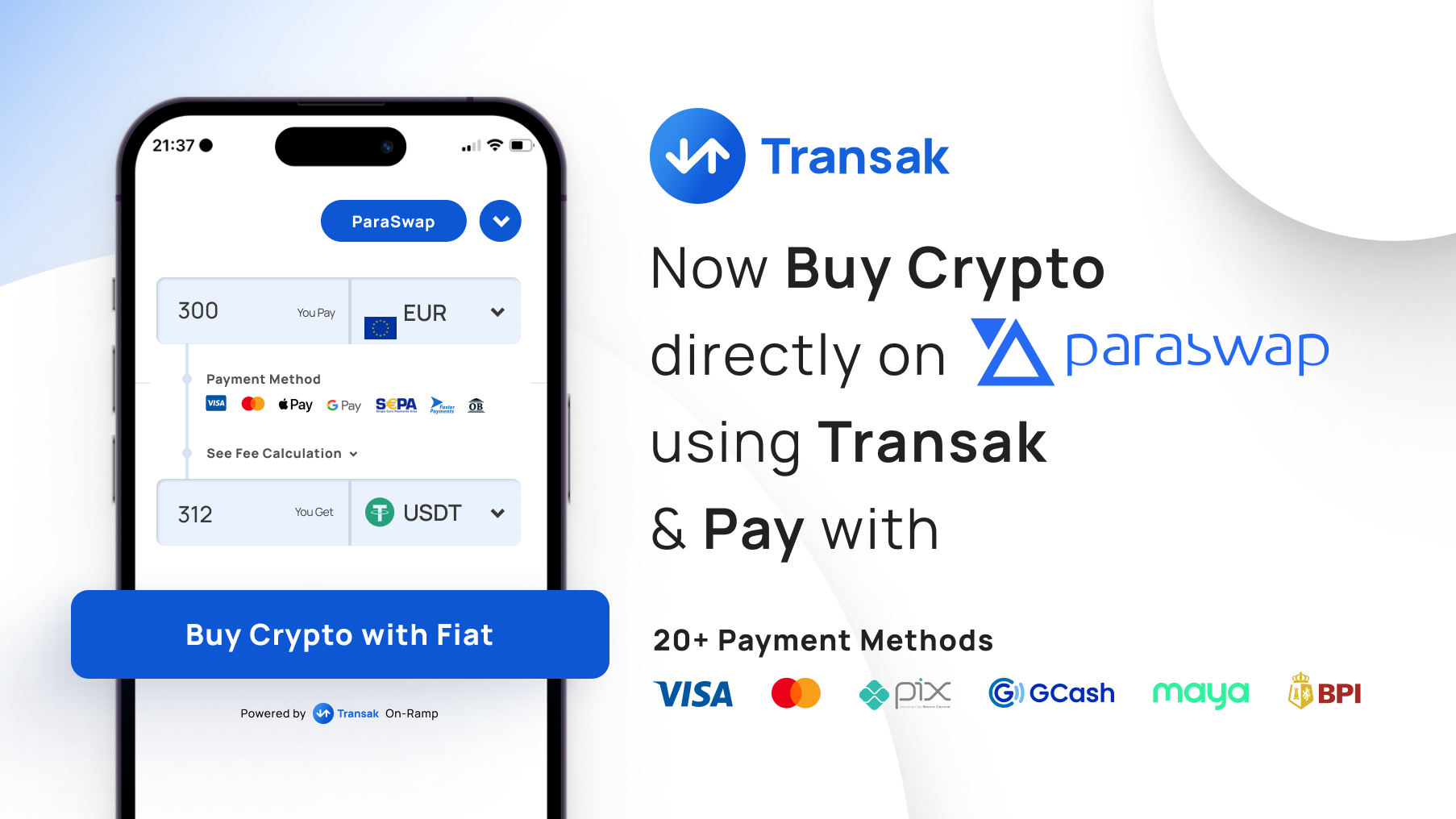 Popular DeFi DEX aggregator, ParaSwap, integrates Transak to its iOS mobile wallet for users to access the best crypto prices and buy directly into their non-custodial wallets.
In DeFi, accessibility and fluid user experience are paramount. ParaSwap, a notable DeFi middleware and aggregator, unites DEX liquidity and lending protocols, enabling user's access to the best prices in DeFi. The platform offers an optimized route for exchanging assets in a secure and user-friendly interface.
The common challenge for many users has been the initial transition from fiat to cryptocurrency. This crucial step is where many potential DeFi participants face hurdles. ParaSwap, recognizing the need for a smoother onboarding process, sought to address this challenge by integrating Transak as a fiat-on-ramp solution.
Transak facilitates a smooth transition from fiat to crypto and is well-known for it. ParaSwap and Transak's partnership shows their ongoing work to remove barriers to DeFi access. Users can now purchase cryptocurrency using Transak's infrastructure. The purchased crypto is sent directly to their crypto wallet. From there, they can access the best prices in DeFi through ParaSwap's comprehensive platform.
The mutually beneficial relationship between ParaSwap and Transak is expected to foster an environment where users not only enter the DeFi space but also engage with it efficiently.
Paraswap's Founder, Mounir Benchemled, reflecting on the integration, said, "Transak contributes to ParaSwap's mission of driving DeFi participation to new heights by helping users seamlessly transition from fiat to cryptocurrencies, eliminating the friction that often comes with the onboarding process."
Transak's simple way to buy crypto is more than just a feature; it's a bridge connecting people to DeFi and supporting ParaSwap's mission. This partnership shows that both platforms are committed to making DeFi easier to use.
"Transak's partnership with ParaSwap is a significant stride towards achieving a frictionless DeFi experience. As more users find it easier to onboard, the adoption of DeFi is poised to reach new horizons. The combined efforts of ParaSwap and Transak teams are indeed a remarkable step towards a more inclusive and accessible DeFi landscape," said Yeshu Agarwal, the CTO of Transak.
About Transak
Transak is a global Web3 payment and onboarding infrastructure provider, facilitating seamless transitions between traditional finance and digital assets. Web3 platforms using Transak can enable users to buy, sell or mint digital assets across 75+ blockchains from 160+ countries, while Transak reduces the complexities of user KYC, risk monitoring, compliance, payment methods and customer support. Trusted by over 350 leading apps, including MetaMask, Coinbase, and backed by industry leaders like Animoca Brands, Consensys, UOB, KX and more, Transak is making Web3 applications more accessible.
How to Buy Crypto on ParaSwap via Transak?
Users can monitor their crypto portfolio and manage their assets on ParaSwap. With Transak, users from over 160 countries can purchase crypto right from the app.
Step 1: Download the ParaSwap App
The ParaSwap | Multichain Wallet app is available on iOS.
Head to the App Store and download for free.
Step 2: Connect Your Wallet
Connect your wallet to the app by clicking the "Connect a Wallet" button.
You can connect multiple wallets later.
All assets in your wallet will now be displayed.
Step 3: Tap "Buy Crypto"
After connecting your wallet(s), click the "+" button to bring up the menu.
From the menu, choose "Buy Crypto"
You will be redirected to Transak.
Step 4: Enter an Amount
Choose the fiat currency you want to buy with and enter the amount you want to spend.
Click "Buy Now" to proceed.
The wallet address will be populated automatically.
Step 5: Proceed to Checkout
Finally, proceed with payment as usual.
If you are not a verified user, the interface will take you through a quick verification process. This process can be completed in a few minutes.
For more information, visit transak.com or follow on x.com/transak.
About the Author: