LUNA 2.0 is Now Available for Purchases Via Transak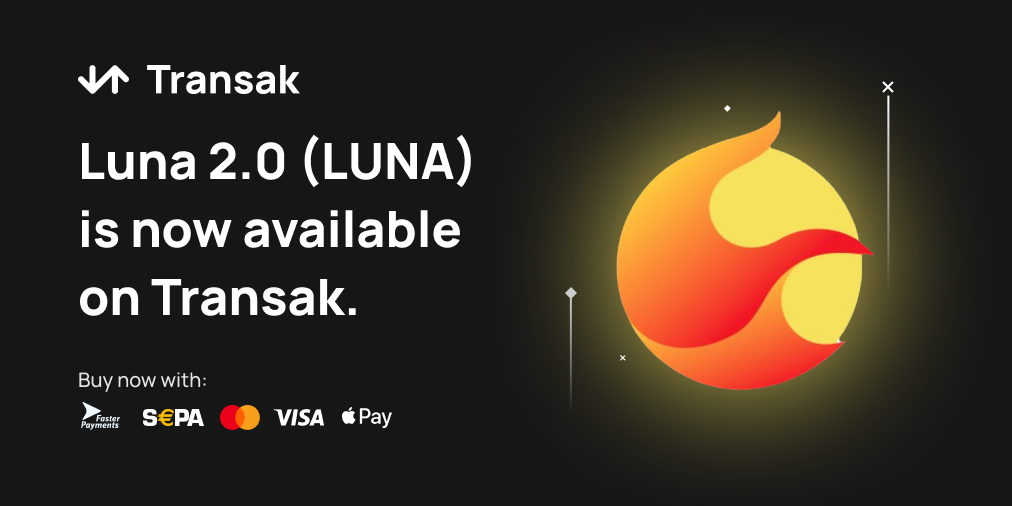 Transak, a single integration for applications to accept fiat-to-crypto deposits from a global user base, today announces listing of Luna 2.0 with immediate effect. Users can now purchase Luna 2.0 and deposit directly to their supported Terra wallets.
Please note the following:
About Terra
Terra is a decentralized, open-source blockchain protocol that emerged from what's now known as the Terra Classic blockchain. Due to a bank run in May 2022 that de-pegged the Terra Classic USD stablecoin (UST)from its $1 value. The original Terra (LUNA) is being rebranded to Terra Classic, and a new chain is being created with the original name, Terra.
As an infrastructure, Terra purports to be among the fastest and most decentralized blockchains, with speeds comparable to similar Layer 1 competitors such as Solana, Algorand, and Avalanche.
What is LUNA?
LUNA is the Terra protocol's native staking token. It is used for governance and in mining. Users stake Luna to validators who record and verify transactions on the blockchain in exchange for rewards from transaction fees.
A new Terra
On May 25, 2022, Terra Classic users passed governance proposal 1623, which outlined the genesis of a new Terra blockchain.
The new Terra chain will continue to operate without the UST stablecoin. Previous LUNA owners may be eligible to receive a LUNA airdrop (called a "genesis distribution") at the time of the new rollout. Users can find their airdropped Luna by viewing the same wallet address that was present during either snapshot and switching their Terra Station network to the phoenix-1 mainnet.
The phoenix-1 Terra mainnet launched on May 27, 2022.
Transak is a single integration for applications to enable fiat-to-crypto on-ramp from a global user base. It does so by providing API-driven fiat payment methods to on-ramp to 100+ crypto assets and abstracting away the complexity of user KYC, risk monitoring & compliance, payment methods and customer support. Transak's widget can be integrated into an app in just a few lines of code.
Transak currently supports 125+ countries, 100+ cryptocurrencies and 75+ blockchains. Transak is backed by top VCs, including Consensys and graduated from the Tachyon accelerator program. Connect with Transak on Twitter or LinkedIn, or visit https://transak.com/ for more information.
Bottom line
Investors who held LUNA and UST prior to the UST de-peg should have received airdrops of LUNA 2.0 in varying amounts. However, many received less than expected. The company announced on Twitter that it is "actively working on a solution."
Meanwhile, anyone can buy $LUNA on Transak as our aim is to provide accessibility to most dApps and end-users. But it should be noted that the currency is experiencing volatility and investment should be done with caution.
How to buy LUNA2.0 ($LUNA) on Transak?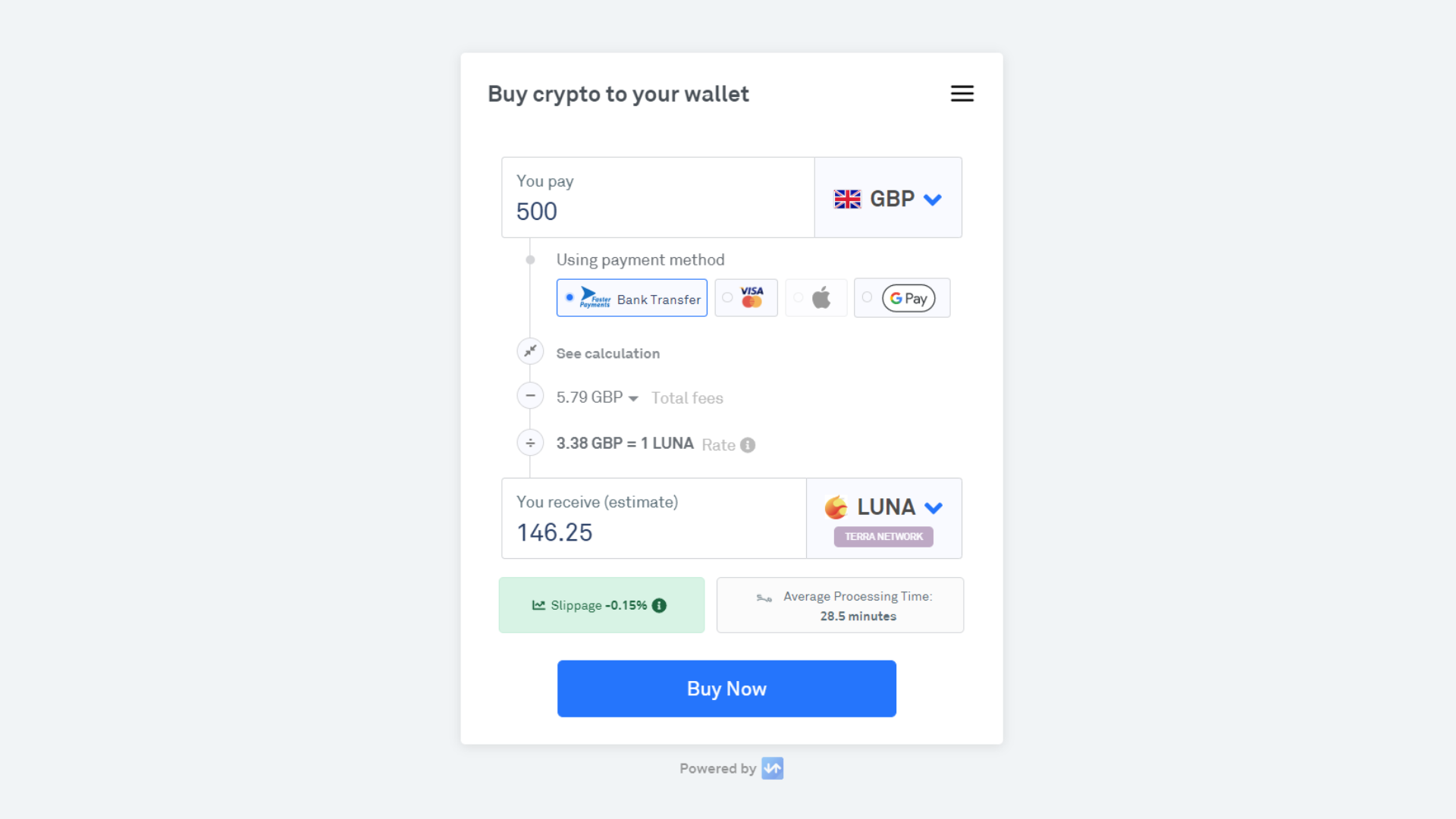 Step 1: Go to global.transak.com
There, you'll be met with our crypto onramp widget.
Step 2: Select your currency and payment methods
Choose between Transak's available payment methods and currencies. Enter the total amount of fiat currency you want to spend on your crypto onramp.
Step 3: Enter the amount you want to purchase
The minimum and maximum amounts of LUNA you can purchase may vary from country to country. It also depends on what fiat currency you are using to buy the crypto. Minimums and maximums will be noted at the time of your purchase.
Step 4: Notice the exchange rate and fees
Click "See calculation" and review all fees before moving ahead with your transaction.
Read more about Transak's fees.
Step 5: Click "Buy Now"
Note the processing time to get an expectation as to when you can receive your LUNA.

Start Buying $LUNA Today on Transak
Building a Web3 App and Want to Accept Payments? Integrate Transak


About the Author: