Transak Teams Up with LUKSO to Improve Creative Economies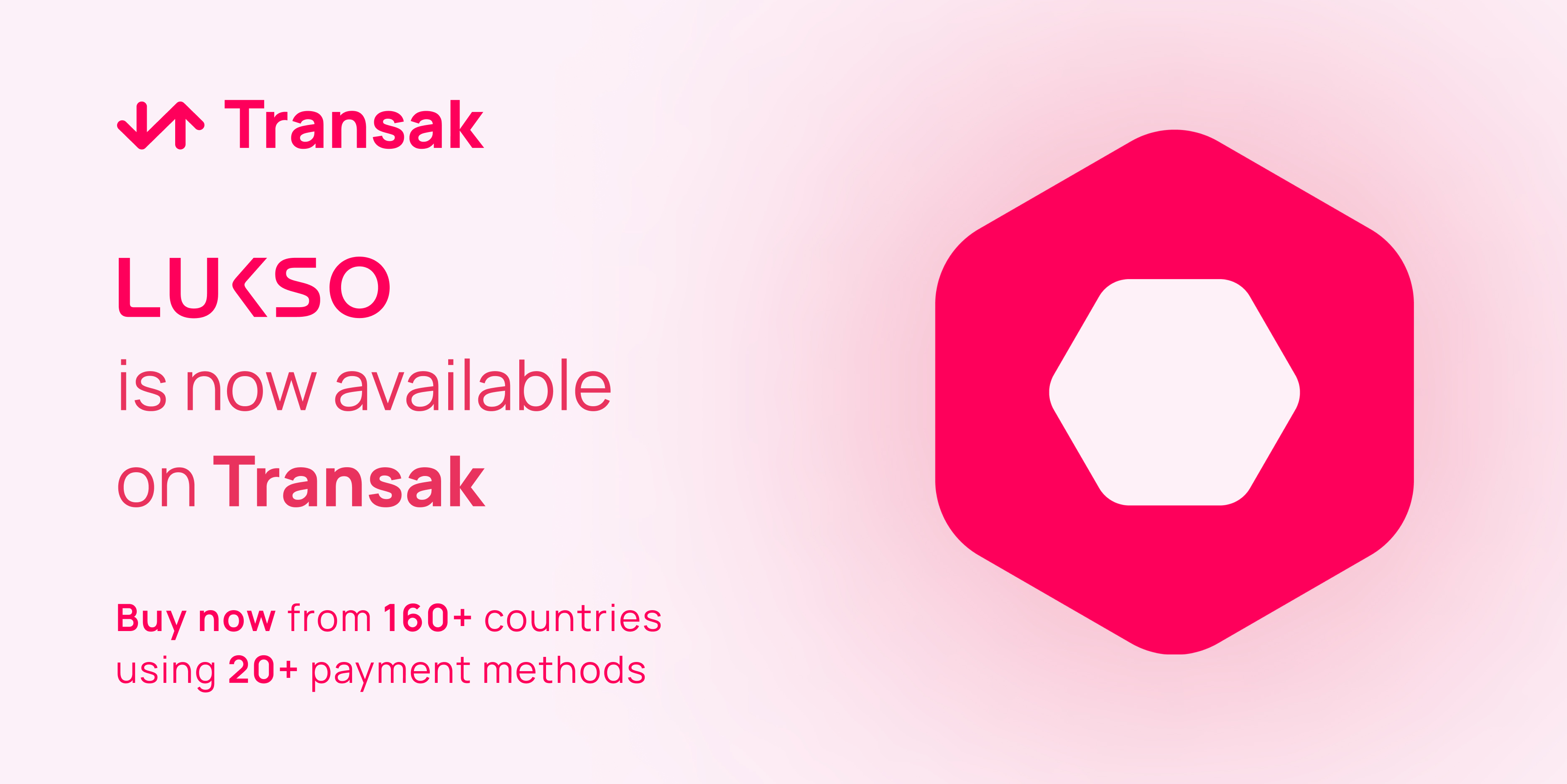 In an exciting development for the blockchain community, Transak is thrilled to announce its strategic partnership with LUKSO, a visionary blockchain network that's shaping the future of digital creativity and decentralized experiences.
This collaboration is a crucial step towards making blockchain technologies more accessible and fostering the growth of creative economies on a global scale.
LUKSO was co-founded by blockchain pioneers Fabian Vogelsteller and Marjorie Hernandez, whose vision for LUKSO is to create a foundational layer for a new wave of decentralized applications related to creative use cases. Fabian is known for his influential work, including the ERC20 token standard, ERC725, and development of web3.js. Marjorie Hernandez is a multi-faceted innovation and product expert who built and led EY's Innovation Lab in Berlin before founding LUKSO and The Dematerialised, the first web3 marketspace for digital goods.
At its core, LUKSO operates as a Layer-1 blockchain network, leveraging the full capabilities of the ETH 2.0 protocol by functioning in a similar manner at the blockchain-level.
The network's uniqueness lies in its LUKSO Standard Proposals (LSPs), which offer a suite of advanced smart contract standards. These standards are not just tools for developers; they are transformative protocols that redefine the usability and functionality of blockchain, focusing on user experience and the flexibility of tokens and NFTs.
The heart of LUKSO's innovation is the Universal Profile (UP) system, next-generation smart contract accounts designed to streamline and humanize blockchain interactions. By replacing traditional wallet structures with UPs, LUKSO is setting the stage for a more accessible and user-friendly web3 experience. These profiles are crafted through LSPs, enabling creators, brands, and individuals to effortlessly manage and showcase their digital identities and assets across the blockchain.
Transak's role in this partnership is pivotal. As a platform that simplifies the crypto onboarding process, Transak's integration with LUKSO allows developers to incorporate easy, user-friendly fiat-to-crypto transactions within their decentralized applications (dApps). This integration is a game-changer, especially for users new to the blockchain space or those without LYX tokens, LUKSO's native currency.
By partnering with Transak, LUKSO ensures that its innovative blockchain solutions are within easy reach of a global audience, irrespective of their previous blockchain experience.
The synergy between Transak and LUKSO goes beyond mere technical integration. It's about shared goals: democratizing access to blockchain technologies and empowering creators and users alike. This partnership brings together Transak's user-centric fiat gateway solutions with LUKSO's robust blockchain infrastructure.
Highlighting the partnership's impact, a LUKSO spokesperson said, "Our collaboration with Transak is a strategic step towards actualizing LUKSO's vision of a decentralized digital space. By leveraging Transak's strengths in user onboarding and financial integration, we're set to improve accessibility and foster wider adoption of blockchain in creative economies."
As we celebrate this collaboration, we look forward to the myriad of opportunities it will unlock. We envision a future where blockchain is not just a technology for the tech-savvy but a platform that powers the creative and economic activities of everyday users.
Transak and LUKSO are not just partners; we are collaborators in this vision, committed to building a more inclusive, creative, and decentralized digital world.
Pointing at the collaboration's technical prowess, Transak's CTO Yeshu Agarwal remarked, "Integrating with LUKSO is a technical milestone for us at Transak. This partnership enables us to expand our capabilities and directly contribute to a blockchain environment that's innovating around digital identity and creative economies. It's a perfect synergy between our technical strengths and LUKSO's visionary blockchain approach."
About Transak
Transak is a global Web3 payment and onboarding infrastructure provider, facilitating seamless transitions between traditional finance and digital assets. Web3 platforms using Transak can enable users to buy, sell or mint digital assets across 75+ blockchains from 155+ countries, while Transak reduces the complexities of user KYC, risk monitoring, compliance, payment methods and customer support. Trusted by over 350 leading apps, including MetaMask, Coinbase, and backed by industry leaders like Animoca Brands, Consensys, UOB, KX and more, Transak is making Web3 applications more accessible.
For more information, visit transak.com or follow on x.com/transak
How to Buy LYX from Transak
LYX is now listed on Transak and users can purchase it from over 155 countries via supported local payment methods. Below is a step-by-step guide to buying LYX from Transak.
Step 1: Register on Transak
The first step is to register on Transak and pass any one of the KYC three KYC checks. Registering and KYC is free.
The Lite KYC feature of Transak allows you to get purchase small amounts of LYX with minimal details.
Step 2: Get a LUKSO-compatible wallet
Set up a LUKSO compatible wallet like Ethereum or Trust Wallet.
Check if you're in the appropriate network and copy the public address. This is where you will get your LYX tokens.
Step 3: Buy LYX in the wallet or use Transak's widget
Finally, proceed to buy LYX directly from the wallet. If you are using leading wallets like MetaMask and Trust Wallet, chances are that Transak is already integrated as an on-ramp. Then, you can buy LYX right from the app using fiat currency.
Alternatively, go to global.transak.com, choose the fiat currency you want to spend and enter how much fiat currency you want to spend. Proceed to complete the transaction while entering the wallet address during the flow.
Within minutes, LYX will be deposited in the wallet address you entered.
For more information, visit transak.com or follow on twitter.com/transak.
About the Author: