Navigating the New FCA Regulations: A Look at Transak's Path Ahead for UK based Users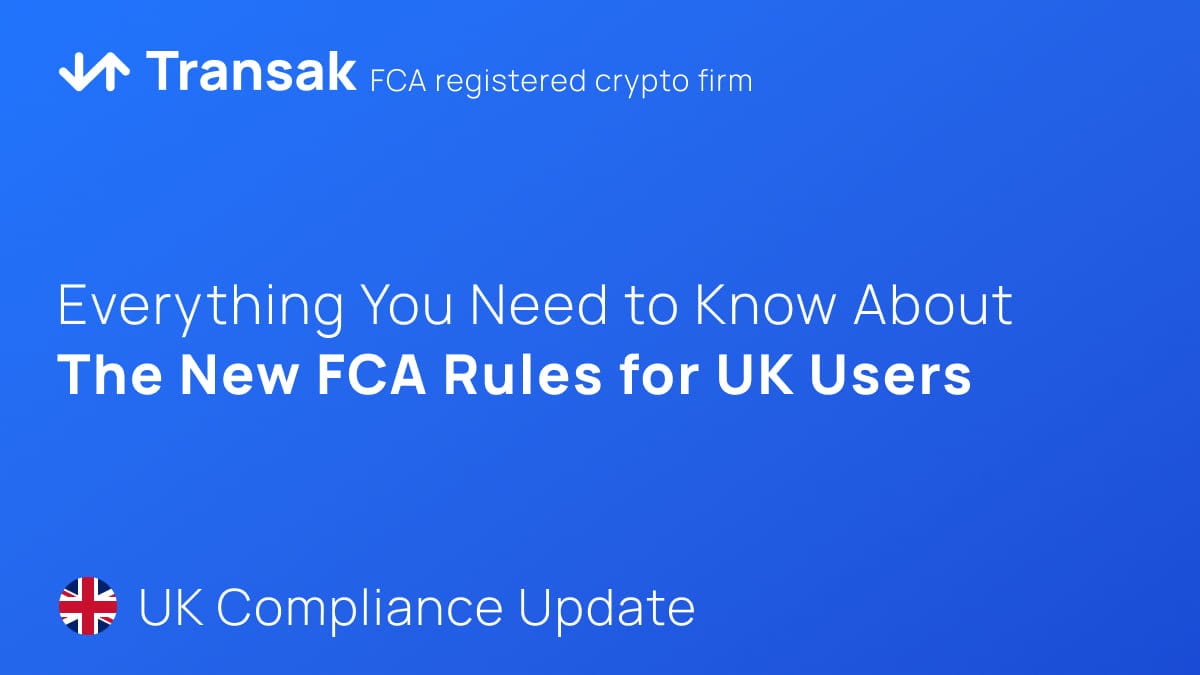 The United Kingdom, in its bid to ensure consumer protection and minimize the risks associated with crypto investments, has introduced a new set of advertising rules through the Financial Conduct Authority (FCA).
These rules, set to take effect on 8 October 2023, implement a 'cooling-off' period for first-time crypto investors and put a halt to incentive schemes like 'refer a friend' bonuses which were prevalent among crypto service providers. They also require a client categorisation process and an appropriateness assessment, and introduce record keeping requirements.
Amidst this regulatory shift, stands Transak, a robust platform providing fiat-crypto on/off ramp solutions across a myriad of applications, websites, and plugins. The upcoming FCA regulations pose a new set of challenges and opportunities for Transak and its partners. As the rules around crypto marketing tighten, the core ethos of ensuring user awareness and risk comprehension becomes even more significant.
Over the last few weeks, the floodgates of questions surrounding the new FCA rules were opened on Transak.
This article delves into the nuances of the upcoming FCA rules, explores their impact on Transak and our partners, and addresses common inquiries surrounding these regulatory changes.
Understanding the New FCA Rules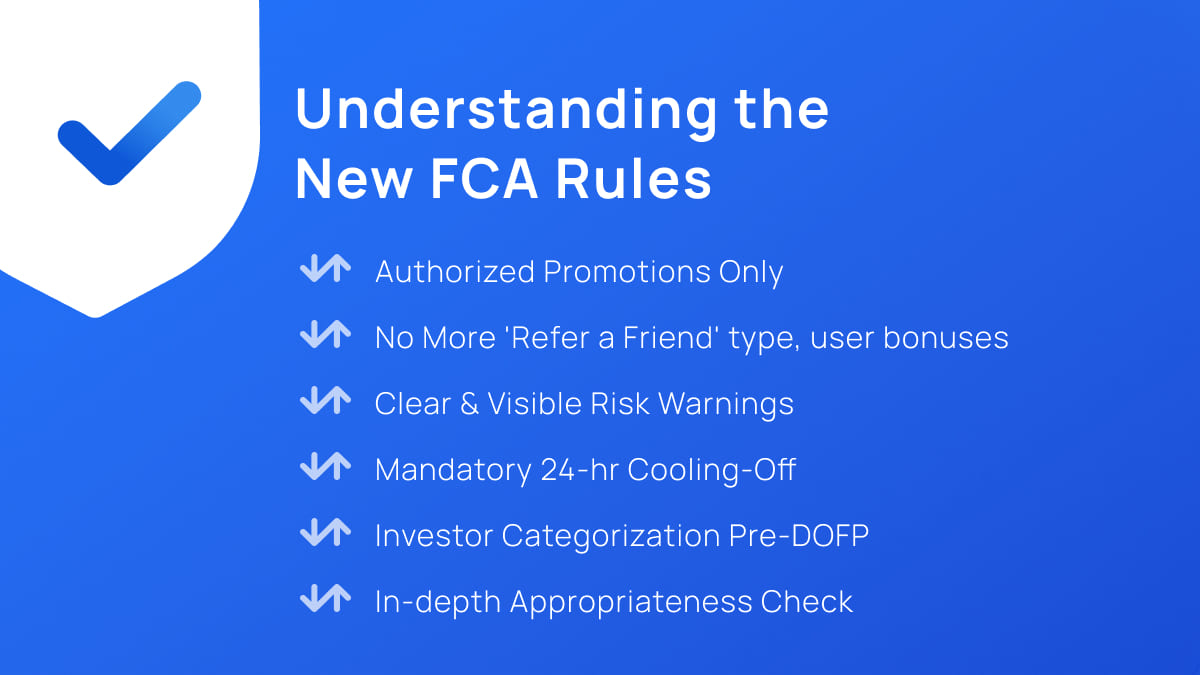 Here's a 10,000-ft overview of what the new UK's new financial promotions rules bring to the table.
Routes to Communicating Financial Promotions
Under the new rules, firms which are authorized by the FCA or are registered under the Money Laundering Regulations are able to communicate financial promotions relating to cryptoassets. Unregistered crypto firms will no longer be able to issue financial promotions.


Ban on Incentives
The FCA has outlined a ban on incentives such as the commonly used 'refer a friend' bonuses in crypto marketing.
This initiative aims to curb aggressive marketing strategies that might entice individuals to invest impulsively without a proper understanding of the risks involved.
Prominent Risk Warnings and Risk Summaries
Companies engaging in cryptocurrency activities are now required to provide clear and visible risk warnings to users and ensure adverts are clear, fair and not misleading.
This transparency ensures that individuals are well-informed about the potential risks associated with crypto assets, resembling the kind of warnings provided for other high-risk investments or products.
Additional Rules for Direct Offer Financial Promotions
There are additional onerous rules that apply to so-called "Direct Offer Financial Promotions" or "DOFP". A DOFP is a financial promotion containing;
an offer by the firm or another person to enter into a controlled agreement with any person who responds to the communication; or
an invitation to any person who responds to the communication to make an offer to the firm or another person to enter into a controlled agreement, and
which specifies the manner of response or includes a form by which any response can be made.
The rules applying to crypto firms offering DOFPs are summarized below.
Personalized Risk Warning Pop-Up
The UK's FCA mandates a personalized risk warning pop-up before a Direct Offer Financial Promotion (DOFP) to enhance user awareness and promote informed decisions.
For Transak, this entails user interface adjustments, fostering trust through transparency, and technical collaboration to integrate this feature, aligning with regulatory compliance while enhancing user experience and education on potential cryptoasset risks.
Cooling-Off Period
A distinctive feature of the new rules is the introduction of a 24-hour "cooling-off" period for new customers.
This measure is designed to allow first-time investors a window to reconsider their decision, thus ensuring they are not rushed into making potentially risky investments without adequate understanding and consideration.

Client Categorization
Before a DOFP can be made, crypto firms must categorize the investor as one of the "Restricted", High Net Worth or Certified Sophisticated.
These categorisations, valid for a 12-month period, require the investor to sign a declaration stating that they meet the relevant criteria to fall within the relevant category.

Appropriateness Assessment
Before an application or order for a crypto asset can be processed in response to a DOFP, firms must assess the specific cryptoasset as appropriate for the investor. In essence, this means assessing that the investor has the necessary experience and knowledge to understand the risks involved in relation to a specific product or service offered or demanded.
Who is Affected by the new FCA rules?
The regulations are not confined to firms based in the UK alone. Any crypto issuer or business outside the UK making a cryptoasset or service available to a user or investor in the UK will need to adhere to these financial promotion restrictions.
This broad scope aims to ensure that UK consumers are protected, irrespective of the geographical location of the crypto service provider.
Non-compliance with the new advertising guidelines may result in stringent penalties.
The FCA has laid down a clear warning that crypto firms failing to adhere to the guidelines may face up to two years of imprisonment or substantial monetary penalties, underlining the seriousness of these regulatory measures.
The upcoming FCA rules reflect a significant step towards creating a more transparent and safer environment for crypto investors in the UK.
By addressing potential misleading marketing practices and ensuring that individuals have adequate information to make informed decisions, the FCA is aiming to foster a more responsible and consumer-centric crypto ecosystem.
Implications for Transak and its Partners
The dawn of stricter FCA regulations on cryptoasset marketing signifies a pivotal juncture for Transak and our partners.
Transak's current compliance as an FCA registered entity in the UK offers a sturdy foundation to navigate these new guidelines.


Marketing Adjustments
The ban on incentivizing users through marketing campaigns like 'refer a friend' bonuses necessitates a shift in marketing strategies.
Transak, known for a user-centric approach, is devising new engagement models that abide by the FCA's guidelines while ensuring sustained user acquisition and retention.


Compliance Measures
Transak's existing status as an FCA registered entity under the Money Laundering Regulations in the UK provides it with a foundational compliance framework. However, the new rules demand additional compliance measures, particularly around user education and risk awareness.
We have reinforced our user journey with more pronounced risk warnings and are working actively with our partners to navigate them through any compliance issues.

Cooling-Off Period Implementation
Instituting a 24-hour cooling-off period for new users aligns with Transak's ethos of fostering informed decision-making among its users.
This provision, although a new regulatory requirement, reinforces Transak's commitment to ensuring a secure and informed user experience.

International Partnerships
The international scope of the new FCA rules implies that even non-UK based partners engaging UK consumers will need to comply.
Transak's partnerships with global entities will require a joint effort in adhering to the new FCA guidelines, ensuring that the marketing communications and promotions are fair, clear, and compliant to the UK consumers.

Preparedness for Future Regulations
The FCA regulations are a testament to the evolving regulatory landscape in the crypto domain. Transak, with its established compliance framework, is well-positioned to navigate through these changes.
Moreover, the proactive engagement in understanding and aligning with new regulations reflects Transak's readiness to adapt to future regulatory evolutions, ensuring a sustained compliant operation.

Communication with Partners
Clear communication with partners regarding the new FCA rules and the adjustments required is crucial.
We will guide our partners through the transition, ensuring they are well-informed and prepared for compliance with the new advertising guidelines.
Special Compliance Extension: Granted to Transak's Path Until 2024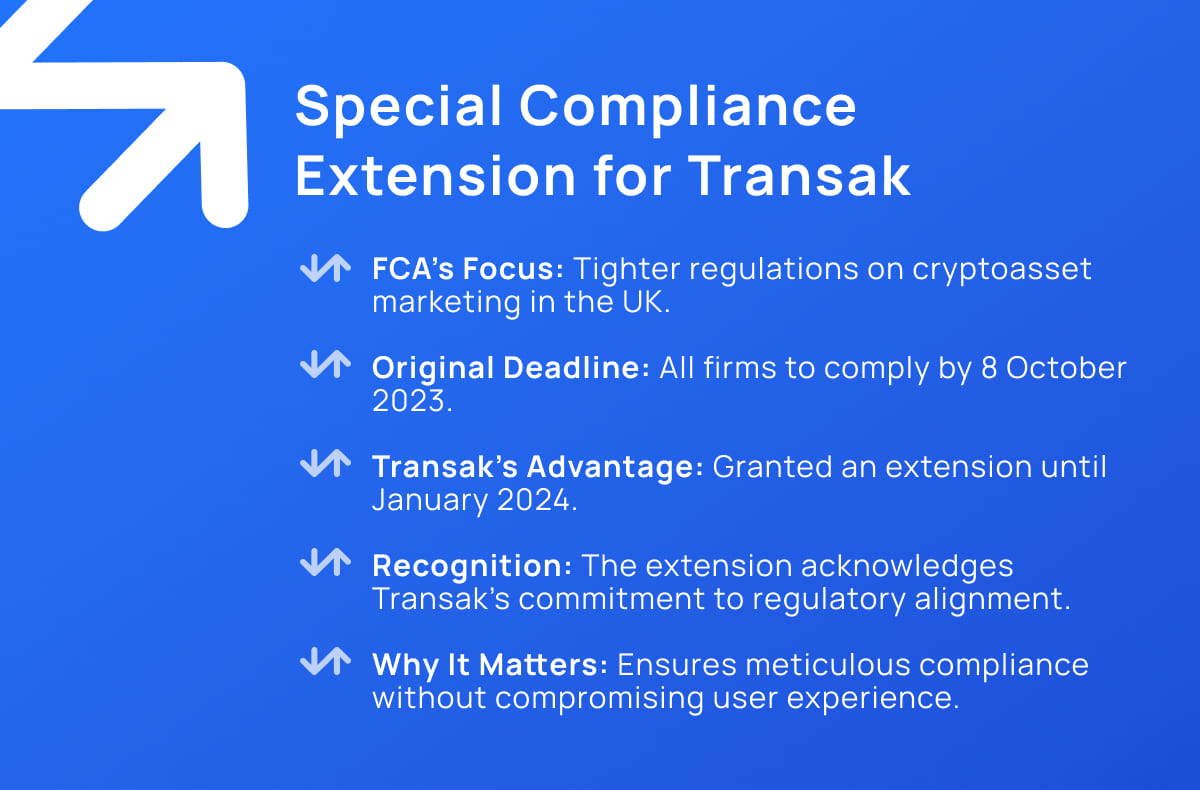 In the unfolding narrative of the UK's Financial Conduct Authority (FCA) tightening the reins on cryptoasset marketing, Transak has emerged with a noteworthy mention.
The FCA, recognizing the challenges faced by crypto firms in adhering to the new rules by the stipulated deadline of 8 October 2023, offered the opportunity for firms to apply for an extension.
Transak, proactive in ensuring compliance while navigating the regulatory complexities, applied for and was successfully granted this exemption. This special permission extends Transak's deadline to align with certain new regulations until January 2024.
This extension is not just a temporary reprieve but a significant acknowledgment of Transak's commitment to regulatory compliance and its ongoing efforts to align its operations with the FCA's standard rules on financial promotions for high-risk investments.
It provides Transak and its partners a reasonable timeframe to meticulously work through the compliance requisites, ensuring that the user experience remains unhampered while adhering to the new regulatory landscape.
Conclusion
The upcoming FCA regulations signify a pivotal moment in the UK's crypto regulatory framework.
While challenging, these changes resonate with the global move towards creating a safer and more transparent crypto environment, which can only be positive for crypto users and the thriving crypto community.
At Transak, we are actively navigating through these regulatory waves, ensuring continued service excellence to our partners and users.
Engaging with the new rules is not just about adherence but about fostering a trustworthy and sustainable crypto ecosystem in the UK and beyond.

FAQs
What do the new FCA rules mean for Transak's marketing campaigns?
Transak's marketing campaigns have always been compliant and intended to provide value to its customers and partners.
The new FCA rule calls for an overhaul in marketing efforts. Transak's marketing department and compliance teams will collaborate to ensure all communications are in adherence to the new rules.
How does the 24-hour cooling-off period affect the user experience on Transak?
The cooling-off period aims to ensure informed decision-making among first-time crypto investors. While this might introduce a slight delay in transaction completion for new users, it underscores Transak's commitment to fostering a responsible crypto investment environment.
What measures is Transak taking to ensure compliance with the new rules?
Transak is committed to adhering to the regulatory frameworks. Its existing status as an FCA registered entity and its proactive engagement in understanding and aligning with new regulations demonstrate its readiness to adapt to the evolving compliance landscape.
How will the FCA rules impact Transak's partners, especially those based outside the UK?
Partners, regardless of their geographical location, will need to comply with the FCA guidelines when engaging UK consumers. This may require adjustments in their marketing strategies and user engagement models to ensure compliance.
Transak's Compliance and Legal teams will work with Transak partners to ensure smooth sailing and minimize any friction by devising creative and compliant solutions.
What support is Transak offering to its partners to navigate through these regulatory changes?
Clear communication and guidance are crucial during this transition. Transak will work closely with partners, providing necessary information and support to ensure a smooth adaptation to the new FCA guidelines.


For more information, visit transak.com or follow us on twitter.com/transak or you can also follow us on our new home for UK users, twitter.com/transakUK

For any further questions or concerns, please send an email to [email protected]
About the Author: