How to Process Onramp Transactions from your dApps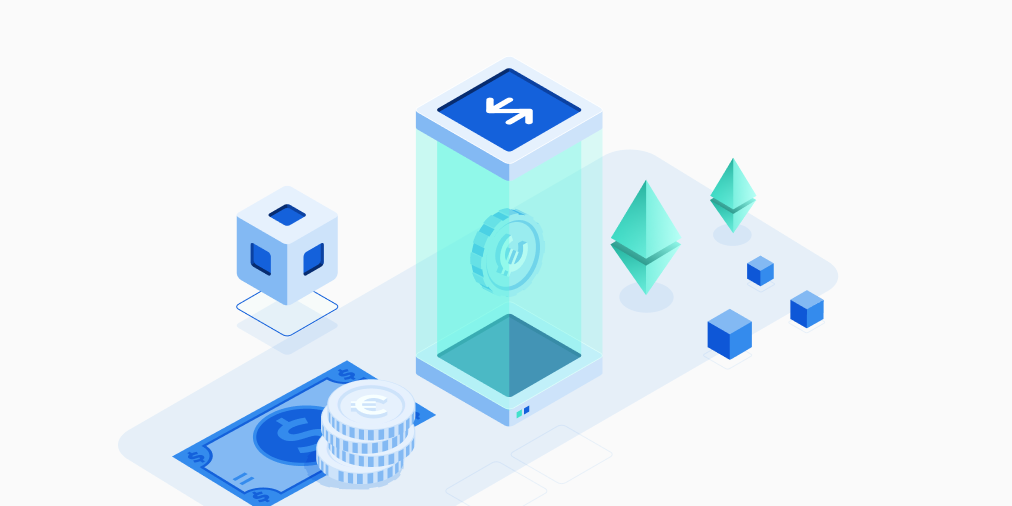 Just like "normal" iPhone or Android apps, decentralized apps (dApps) must have the functionality to accept payments. But as we know, dApps run on blockchain technology, where these payments are made in the form of cryptocurrency.
Blockchain developers must therefore provide or find customizable crypto onramp solutions for the dApp projects they are building. Popular dApp projects may include platforms for metaverse retail experiences, non-fungible token (NFT) marketplaces, play-to-earn gaming, decentralized finance services (aka DeFi), social networks, productivity tools, and more.
Ethereum, the largest and arguably most popular decentralized ecosystem, is home to thousands of dApps according to the dApp ranking website, Dapp Radar. The most popular dApps on Ethereum are the popular NFT marketplace OpenSea, the crypto exchange Uniswap, and Metamask Swap, a crypto swap dApp by the popular DeFi wallet.
So how do users onramp from fiat to crypto when using popular Ethereum dApps — as well as dApps developed on comparable blockchains like Polygon, Avalanche, Solana, and Terra?
First and foremost, the crypto onramp process must be deployed with tact and seamless integration, complete with a know-your-customer (KYC) process that honors the privacy of user data. There are multiple ways to go about doing this.
Options for adding crypto onramp solutions to your dApp

Fiat-to-crypto onramps enable users to exchange their traditional fiat (government) currency for their desired cryptocurrency. There are now thousands of cryptocurrency dApps, but not every dApp offers a fiat-to-crypto conversion that makes trading or selling digital assets easy. For instance, when using OpenSea to buy NFTs, a user must already have crypto in their synced wallet in order to buy from the marketplace. There's no way to easily click "buy" and use a credit or debit card to pay for the NFT. Most dApps don't handle the monetary conversion on the back end (though there are a few exceptions).
However, it's not impossible to let users exchange fiat directly on your website or dApp. As a developer, your options to build this functionality into the UX include:
Creating a customized crypto onramp solution; or

Using a

crypto onramp integration
Let's go over the pros and cons of each.
Building a customized crypto onramp solution
Pros
The pros of building your own proprietary fiat-to-crypto onramp tool are appealing at a first glance: It'd be your own, completely customizable, and a unique value-add to your user's experience.
Cons
It's not easy to create a secure onramp solution with privacy-protected know-your-customer (KYC) embedded into the user journey. An entire team of developers devoted specifically to onramp is required to ensure the onramp is comprehensive, confidential, and secure — and this may take away from your company's primary mission.
Plus, you'll need to equip your staff with customer service experts who can check the status of new users, troubleshoot failed orders, and help out with crypto onboarding. Finally, there are additional regulatory procedures required for money exchange platforms. Not every dApp is permitted to exchange currencies, depending on its licensing and where the business entity is incorporated.
Using a crypto onramp integration
Pros
Crypto onramp integrations present flexible solutions that enable developers to create a seamless user journey that still may have room for customizable options like language, fiat currencies, cryptocurrencies, mobile accessibility, and more depending on the product you choose. The most popular crypto onramps will also have fully-staffed compliance departments which will offload some of the regulatory responsibility from your dApp or protocol, at least when it comes to exchanging currencies and KYC measures.
Cons
Of course, the major downside of crypto onramp integrations is that they may scream "centralized" to crypto purists who believe in total anonymity. Like the major exchanges, all major crypto onramp integrations will require KYC protocols. However, there are major perks to outsourcing KYC to a platform like Transak, which handles the regulation and compliance side of things.
Learn more about how Transak handles KYC and performs due diligence.
Why choose Transak's crypto onramp integration
Transak allows dApps to onboard mainstream users with more ease and speed compared to building out a fully proprietary model. This allows crypto companies to increase their revenue and offload some of the responsibilities around KYC, regulatory compliance, and fiat payment methods.
View our supported cryptocurrencies and learn what fiat currencies Transak is compatible with.
The Transak onboarding and integration process happens in eight steps, letting your users perform live transactions through your dApp in minutes.
Integrations are available for the following formats:
Browser integration: Just add a button or directly embed the Transak widget to your website.

SDK integration: Add the Transak widget to your dApp using Angular, React, Vue, or JavaScript.

Mobile integration: The Transak widget is compatible with React Native, Android, or iOS.
There's also the ability to select a white label integration that lets you keep your company's own user interface but let users buy crypto through Transak (coming soon).
In all of the Transak integrations, users can directly buy cryptocurrency to their wallet, where they can use it to purchase digital assets or participate in DeFi using your company's protocol or dApp.
Learn more about Transak's available currencies and fees.


Subscribe to our newsletter