Coinbase Wallet integrates Transak to ease user onboarding to the Philippines and Thailand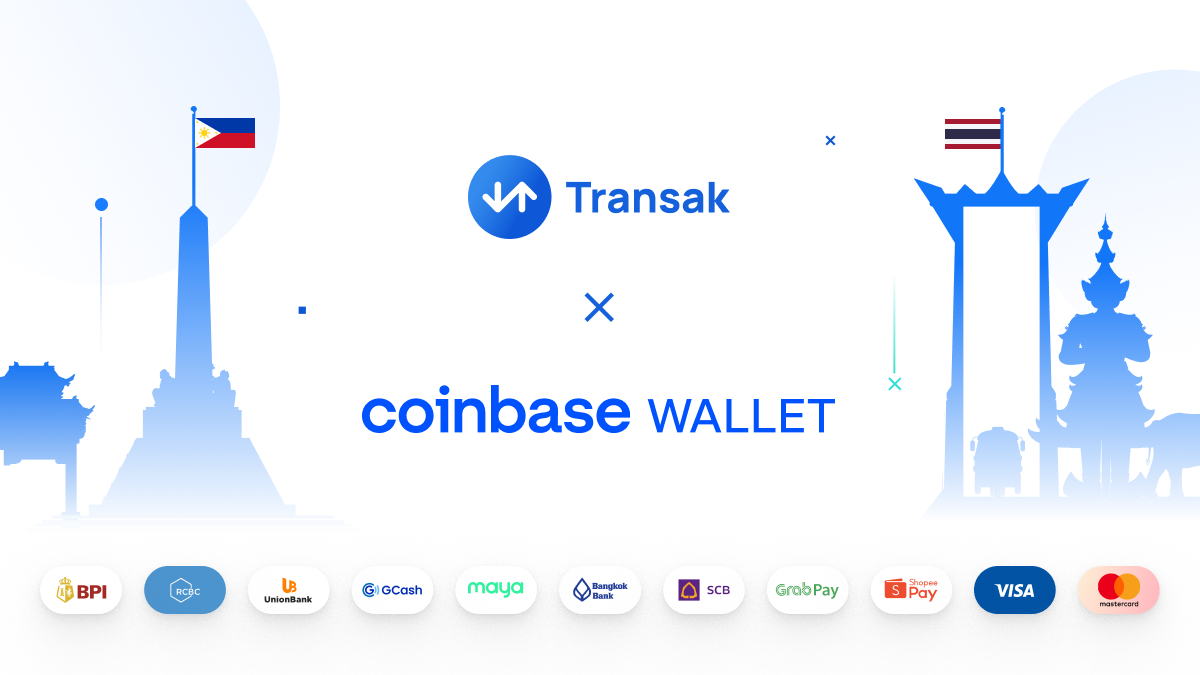 MIAMI, FL, NOVEMBER 29, 2022 - Transak, a single integration for applications to accept fiat-to-crypto deposits from a global user base, today announces its integration with Coinbase Wallet. Users of Coinbase Wallet can now access Transak as a fiat on-ramp to buy crypto. Transak has over 100 partners within its ecosystem providing API-driven fiat payment methods to on-ramp to 130+ crypto assets and is removing the complexity of user KYC, risk monitoring & compliance, payment methods, and customer support.
Transak's integration eases onboarding for global users, especially for users in Southeast Asia (SEA). Transak recently announced local payment methods for the Philippines and Thailand that will continue to remove barriers to self-custodial wallets like Coinbase Wallet. In the Philippines, users can buy crypto via Transak using leading local payment methods like GCash, Maya, GrabPay, or simply through a debit/credit card. In Thailand, users can pay via bank transfers as well as debit/credit cards.
Coinbase Wallet is a self-custody wallet that gives you complete control of your crypto. This means that the private keys (that represent ownership of the cryptocurrency) for your Wallet are stored directly on your mobile device and not with a centralized exchange. Coinbase Wallet currently supports Ethereum and all EVM-compatible networks in both the mobile app and browser extension. In addition, the mobile app also supports Bitcoin, Dogecoin, Litecoin, Stellar Lumens, and Ripple networks.
"Self-hosted wallets are on the rise, especially as more people become aware of the importance of keeping their assets safe, secure, and in their control. Coinbase Wallet, with its world-class security and ease of use, now integrated with Transak makes it even easier for our SEA customers to access crypto and Web3 with peace of mind" said Hassan Ahmed, Regional Director Southeast Asia at Coinbase
"With the addition of such local payment methods, users can onboard more efficiently and pay lesser transaction fees overall. We're glad that we are able to provide this integration to the Coinbase Wallet platform to make it more intuitive for users to participate," said Sami Start, CEO, of Transak. "Transak is aligned with Coinbase Wallet in expanding to new regions globally in order to increase Web3 adoption across the board."
Transak continues to have other partnerships and product launches coming through 2022 and into early 2023 – to learn more visit www.transak.com
About Coinbase
Coinbase is building the cryptoeconomy – a more fair, accessible, efficient, and transparent financial system enabled by crypto. The company started in 2012 with the radical idea that anyone, anywhere, should be able to easily and securely send and receive Bitcoin. Today, with over 100 million verified users spanning the globe, Coinbase offers a trusted and easy-to-use platform for accessing the broader cryptoeconomy. For more information, visit coinbase.com
About Transak
Transak is a leading Web3 onboarding infrastructure provider. Its API-driven solutions enable web3 platforms to onboard users to 130+ crypto assets from 125+ countries, abstracting away the complexity of user KYC, risk monitoring & compliance, payment methods and customer support. Transak is backed by top VCs, including Consensys, Animoca Brands and graduated from the Tachyon accelerator program. Connect with Transak on Twitter or LinkedIn, or visit https://transak.com/ for more information.
How to buy crypto on Coinbase Wallet using Transak?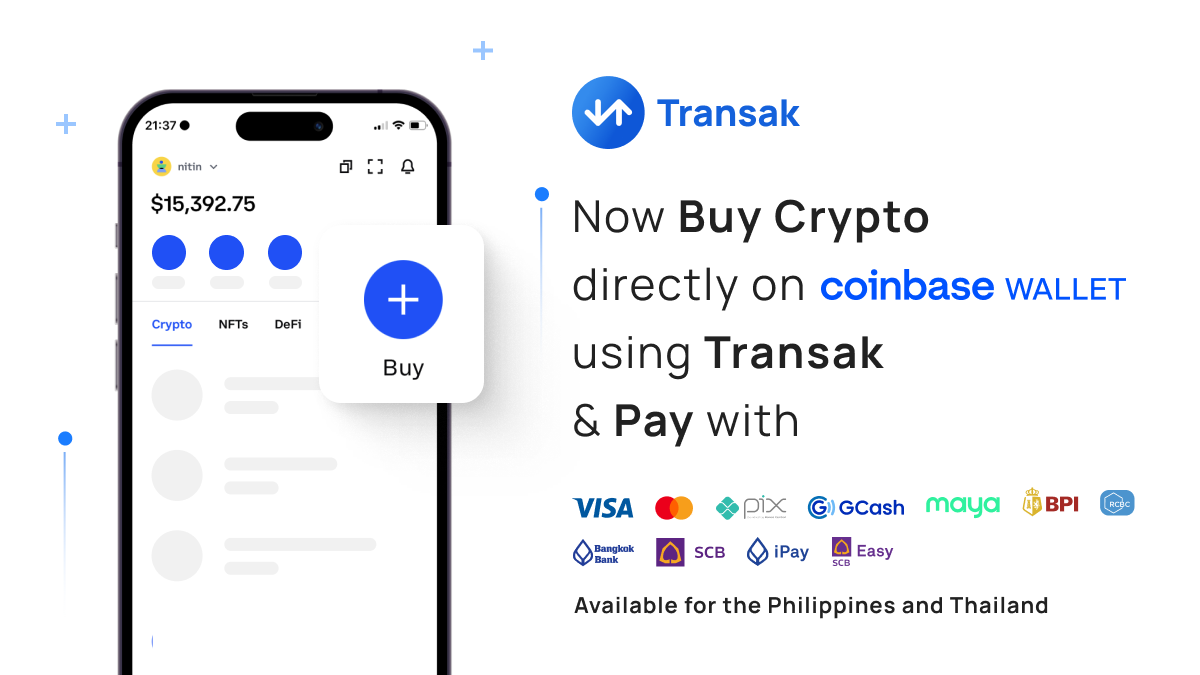 Step 1: Access Coinbase Wallet on your iOS or Android device
Step 2: Click on the "Buy" option, available on the top menu
This will direct you to Transak's Buy Crypto Widget
Step 3: Enter the amount you want to purchase
The minimum and maximum amounts of crypto you can purchase may vary from country to country. It also depends on what fiat currency you are using to buy the crypto. Minimums and maximums will be noted at the time of your purchase.
Step 4: Choose the payment method you want to pay with
Choose between Transak's available payment methods and currencies. Enter the total amount of fiat currency you want to spend on your crypto onramp.
Step 5: Notice the exchange rate and fees
Click "See calculation" and review all fees before moving ahead with your transaction.
Step 6: Click "Buy Now"
Note the processing time to get an expectation as to when you can receive your crypto.
Step 7: Do KYC with Transak, if KYC is already done, proceed to Pay
Now we need to verify you with a simple KYC process. Please follow the step-by-step guide on the screen. Post approval, you can proceed to Pay. If your KYC is already approved, then you will be directed to pay
Step 8: Receive Crypto
Post payment, you will receive the crypto in your addressed wallet directly. In case of any unexpected delays or issues, please feel free to reach out to us at support.transak.com
For any doubts with regards to your Transak experience, please raise a query at support.transak.com
Using Transak, you can buy crypto to any of your wallets directly, just start here.
Building in Web3 and looking to onboard users? Integrate Transak.
For further media queries, please contact:
[email protected]
About the Author: