Injective is now available on Transak; Enabling easy fiat access into the Injective ecosystem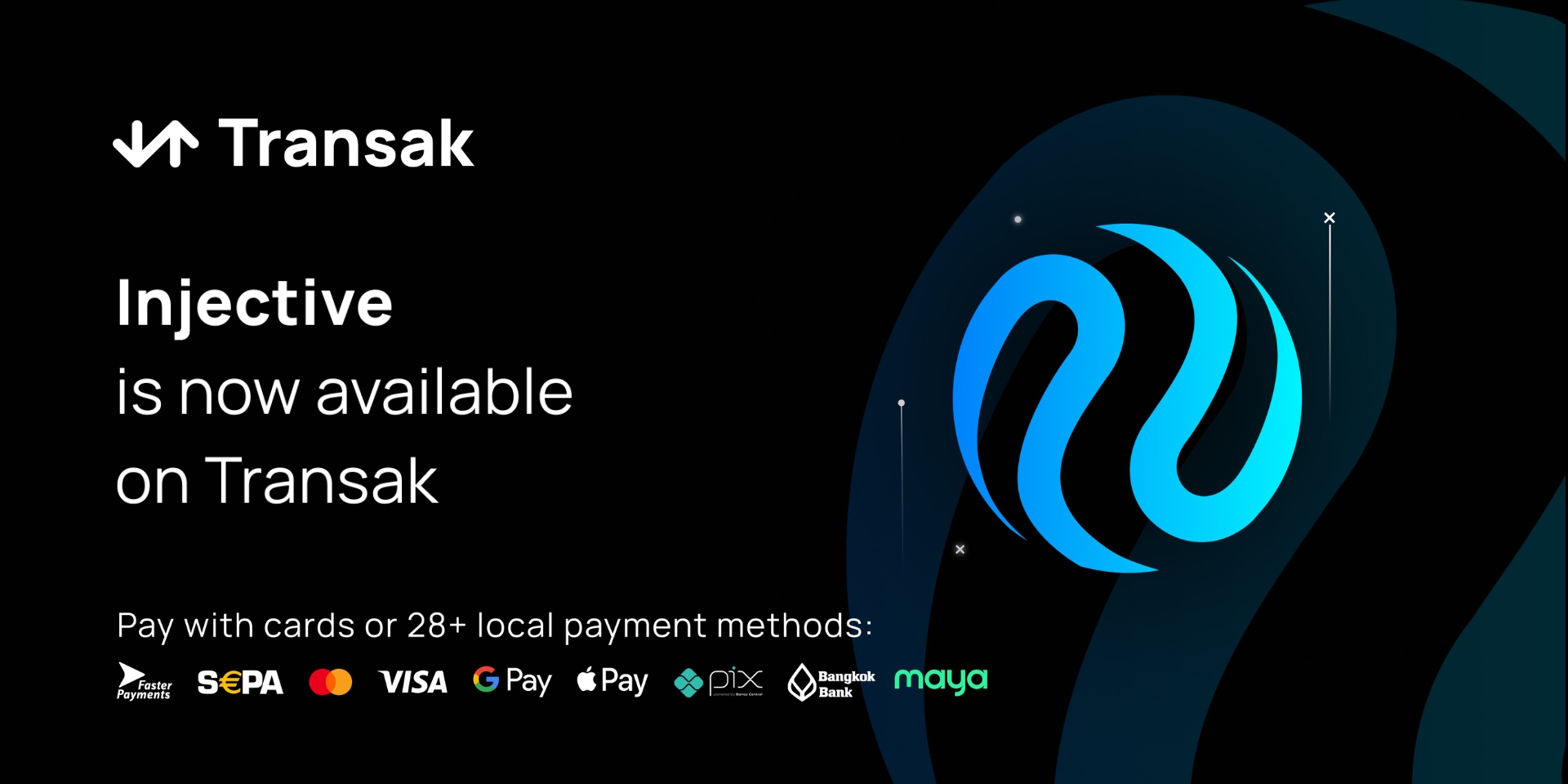 Transak is excited to announce its latest integration and listing of Injective, a layer one blockchain designed specifically for building premier Web3 finance applications. With this listing, Injective community members can easily onboard into the Injective ecosystem by purchasing $INJ with fiat currencies from 150+ currencies.
$INJ is the native token asset that powers Injective through protocol governance, Proof-of-Stake security, developer incentives and more.
In addition, developers building dApps on Injective can also now integrate the Transak widget, offering a seamless UXfor users onboarding onto applications built on Injective.
Please note the following:
Purchases are available with immediate effect

Asset Name: $INJ

Ticker: $INJ

Network: Injective

Link to buy: global.transak.com
Injective's infrastructure for finance dApps in Web3 is a game-changer in the DeFi space. Contributors to Injective have created a powerful blockchain that provides a plug-and-play experience for developers, so they may have unmatched flexibility when building their decentralised applications. Injective's vision of being the premier blockchain for DeFi applications is becoming a reality, and Transak is thrilled to be part of that journey.
Transak is the leading onboarding infrastructure solution that offers a single API driven integration and widget to make it easy for developers to integrate Transak into their platforms. This new integration with Injective makes it seamless to onboard mainstream users and increases accessibility to the Injective ecosystem. Building on Injective and want to Accept Payments? Integrate Transak today
According to Eric Chen, co-founder and CEO of Injective Labs, "Robust fiat on-ramps will serve as the primary gateway to onboard mainstream users into Web3. We are thrilled to see Transak integrate Injective, allowing billions of new users to access the Injective ecosystem at the click of a button."

Sami Start, CEO and co-founder of Transak, is equally excited about the integration, saying, "We are thrilled to partner with Injective and provide their users with a seamless fiat on-ramp experience. Our mission has always been to make it easy for everyone to access the benefits of cryptocurrency, and our integration with Injective is a big step in that direction."
About Injective
Injective is a lightning fast interoperable layer one blockchain optimised for building the premier Web3 finance applications. Injective provides developers with powerful plug-and-play modules for creating unmatched dApps. INJ is the native token that powers Injective and its rapidly growing ecosystem.
Injective is incubated by Binance and is backed by prominent investors such as Jump Crypto, Pantera and Mark Cuban.
Using Transak, you can buy crypto to any of your wallets directly, just start here.
Building in Web3 and looking to onboard users? Integrate Transak
How to buy $INJ with fiat and onboard directly to Injective via Transak?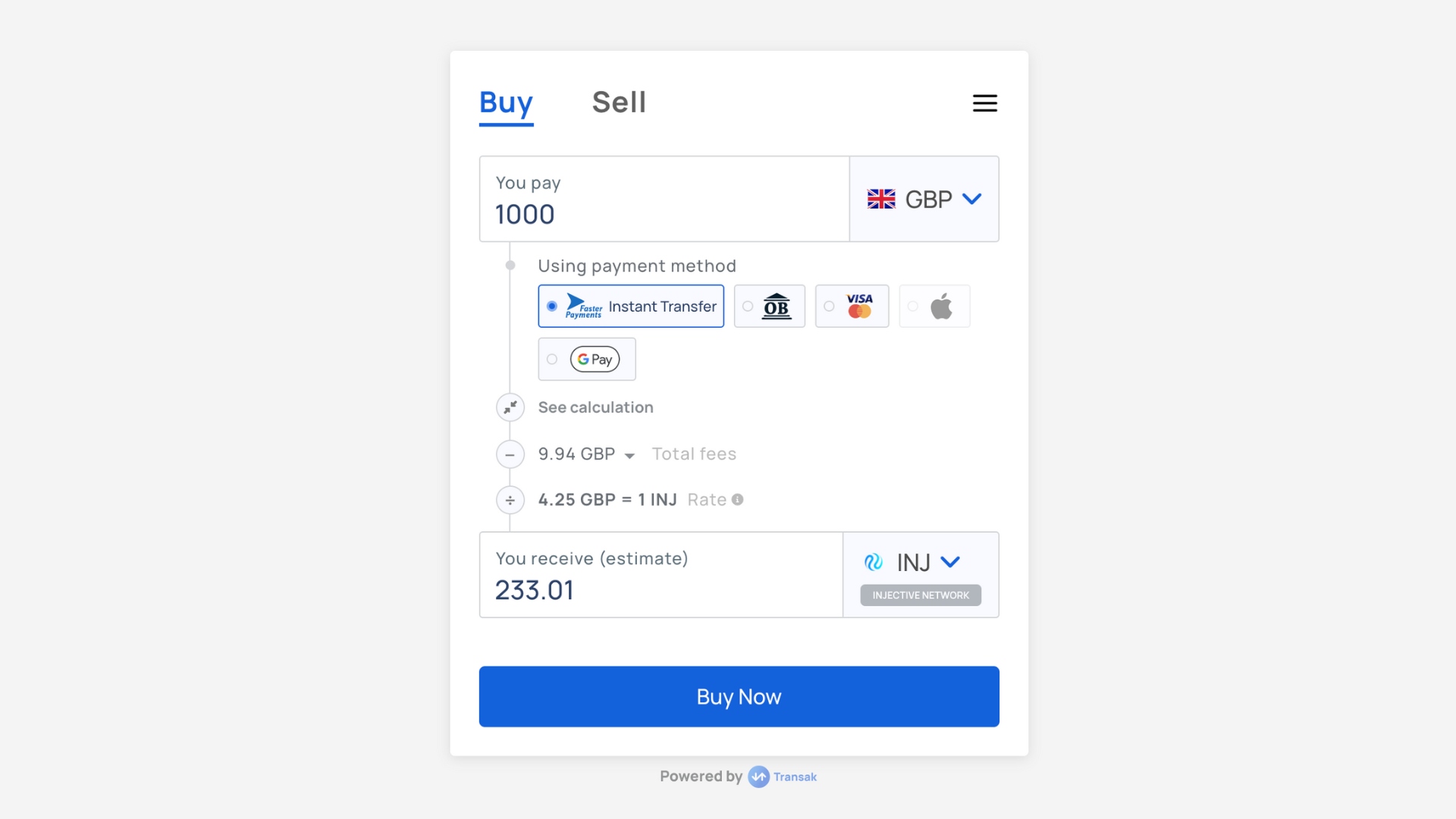 Prerequisite: Download a Injective supported wallet like Keplr
Step 1: Go to global.transak.com
This will direct you to Transak's On-Ramp widget
Step 2: Select your fiat currency and payment methods
Choose between Transak's available payment methods and currencies. Enter the total amount of fiat currency you want to spend on your crypto onramp.
Step 3: Select the cryptocurrency - $INJ
From the cryptocurrency list, select $INJ - Injective Token
Step 4: Enter the amount you want to purchase
The minimum and maximum amounts of $INJ you can purchase may vary from country to country. It also depends on what fiat currency you are using to buy the crypto. Minimums and maximums will be noted at the time of your purchase.
Step 5: Notice the exchange rate and fees
Click "See calculation" and review all fees before moving ahead with your transaction.
Read more about Transak's fees.
Step 6: Click "Buy Now"
Note the processing time to get an expectation as to when you can receive your $INJ.
Step 7: Enter your supported network address
Here, you need to safely enter your correct supported network address
Step 8: Do KYC with Transak, if KYC is already done, proceed to Pay
Now we need to verify you with a simple KYC process. Please follow the step-by-step guide on the screen. Post approval, you can proceed to Pay. If your KYC is already approved, then you will be directed to pay
Step 9: Receive Crypto
Post payment, you will receive the crypto in your addressed wallet directly.
For any doubts with regards to your Transak experience, please raise a query at support.transak.com
Using Transak, you can buy crypto to any of your wallets directly, just start here.
Building in Web3 and looking to onboard users? Integrate Transak
About the Author: