Upcoming P2E project, Tamadoge partners with Transak to enable crypto purchases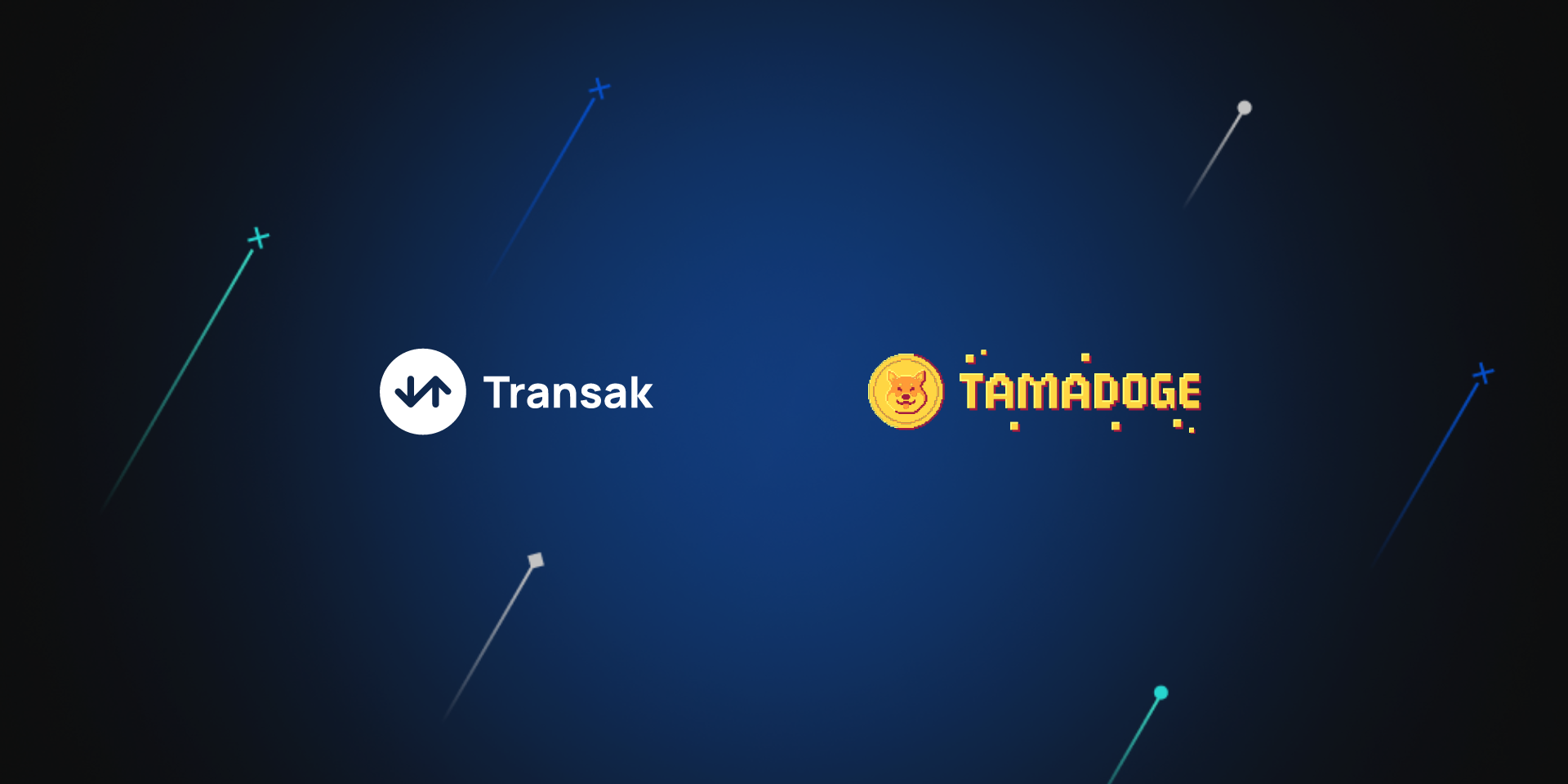 As Play-to-Earn continues to grow, we are excited to extend Fiat On-Ramp support for Tamadoge, where users can buy $ETH with card or local payment methods using Transak from 125+ countries and convert for $TAMA (Tamadoge).
Tamadoge ($TAMA) is the gateway token of the Tamaverse - where users will have the ability to mint the doges they want to, breed, train and battle their Tamadoge NFTs to the top of the leaderboard every single month. Over time the Play-to-Earn opportunities will be expanded to include augmented reality experiences, allowing user NFTs to play with friends in the Tamaverse.
Using Transak, users onboarding to Tamadoge can buy $ETH easily by paying with any of the 28+ payment methods supported by Transak, like Credit/Debit Card, ApplePay, GooglePay, Pix, Maya, SEPA payments or even by a simple bank transfer.
"From experienced crypto enthusiasts to keen gamers who might be new in the crypto world, we want everyone to have a fun & safe experience where they can be confident of the process from Fiat to crypto. That's why we're thrilled to be partnering with Transak. We already suggest Transak as the preferred method of payment to get your crypto, and as we grow, we would like to grow with like-minded, safe companies who put users first." said Carl Dawkins, the Head of
Growth at Tamadoge.
Using Transak, you can buy crypto to any of your wallets directly, just start here.
Building in Web3 and looking to onboard users? Integrate Transak


How to buy $TAMA(Tamadoge)?

Step 1: Visit Tamadoge.io and click on Buy button
Step 2: Connect your crypto wallet
Step 3: Click on Buy $ETH with card
Step 4: Enter the desired fiat amount and note the conversion, fees and slippage
Step 5: If it is your first time using Transak, you will be prompted to sign-up and complete your KYC. If already a Transak user, then sign-in and complete your transaction using your selected payment methods
Step 6: Once you have sufficient ETH in your wallet, you can now swap your ETH for TAMA by clicking on Buy Tamadoge with ETH
Step 7: Enter the desired purchase value and click on Convert
Step 8: Your wallet provider will ask you to confirm the transaction and will also show you the cost of gas
Step 9: Once confirmed, users will be able to claim their Tamadoge using the claim button when pre-sale ends.
Using Transak, you can buy crypto to any of your wallets directly, just start here.
Building in Web3 and looking to onboard users? Integrate Transak
Subscribe to our newsletter