MyAlgo Wallet Integrates Transak to enable direct Algorand purchases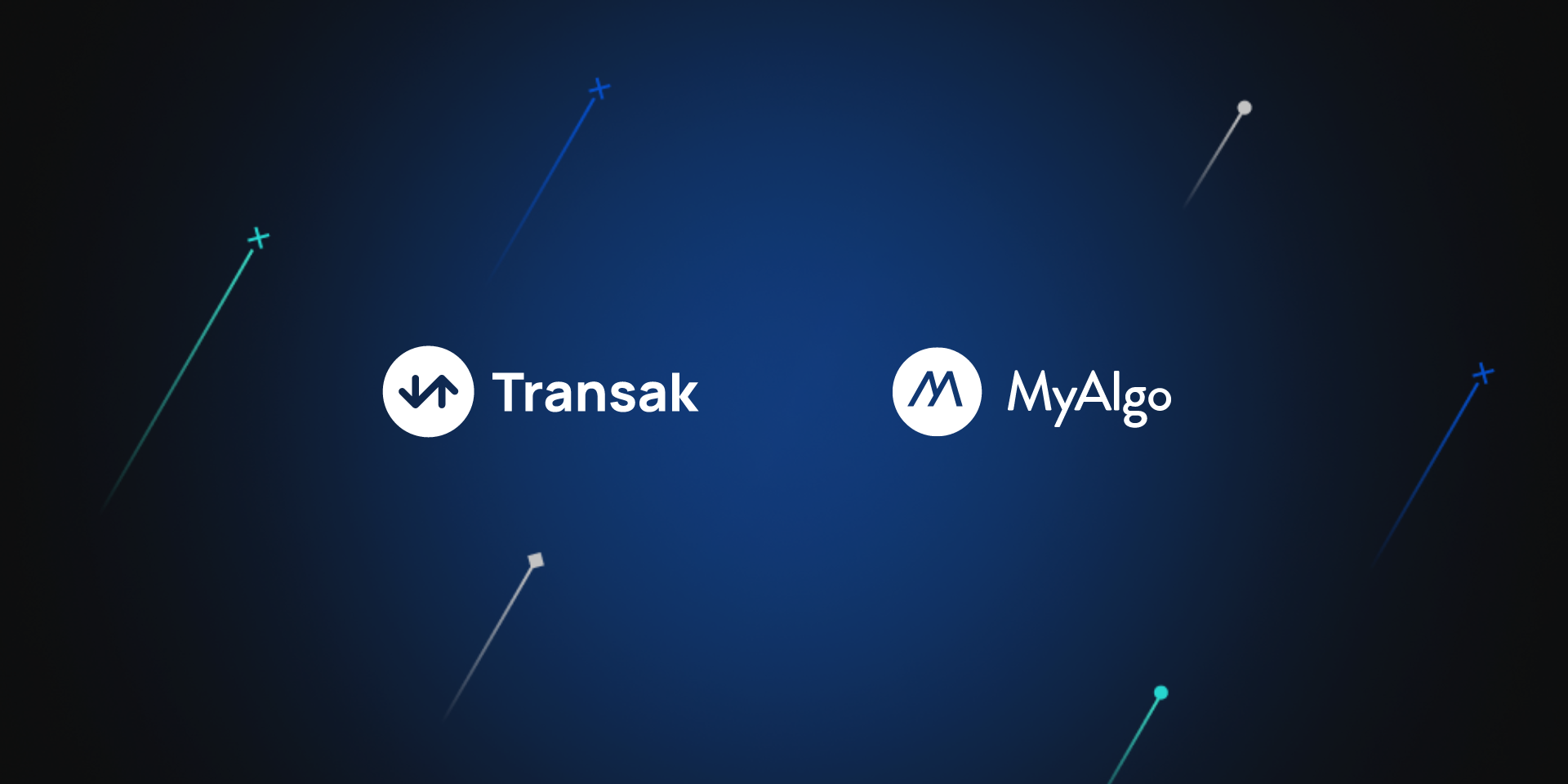 Transak, a single integration for applications to accept fiat-to-crypto deposits from a global user base, today announces its integration with MyAlgo. Transak has over 100 partners within its ecosystem providing API-driven fiat payment methods to on-ramp to 110+ crypto assets and is removing the complexity of user KYC, risk monitoring & compliance, payment methods and customer support. Funds can be added via debit/credit cards, Apple Pay or even with a simple SEPA/Bank transfer.
MyAlgo is a self-custodial browser wallet running on the Algorand network. It enables users to safely manage their accounts, send and receive assets, NFTs, and much more on the Algorand network.
Transak recently announced its support for $USDT on Algorand network and also provides purchases of $USDC on the same. Users on the mainnet network can also purchase the token $ALGO (Algorand Native) via Transak.
"Integrating Transak was very straightforward. I must say the whole purchase experience of integrating was very transparent" said Daniel Alcivar, Product Manager at MyAlgo.
"Transak is excited to add users on Algorand via MyAlgo Wallet. As more and more users are joining the Algorand ecosystem, it's important for us to make the user onboarding experience as easy as possible." said Sami Start, CEO, Transak.
How to Buy Crypto on MyAlgo Wallet using Transak

Step 1:Access your MyAlgo Wallet
Step 2: Enter your password to login to your wallet
Step 3: You can see Buy button on the top right of your window, click on it
Step 4: You will need to add first to your wallet the crypto you want to purchase if it's not done by default
Step 5: Select the crypto between ALGO, USDC on Algorand or USDT on Algorand (only for non-US users)
Step 6: Select Transak to be redirected to our widget
Step 7: Select your fiat currency and the amount you want to pay
Step 8: Select the payment method via which you want to pay with
Step 9: Verify that the wallet address automatically entered is the right one
Step 10: Login to Transak or Signup with KYC details
Step 11: Notice the exchange rate and fees
Step 12:Accept the Terms of Service and Privacy Policy and go through the Disclaimer before clicking on "Confirm"
Step 13: Pay using the payment method chosen

For any doubts with regards to your Transak experience, please raise a query at support.transak.com
Building on Algorand and looking to accept payments? Integrate Transak Today
Subscribe to our newsletter