MetaWealth Partners with Transak to Simplify Asset Tokenization for Mainstream Investors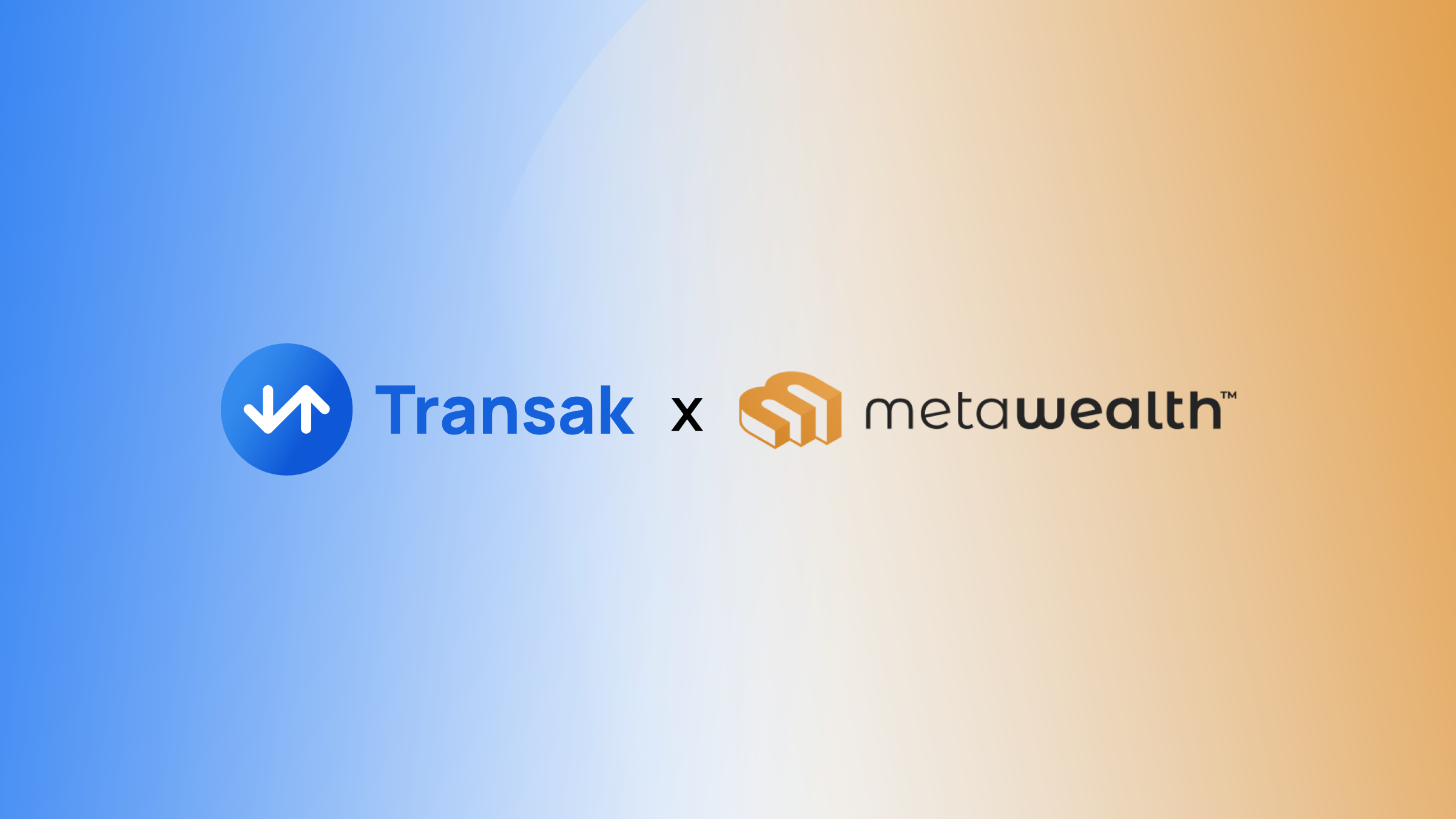 Transak, a leading provider of crypto transactions developer toolkit, is thrilled to announce its strategic partnership with MetaWealth, a revolutionary platform democratizing real estate investing through tokenization.
The collaboration would bridge the gap between traditional real estate investments and the growing web3 domain. This would ultimately amplify accessibility for non-crypto-native individuals who want to build their portfolio of tokenized Real-World Assets (RWAs).
MetaWealth's unique blend of real estate, finance, and web3 technology is redefining how individuals partake in wealth generation. The platform's ethos of enabling every investor to delve into professionally curated tokenized real estate investments resonates with Transak's vision of onboarding a billion people to web3.
The synergy between MetaWealth's Real-World Asset (RWA) tokenization and Transak's robust on/off-ramping solutions underscores the partnership's potential to reshape the financial landscape.
With RWA tokenization at its core, MetaWealth meticulously fractionalized prime real estate assets, making them attainable for a broader investor base. This initiative is synonymous with financial inclusivity, a principle both Transak and MetaWealth vehemently advocate for.
By fractionalizing high-value assets and using Transak's crypto on-ramping solutions, MetaWealth significantly lowers the entry threshold. This allows individuals to invest from as low as 100 USDC, and start generating rental income without dealing with landlord responsibilities.
The majority of MetaWealth's users are mainstream investors with little to no crypto experience. Transak's pivotal role in this partnership is to smoothen the onboarding process for MetaWealth's users by functioning as a corporate on-ramping solution. The seamless buy/sell crypto functionality that Transak infuses into MetaWealth's app is a game-changer, ensuring users can effortlessly build and manage their real estate portfolios.
Amr Adawi, co-founder & co-CEO of MetaWealth, shares his enthusiasm for the partnership, stating, "RWA tokenization is set to revolutionize real estate and finance within a decade, empowering individuals with greater financial control. Transak supports platforms like MetaWealth, which are building the foundational tech and business models for this transformation. User trust is essential as the sector grows into the mainstream, and secure payment rails are vital to our effort."
"Transak's alliance with MetaWealth is a testament to our commitment towards fostering an inclusive financial ecosystem. By mitigating the complexities associated with crypto transactions, Transak is not only propelling MetaWealth's mission but is also setting a precedent for how traditional asset classes can seamlessly integrate with web3 technologies," highlighted Sami Start, the Co-founder and CEO of Transak.
As MetaWealth continues on its path to democratize real estate investing, Transak is ecstatic to contribute to this journey, paving the way for mainstream investors to partake in the tokenized asset revolution.
Through collaborative efforts like these, we are not merely creating investment avenues but are contributing to a broader narrative of financial empowerment and inclusivity.
About Transak
Transak is a global Web3 payment and onboarding infrastructure provider, facilitating seamless transitions between traditional finance and digital assets. Web3 platforms using Transak can enable users to buy, sell or mint digital assets across 75+ blockchains from 155+ countries, while Transak reduces the complexities of user KYC, risk monitoring, compliance, payment methods and customer support. Trusted by over 350 leading apps, including MetaMask, Coinbase, and backed by industry leaders like Animoca Brands, Consensys, UOB, KX and more, Transak is making Web3 applications more accessible.
For more information, visit transak.com or follow on x.com/transak
About the Author: