DappRadar integrates Transak to enable crypto purchases with local payment methods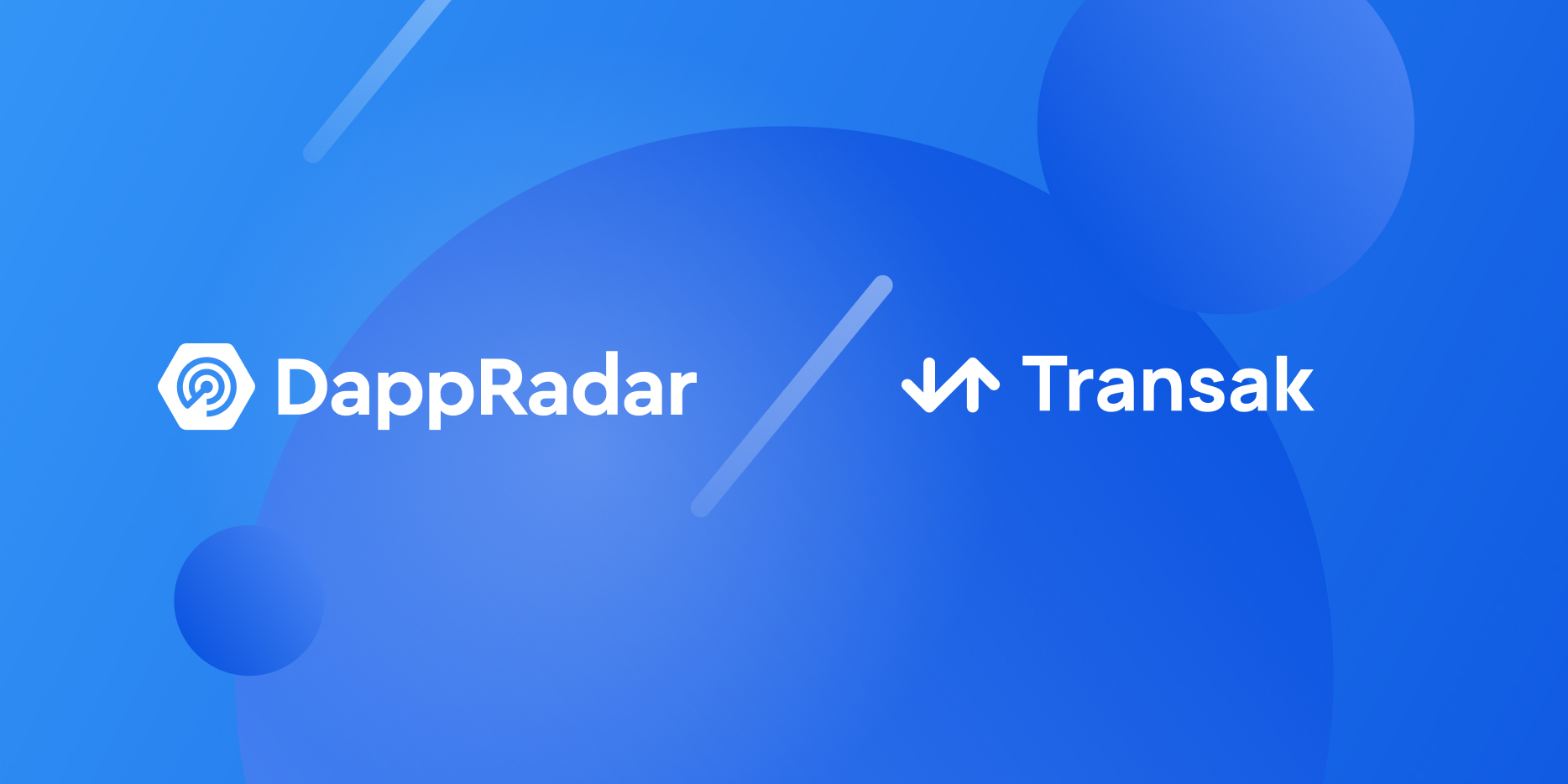 We are excited to announce Transak's recent integration on DappRadar, a platform that provides extensive data on decentralized applications (dapps) from various blockchain networks.
As the "World's Dapp Store," DappRadar aims to make dapps more visible and discoverable through its own platform and API. The integration with Transak will enable DappRadar to onboard global users more easily by providing a range of payment options for different cryptocurrencies and networks.
Transak was chosen by DappRadar due to its support for 25+ payment options and its ability to facilitate transactions on 75+ networks and for 130+ cryptocurrencies. This will likely benefit both companies, as DappRadar will be able to expand its user base and Transak will have the opportunity to provide its payment processing services to a new group of users.
About DappRadar:
Founded in 2018, DappRadar is The World's Dapp Store: a globally decentralised applications (dapps) store, powered by its $RADAR token. You can find over 12,000 dapps tracked across 50 blockchains, including Ethereum, BSC, Polygon, Avalanche, Fantom, Flow and Cardano. Gain valuable insights using DappRadar, and manage your crypto wallet, tokens and NFTs from your DappRadar Portfolio.
About Transak:
Transak is a leading Web3 onboarding infrastructure provider. Its API-driven solutions enable web3 platforms to onboard users to 130+ crypto assets from 125+ countries, abstracting away the complexity of user KYC, risk monitoring & compliance, payment methods and customer support. Transak is backed by top VCs, including Consensys, Animoca Brands and graduated from the Tachyon accelerator program. Connect with Transak on Twitter or LinkedIn, or visit https://transak.com/ for more information.
How to buy crypto on DappRadar using Transak?
Step 1: Access DappRadar account
Step 2: Click on the "Buy Crypto > Transak" option, available on the account/side menu
This will direct you to Transak's Buy Crypto Widget
Step 3: Enter the amount you want to purchase
The minimum and maximum amounts of crypto you can purchase may vary from country to country. It also depends on what fiat currency you are using to buy the crypto. Minimums and maximums will be noted at the time of your purchase.
Step 4: Choose the payment method you want to pay with
Choose between Transak's available payment methods and currencies. Enter the total amount of fiat currency you want to spend on your crypto onramp.
Step 5: Notice the exchange rate and fees
Click "See calculation" and review all fees before moving ahead with your transaction.
Step 6: Click "Buy Now"
Note the processing time to get an expectation as to when you can receive your crypto.
Step 7: Do KYC with Transak, if KYC is already done, proceed to Pay
Now we need to verify you with a simple KYC process. Please follow the step-by-step guide on the screen. Post approval, you can proceed to Pay. If your KYC is already approved, then you will be directed to pay
Step 8: Receive Crypto
Post payment, you will receive the crypto in your addressed wallet directly. In case of any unexpected delays or issues, please feel free to reach out to us at support.transak.com
For any doubts with regards to your Transak experience, please raise a query at support.transak.com
Using Transak, you can buy crypto to any of your wallets directly, just start here.
Building in Web3 and looking to onboard users? Integrate Transak.
For further media queries, please contact:
[email protected]
About the Author: