$TT - ThunderCore now available for purchase with cards or local payment methods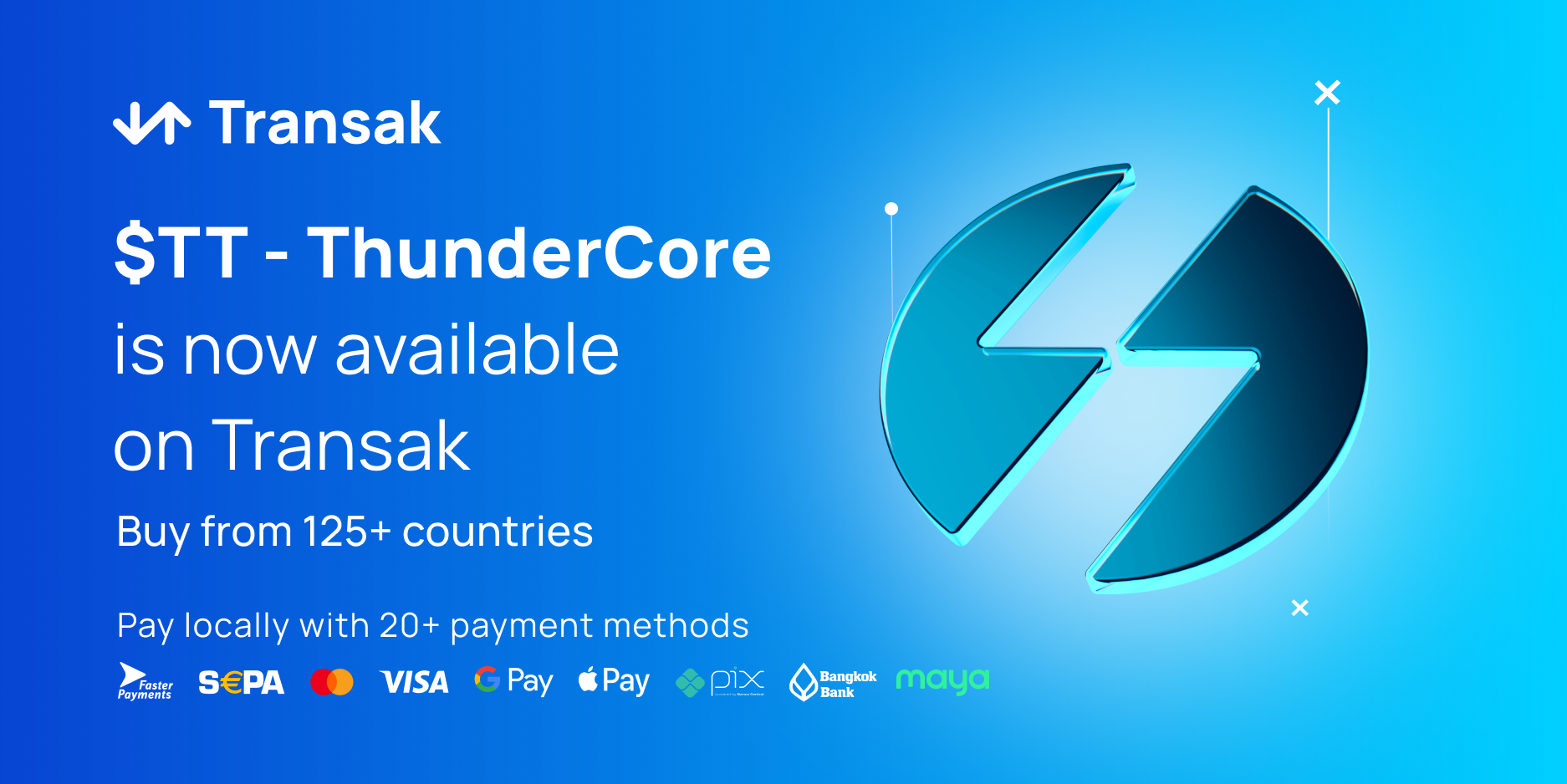 Transak, a single integration for applications to accept fiat-to-crypto deposits from a global user base, today announces the listing of $TT with immediate effect. Users can now purchase $TT and deposit it directly to their supported wallets.
Please note the following:
Purchases are available with immediate effect.
Asset Name: $TT(ThunderCore)
Ticker: $TT
Network: Thundercore Network
Link to buy: https://global.transak.com/


About $TT - ThunderCore
ThunderCore is a powerful and ultra-fast Web3 ecosystem and layer-1 chain that delivers elite performance and cost-effective scalability for thousands of crypto projects. Its proof-of-stake (PoS) architecture and strong developer support provide a battle-tested home for the next generation of crypto builders to create in Web3, DeFi, NFTs, GameFi, and the metaverse with limitless scope.
The growing ThunderCore ecosystem is powered by its popular native asset, TT, which can be stored in the feature-rich TT Wallet, together with other supported project assets.
ThunderCore's breakthrough consensus protocol "PaLa" overcomes the scalability "trilemma," helping the ThunderCore network generate up to 4,000 transactions per second (TPS) with sub-second confirmation times and ultra-low gas fees at a fraction of a cent.
Created in 2017 by Silicon Valley tech entrepreneur Chris Wang to help solve Ethereum's scalability issues, ThunderCore has an international user base that spans over 100 countries. It measured over 500,000 monthly active users in December 2021, making it one of the most actively used chains in the world, according to DappRadar.
Institutional investors in ThunderCore include MetaStable, Hashed, Electric Capital, Huobi Capital, Pantera, Zhen Fund, Kenetic Capital, Arrington XRP, Capitaland, and Draper Dragon, among others.
How to buy $TT via Transak?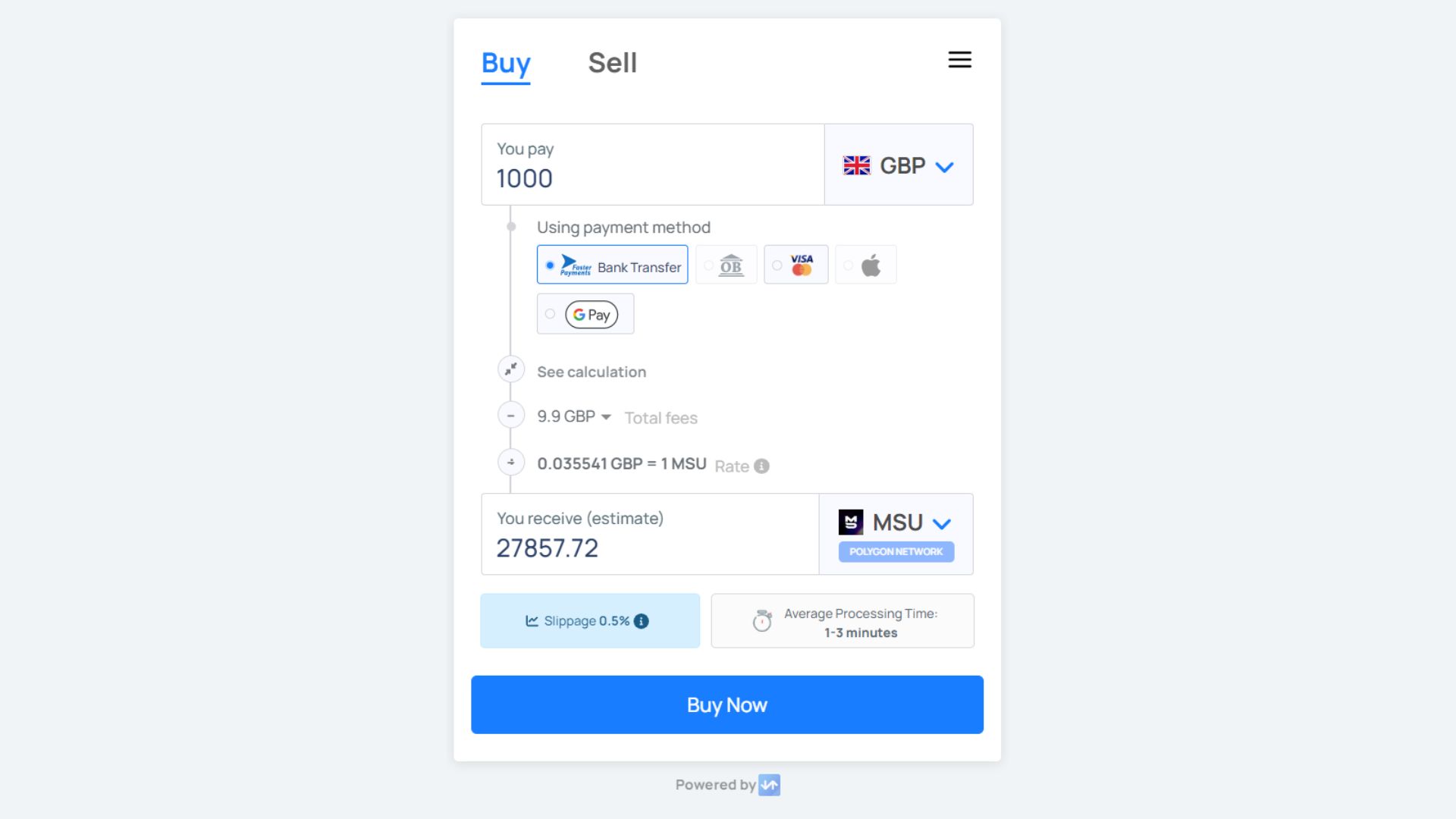 Step 1: Go to global.transak.com
This will direct you to Transak's On-Ramp widget
Step 2: Select your fiat currency and payment methods
Choose between Transak's available payment methods and currencies. Enter the total amount of fiat currency you want to spend on your crypto onramp.
Step 3: Select the cryptocurrency - $TT
From the cryptocurrency list, select $TT - ThunderCore
Step 4: Enter the amount you want to purchase
The minimum and maximum amounts of $TT you can purchase may vary from country to country. It also depends on what fiat currency you are using to buy the crypto. Minimums and maximums will be noted at the time of your purchase.
Step 5: Notice the exchange rate and fees
Click "See calculation" and review all fees before moving ahead with your transaction.
Read more about Transak's fees.
Step 6: Click "Buy Now"
Note the processing time to get an expectation as to when you can receive your $TT.
Step 7: Enter your supported network address
Here, you need to safely enter your correct supported network address
Step 8: Do KYC with Transak, if KYC is already done, proceed to Pay
Now we need to verify you with a simple KYC process. Please follow the step-by-step guide on the screen. Post approval, you can proceed to Pay. If your KYC is already approved, then you will be directed to pay

Step 9: Receive Crypto
Post payment, you will receive the crypto in your addressed wallet directly. In case of any unexpected delays or issues, please feel free to reach out to us at support.transak.com
Start Buying $TT on Transak Today
Building a Web3 App and Want to Accept Payments? Integrate Transak


About the Author: