Product Updates: Shipped in August'22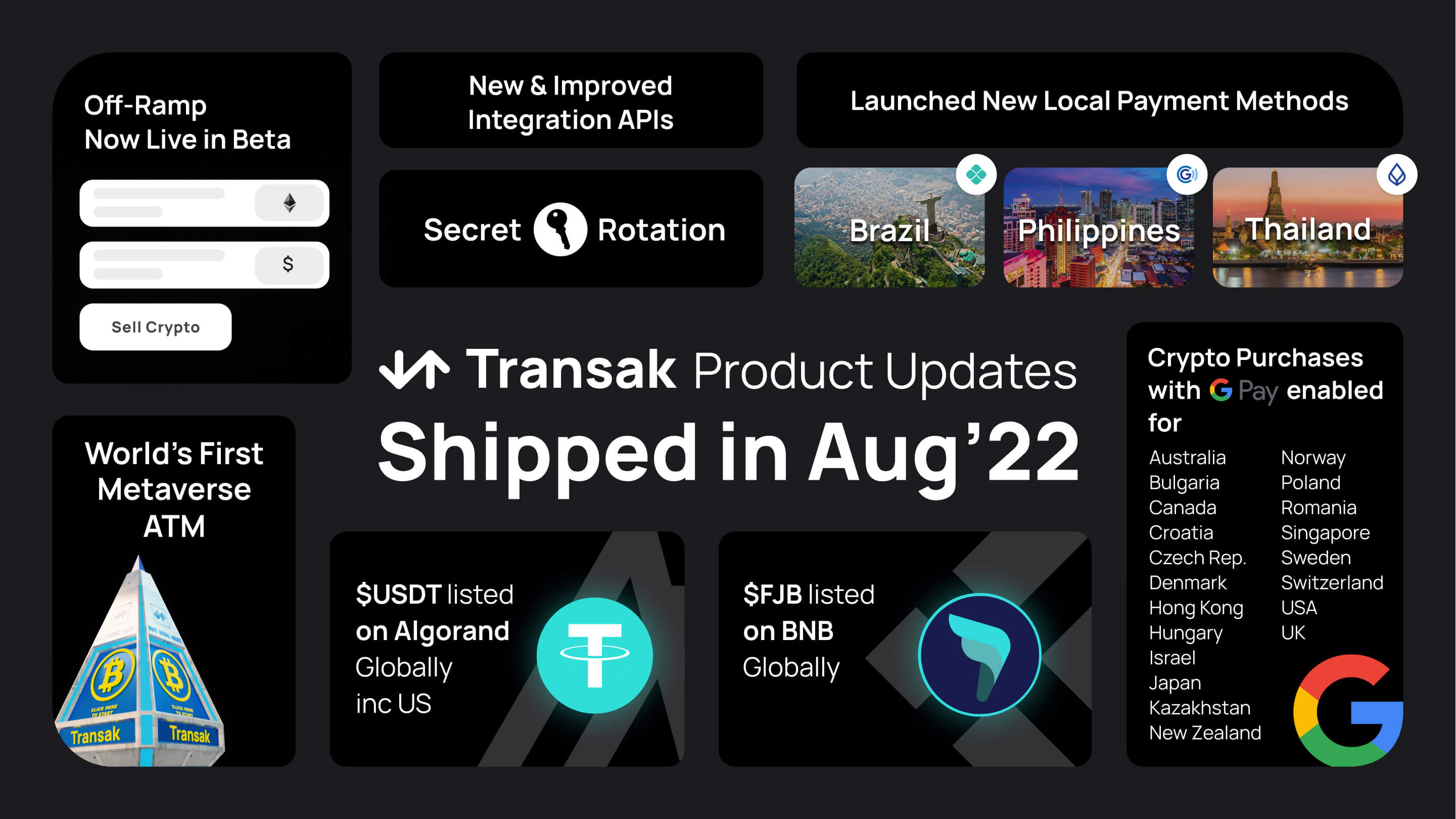 It's been a busy month for our builders here at Transak. We have shipped everything from new products that increase user accessibility to making fiat-to-crypto transactions possible in exciting new countries.
We have even made significant changes to our partner experience/dashboard as we continue to make web3 applications more accessible.
To help you save time, here's a quick summary of all that got Shipped in August'22:
New Product Release: Off-Ramp is now live in beta across Europe, including the UK. Try now

or

register for early access

.

Also launched the World's First Metaverse ATM on Decentraland.
New Alternative Payment Methods (APMs): We enhanced our On-Ramp's coverage by adding local payment methods in Brazil, Thailand and Philippines such as Pix (Brazil) and GCash(Philippines).
Transak is now the On-Ramp with the most payment methods. (21+ as of Aug'22 end).
Increased Coverage for GooglePay: Early this year, we launched GooglePay in the US, UK and Canada. In Aug'22 we increased GooglePay's coverage for crypto purchases to about 20 major economies including Japan, Australia, Singapore, HongKong etc.
New Token Listings: Listed $USDT on Algorand and $FJB on BSC
Transak now supports over 130+ crypto currencies
Significant Changes to Partner Dashboard: Released v2 of our APIs which improves integration experience along with enabling secret key rotation which will further strengthen dashboard account access.
Off-Ramp is now live in beta across Europe, including the UK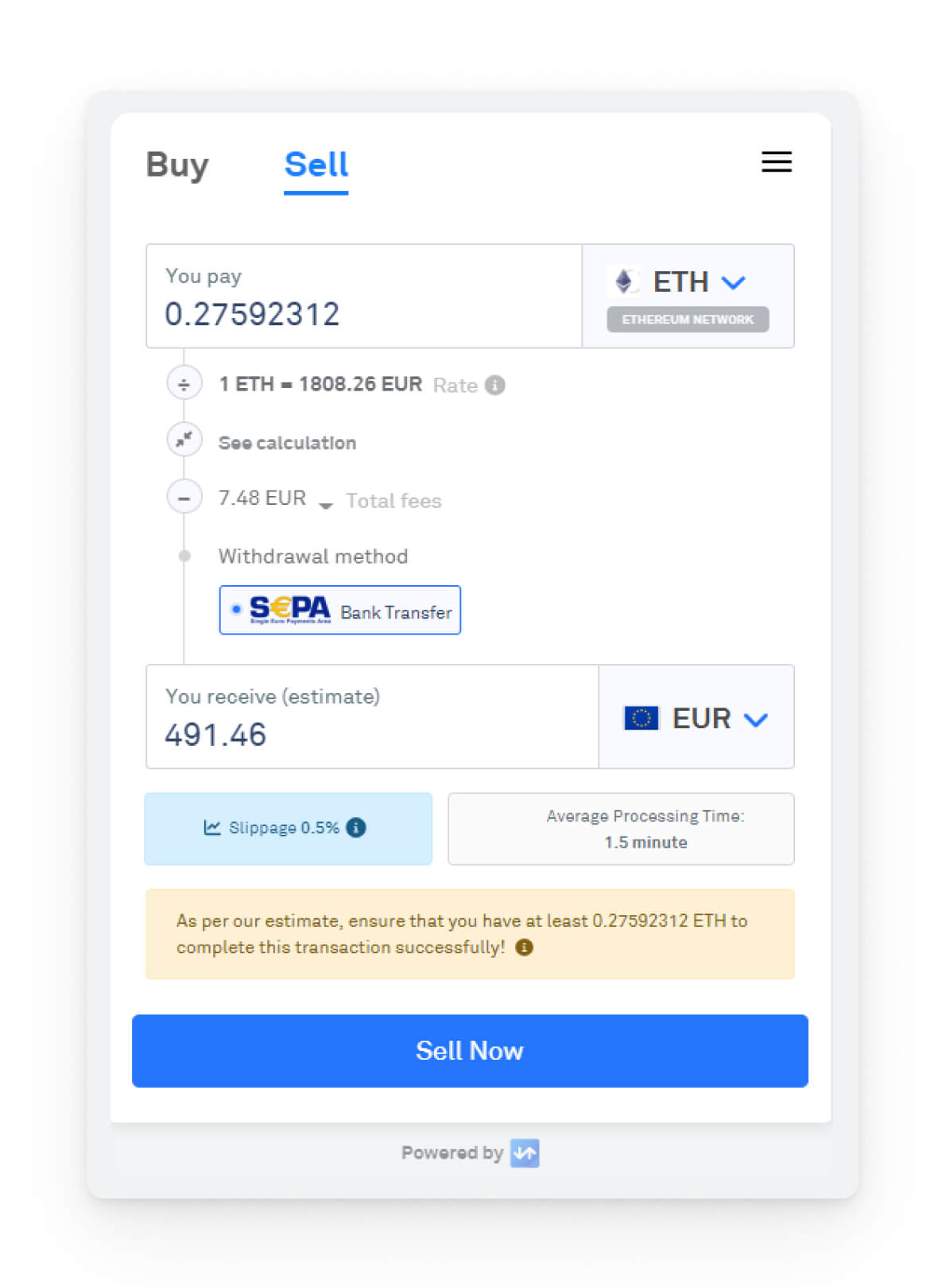 Increasing the accessibility of users in web3 has always been one of Transak's main goals and hence after months of brainstorming and building, we have finally released our Off-Ramp in beta and integrations have begun with many leading web3 platforms.
Currently our Off-Ramp is available in the UK and Europe (EURO Zone) where users can sell their crypto and get paid in GBP or EURO, respectively into their bank accounts.
Following crypto currencies can be sold via Transak's Off-Ramp as of Aug'22:
$BTC on Mainnet
$ETH on Ethereum
$USDT on Ethereum
What to expect in Sep'22? We aim to add 30+ crypto currencies for Off-Ramp in the ongoing sprints, followed by roll-out in the US and other supported countries.
Try out our On-Ramp today | Apply to get early access
Launched World's First Metaverse ATM
Sounds interesting, no!? Haha, ask the 200+ media outlets who covered this product organically 😅
A creative yet complex idea, envisioned by our Head of Growth, Alessandro back in May'22, we partnered with Metaverse Architects to turn this into reality on one of the most famous Metaverses, Decentraland.
How does it work? Just like your real-life ATM! Visit the Transak ATM on any of the 6+ locations in Decentraland, interact and click on buy crypto, from where you can seamlessly buy $MANA or any other crypto currency directly into your wallet from 125+ countries and paying with Card, ApplePay, GooglePay or your other local payment method. Click here to try it
How does it benefit? Users never have to leave the environment and can directly buy $MANA and continue exploring the Metaverse.
What to expect in Sep'22? New locations, NFTs, itemization, well, it's best to keep a few things secret 🤫
Are you a landowner in the metaverse and looking to earn? Deploy our ATM
New Local Payment Methods added for Brazil, Thailand and Philippines
Though crypto winter has gripped us all, but not the gamers in South East Asia, where against all odds, Play-to-Earn (P2E) is leading the way in crypto adoption. So to welcome these new web3 users and onboard the upcoming billion+ users to web3, Transak has rapidly increased its coverage in the region.

In Aug'22, users in Thailand can buy crypto and pay with:
Debit/Credit card
Bangkok Bank Mobile Banking/iPay
SCB Bank Mobile Banking/EasyPay

Users in Philippines can now buy crypto and pay with:
GCash
Maya
BPI
Union Bank
GrabPay
ShopeePay
Debit/Credit card (Coming very soon)
GCash is the leading payment method in the Philippines and hence its availability for crypto purchases is going to bring many new users to web3.

Other than SEA region, we also deployed new payment methods for Brazilian users:
Pix (Leading payment method in Brazil)
AstroPay
Brazil is an important market for Transak and any web3 platform as crypto adoption is on the rise among mainstream users and making local payment methods available for crypto purchases is going to support this growth.
Milestone! Transak is now the on-ramp with the most payment methods🚀
Why is adding new payment methods so important? Our goal is to ease web3 adoption and make applications more accessible. Fintech infra is different from country to country and hence to onboard the billion+ users to web3, we need to bridge the gap between these existing payment methods and crypto accessibility.
What to expect in Sep'22? More new payment methods across South East Asia and South America.
Buy crypto from Brazil, Philippines, Thailand or any other support 125+ countries, right here
Looking to expand your web3 app into new regions? Integrate Transak
GooglePay is now available for crypto purchases in ~20 major economies

Followed by our beta release of GooglePay for crypto purchases in the US, UK and Canada, we have now extended the payment methods in many more countries:

Looking to make your web3 application more accessible? Integrate Transak
$USDT listed on Algorand in US, followed by $FJB on BNB
Transak now supports 75+ networks/blockchains as we continue to ease on-ramping for web3 applications. US Users can now directly onboard to Algorand with $USDT with fiat payments rather than previously trying to swap and paying access fees.
Similarly, we have also listed another new exciting token $FJB which previously could only be swapped and not purchased directly with fiat. Now with its listing on Transak, builders behind $FJB can expand quickly.
Learn how to buy $USDT on Algorand with Transak
Learn how to buy $FJB with Transak
Version 2 of our Partner APIs released with additional security!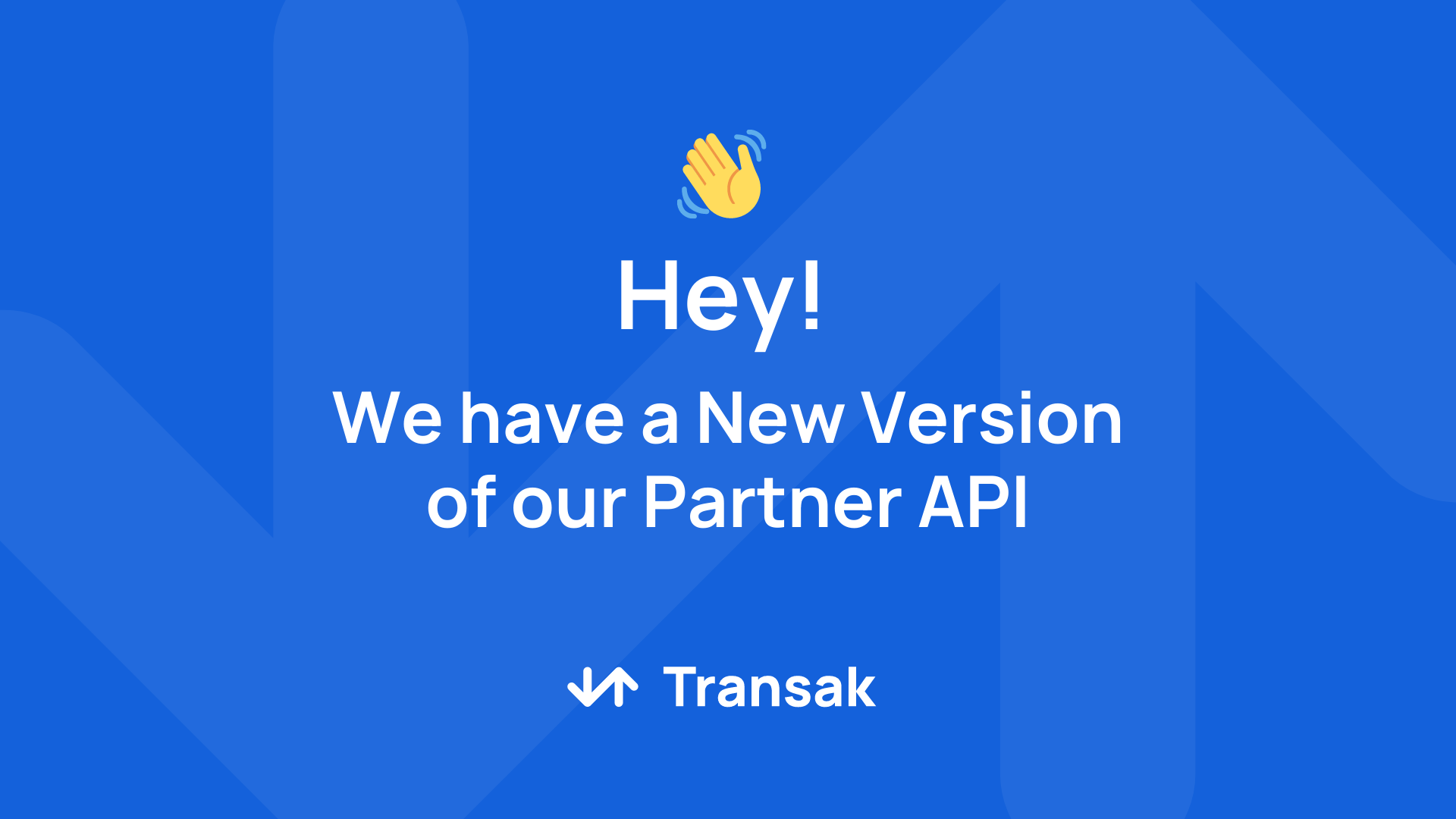 We have made breaking changes to our partner API to improve its usability and safety. With that, we will end support for our previous end-points on October 31st, 2022.
Also, for enhanced security of your Transak Partner Accounts, we have also added a new API endpoint to pass your API KEY and API SECRET to refresh your access token. This api access token needs to be passed in the header in all partner endpoints to access order data, customer data, etc.
Please refer to our documentation to see the new version here and here.
If you have any questions, regarding integration Transak or about our new APIs, please feel free to join our dev support on Telegram and ask for Pooja (@Thakurpooja064)
Lastly we'd like to thank all our users who continue to submit feedback over support.transak.com and via our Twitter support handle @TransakSupport as we squashed multiple bugs and improved the user flow to make web3 onboarding journey simpler!
Phew! Writing about our August shipments was in itself a task, imagine the persistence of our builders.
If you like our new builds, please do share some virtual love over Twitter or LinkedIn and let us know what we should build next!

👋See you in October!
Subscribe to our newsletter